Fantasy Prep: Running Backs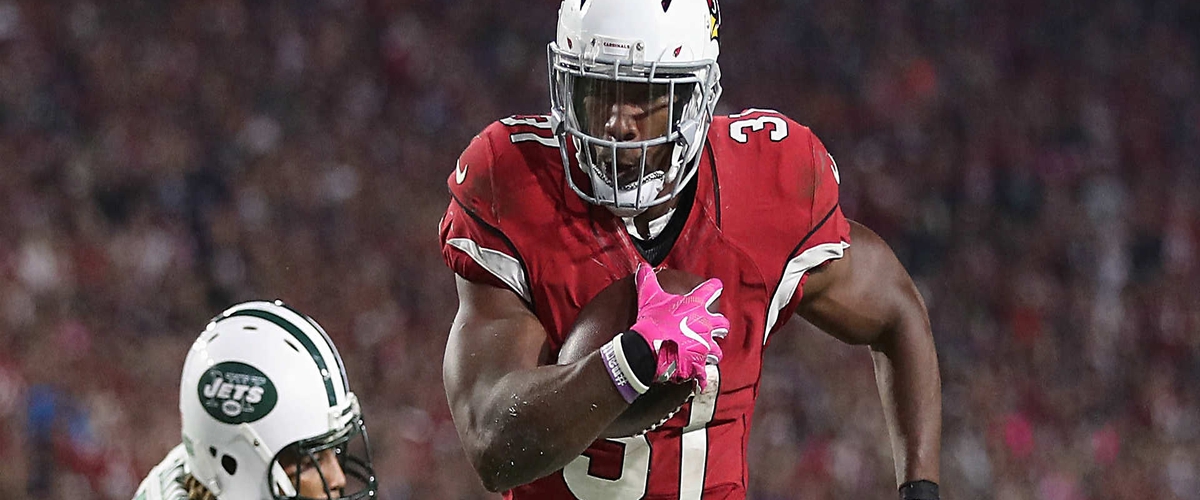 Fantasy football has become a part of the game, and it is probably the biggest way that most people actually stay interested in the games involving teams that they have no allegiance with. Well, there are now fantasy experts (I like to think of myself as one), fantasy beginners, and people who just play for the heck of it. Well, these are my expert opinions on how to judge players, in non-PPR leagues and with 12 teams. Also, I play in mandatory three-receiver leagues, so there is no "flex position". Today, I'll be discussing one of the most undervalued NFL positions, but is that the case in fantasy? Here are the running backs.
Last season, I heavily prioritized wide receivers, and it (mostly) paid off to a 12-2 record. I took three receivers right away, then took Jonathan Stewart in round 4 and Giovani Bernard later in the draft. Stewart was hurt, and Bernard was inconsistent, but I ended up picking up guys like Jordan Howard, Spencer Ware, and Doug Martin. By the time the playoffs rolled around, I didn't have a single running back I drafted on my team. So, does drafting running backs really matter?
The drop-off in running backs is not as big as the one in wide receivers, but if you feel like starting off with running backs, make sure they are game changers. Don't start off taking, for example, Lamar Miller and Carlos Hyde and passing on receivers like Amari Cooper and DeAndre Hopkins. There's a huge talent difference there, right? Well, I have them ranked in the same spots (11 and 15, respectively) in my receivers and running back rankings, so make sure you get at least one of the guys in my first group if you go with backs first.
TIER 1: (POTENTIAL) GAME CHANGERS
David Johnson (ARZ), Le'Veon Bell (PIT), Ezekiel Elliott (DAL), LeSean McCoy (BUF), Melvin Gordon (LAC), Devonta Freeman (ATL), Todd Gurley (LAR)
You have to have one of these players if you want to take a running back in round one, because they are potential game changers. Potential means that running backs always get hurt, and some become huge busts (Todd Gurley last season). But all seven of these rushers are elite, don't have a lot of competition in the backfield except for Devonta Freeman, and they are three-down backs. David Johnson is my number one player overall, and he has a real chance of gaining 1,000 yards rushing and receiving.
TIER 2: OTHER NUMBER ONE RB'S
Jordan Howard (CHC), Jay Ajayi (MIA), Spencer Ware (KC), Lamar Miller (HOU), Leonard Fournette* (JAC), Marshawn Lynch (OAK), DeMarco Murray (TEN)
The star next to Fournette is a rookie designation, and that's an example of why these players aren't all in the top tier. There is less of a guarantee here for the running backs, they are more likely to be busts than the first group. Jordan Howard was a fifth round rookie back last season, and might be a one-hit wonder. Ajayi came out of nowhere, and is my biggest bust watch. Fournette's a rookie, and Lynch had a year off. DeMarco Murray was one of the biggest busts two years ago, then came back all of a sudden. Spencer Ware might not be a true number one in Kansas City, but he's here because they run the ball a lot. Lamar Miller is probably the safest bet here, but he's not as talented as the members of tier one.
TIER 3: STARTER QUALITY
Carlos Hyde (SF), Ty Montgomery (GB), CJ Prosise (SEA), Frank Gore (IND), Isaiah Crowell (CLE), LeGarrette Blount (PHI), Devontae Booker (DEN), Mark Ingram (NO), Jeremy Hill (CIN), Jonathan Stewart (CAR), Thomas Rawls (SEA), Matt Forte (NYJ)
I think if you want to have a successful fantasy team, make sure you get at least somebody in the top three tiers (or Latavius Murray if he becomes healthy) no matter who's on the board at receiver. If Thomas Rawls is the last man standing in this group, I'm saying you have to take him. Each one of these players comes with a huge grain of salt, and almost all of them are in battles and might not even be the starter. Ty Montgomery is a converted wide receiver, but he is the only one besides Frank Gore who doesn't have a ton of competition. The three that are "safe" to me here are Hyde, Booker and Hill, and I almost put Hyde in tier two because of that. He's just not a good number one. Also, beware of Prosise and Rawls, as they could both get huge numbers or become busts due to the swarm of Seattle running backs.
TIER 4: TWEENERS
Derrick Henry (TEN), Paul Perkins (NYG), Tevin Coleman (ATL), James White (NE), Adrian Peterson (NO), Chrisitan McCaffrey* (CAR), Charles Sims (TB), Eddie Lacy (SEA), Terrance West (BAL), Doug Martin (TB), CJ Anderson (DEN), Dalvin Cook* (MIN)
At this point, I have 38 running backs listed, and you must have two of them. You can't survive starting someone from tier five, no rhyme intended. Preferably, these guys are your third running backs, and the third running back is more important than a fourth receiver. James White isn't someone you should start regardless, because New England is a revolving door at running back. Eddie Lacy has two other good backs to compete with. Tampa Bay has two running backs here as well. If you had to start one of these players, my top three would be Derrick Henry, Tevin Coleman and Terrance West. Henry is low-risk, West is a guaranteed starter, and Coleman could put up huge numbers
TIER 5: BACKUPS
Mike Gillislee (NE), Joe Mixon* (CIN), Ryan Mathews (PHI), Rob Kelley (WAS), Charcandrick West (KC), Danny Woodhead (BAL), Dion Lewis (NE), Samaje Perine* (WAS), TJ Yeldon (JAC), Theo Riddick (DET), Duke Johnson (CLE), Chris Ivory (JAC), Bilal Powell (NYJ), Top Green Bay Rookie Back
These running backs are third string at best, maybe fourth if you want to have four on your roster. About the Green Bay thing, they drafted three running backs to back up the inexperienced Ty Montgomery, so whoever ends up as the second string back in Green Bay will worth taking as a backup (Jamaal Williams, Aaron Jones, Devante Mays). I'd only trust New England backs in spot starts, but you probably don't need to draft them. Kelley and Perine will likely share the load in Washington, but look to Perine to take over. Theo Riddick is Detroit's top back until Ameer Abdullah proves he is healthy, and Jacksonville has two veterans backing up the rookie Leonard Fournette. You shouldn't start any of these guys week one, but by the end of the season somebody may become starter quality. Jordan Howard is an example of someone in this group who showed up in a big way.
INJURY TIER
*I am not aware of all injuries, or the severity
Latavius Murray (MIN), Ameer Abdullah (DET), Giovani Bernard (CIN), Jamaal Charles (DEN)
---