Three Wild Pitches (Notre Dame, Packers' Bleacher Report Ranking, Xmas Games)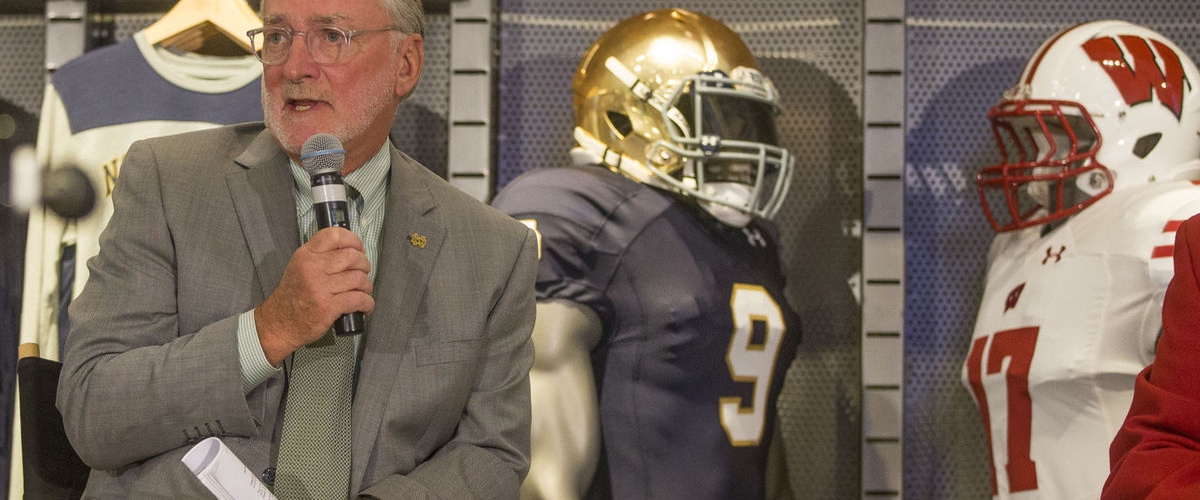 1) WHY ISN'T IT HOME AND HOME?
Would anybody else rather have Notre Dame come to Camp Randall Stadium vs. going up to Lambeau Field? Kind of up-in-the-air on that one, right? How about going to Notre Dame Stadium instead of Soldier Field? That one is easier, definitely would rather do the former. Notre Dame Stadium is one of the premier stadiums in all of college football, and is similar to that of Lambeau Field when it comes to history. It's listed 7th on Google when you type in "popular football stadiums", between Beaver Stadium and the LA Coliseum. So, why can't it be a home and home?
The team that would have the most to lose is Wisconsin, mainly because they are a team in a power conference that could lose an early season game in 2021 to a non-power conference opponent. But, the fans would have the best time because Notre Dame is a must stop for the biggest college football fans. Plus, we would have the opportunity to have Notre Dame come to Madison. And, it's not like they have a fear of tough road games, since they always play multiple Big Ten schools, ACC schools, Stanford and USC each season.
2) HOW COULD YOU RANK THE PACK 14th?
I can't even understand how they could be fifth. Check out the stupidest power rankings ever and then continue. http://bleacherreport.com/articles/2726764-nfl-power-rankings-chris-simms-rankings-heading-into-preseason-week-2
-_- The five teams right above the Packers are not ACTUALLY better. Miami, Tennessee, Detroit!!!, Washington and Baltimore. Teams 1-8 have a legit argument that anybody can put up, but let's be serious, the Packers are in the top fourth of the league, at least. The Cowboys are 8th, and without Elliott for six games, they can't be ahead of the Pack either.
I mean, Miami, without Ryan Tannehill and with Jay Cutler? Tennessee, a team who hasn't actually done anything yet. Don't even get me started on Detroit, they are going 6-10 or 7-9. Washington is overrated like the rest of the NFC East. And Baltimore is without Joe Flacco still, doesn't have a real running back, and has receivers that have fallen off. C'mon man.
3) KNICKS-SIXERS ON CHRISTMAS?
I understand that despite how bad they are, both the Knicks and the Lakers play on Christmas each season. But how on earth could you have them play the Sixers? The Sixers aren't guaranteed to be a playoff team, and for all we know they could deal with injuries with Embiid and Simmons again. Sure, they have young, exciting talent, but what about teams like Milwaukee or...Milwaukee? And don't even get me started on how bad the Knicks are. Don't get up early for this, the Warriors and Cavs play right after.
---