Roster Depth Is NOT the Issue in Finals
To try and provide genuine insight, and allow myself to hold credibility if I'm proven wrong, I am going to be ranking, comparing and grading each player on both Cleveland and Golden State, to show all of you Cleveland supporters that you indeed have the talent level near Golden State. I'm just tired of hearing about how "Cleveland has no depth" or "Cleveland doesn't have talent outside of LeBron James", and it's honestly some of the biggest excuses I've ever heard. Cleveland has five ex-All Stars besides LeBron. Cleveland has a roster filled with veterans from top to bottom.
Anyways, here is how I'm scoring this. The big three's (Love-Irving-James/Durant-Thompson-Curry) are cancelled out. Then, I'm scoring like this. If I give a player an "edge" or another, it's two points. A "slight edge" is worth one, and a "big edge" is worth three. If they are even, it's zero. All points go to their respective teams, and the big threes are "even". It's a ranking of the supporting casts, but only down to the "12th man". I won't count players that barely see action like Damian Jones (GS) and Jordan McRae (CLE). So, here we go, with Golden State's player the first listed.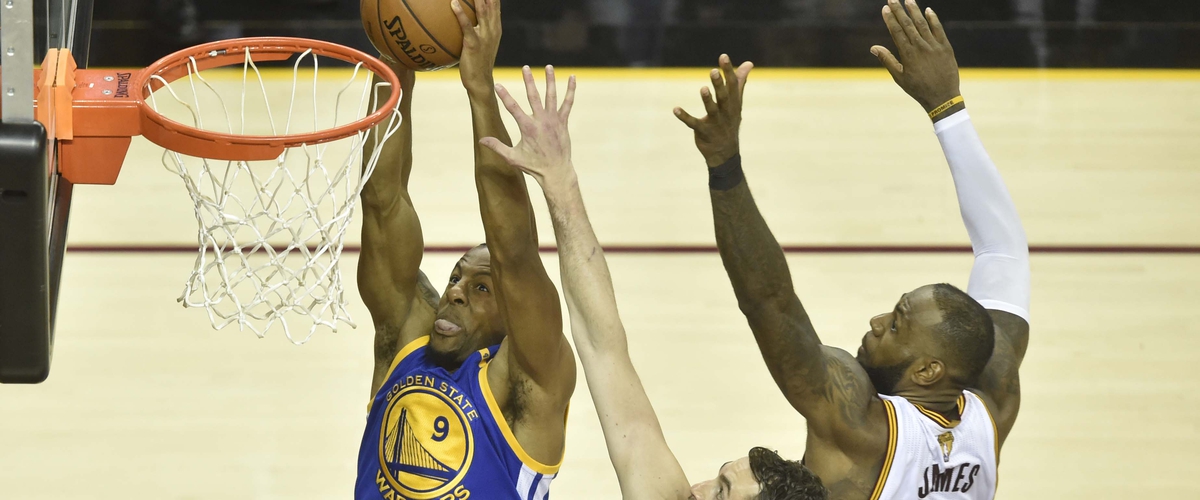 1) DRAYMOND GREEN VS. TRISTAN THOMPSON
This likely goes to Draymond Green nine times out of ten, as he used to be in the "big three" prior to the arrival of Durant. He also has All-Star appearances that Thompson does not. However, when Thompson impacts a game in a positive way, it provides way more assistance for Cleveland's big three, and Thompson has his advantages including his ferocious offensive rebounding. I'm giving the edge to Green, but not as big as you'd think.
Edge to Golden State
2) ANDRE IGUODALA VS. JR SMITH
This one is clearly Iguodala, despite Smith being the usual starter. Iguodala is the main man off of the bench, and when he started in the 2015 Finals, it made all the difference in the series. Smith is a liability on defense, but if he gets hot offensively he can make the difference between winning and losing.
Edge to Golden State
3) SHAUN LIVINGSTON VS. KYLE KORVER
I'm going with Korver here. Korver might be the best shooter not on Golden State, and his shooting was good enough to earn him an All-Star nod a few years back. Livingston has good size and is a nice defender, but the minutes he plays are merely just to give a rest to the starting backcourt, not to have a huge effect on the game.
Slight Edge to Cleveland
4) DAVID WEST VS. DERON WILLIAMS
I know David West had pedigree in Indiana, but his impact hasn't been the same since even leaving San Antonio. Deron Williams isn't the Utah D-Will either, but he put up numbers in Dallas this season, and at this point has more ability to take over a game than West.
Edge to Cleveland
5) ZAZA PACHULIA VS. CHANNING FRYE
Pachulia starts, but does he really start? Is 18 minutes a game "starter minutes"? Nah. Channing Frye doesn't play that much himself, but he is the best shooting big man on both teams besides Kevin Love, and his defense isn't too shabby either. Channing Frye gets the edge.
Edge to Cleveland
6) IAN CLARK VS. IMAN SHUMPERT
Ian Clark can put in some quality scoring in times of need, but shouldn't the veteran Iman Shumpert be the better player? I'm going to make this even, because I don't really know what Shumpert does anymore, but I thought he was supposed to be a key guy on this bench. They even debated on starting him game three. Clark has played better, but Shumpert is the better player.
Even
7) JAVALE MCGEE VS. RICHARD JEFFERSON
This is a tough one, and I think it's even as well. JaVale was huge for Golden State in the earlier rounds of the postseason, but Jefferson's experience and quality play is huge for the Cavs. I'm not sure here, so I'm going even.
Even
8) MATT BARNES VS. JAMES JONES
This is where you get to players who barely play, but Matt Barnes is a nice name to have as your 11th man. Still, James Jones has been to the last seven Finals with LeBron, so who knows. Maybe he is the real reason LeBron is so good. Maybe he is the puppet master who makes his teams reach the Finals. All jokes aside, Matt Barnes has a slight edge.
Slight Edge to Golden State
9) PATRICK MCCAW VS. DERRICK WILLIAMS
McCaw is a rookie, where Derrick Williams might as well be a rookie. Williams was putting up some nice numbers in Miami prior to being released and signing with Cleveland. McCaw is the guy for Golden State who starts for 10 minutes when Kevin Durant is injured, but doesn't play much more than that. Williams is the veteran, so I'll give him a slight edge.
Slight Edge to Cleveland
OTHER 3 ROSTER SPOTS
GS-Kevon Looney, James McAdoo, Damian Jones
CLE-Dahntay Jones, Jordan McRae, Kay Felder
FINAL TALLY: Cleveland 6, Golden State 5
You can argue all you want, or complain about no bench in Cleveland, but this team has a lot of veterans. This team has enough to help LeBron, Irving and Love. Deron Williams and Channing Frye didn't even play, Shumpert got just 11 minutes. Only Korver hit more than 20 off the bench. You can't complain about who doesn't play, and these guys are good enough to. Maybe it's the coaching, maybe it's the minutes' strategy, maybe Golden State's big three is actually much better than Cleveland's. But either way, you shouldn't blame the bench.
---