Busch Wins Texas - Late Race Wreck Takes Out 13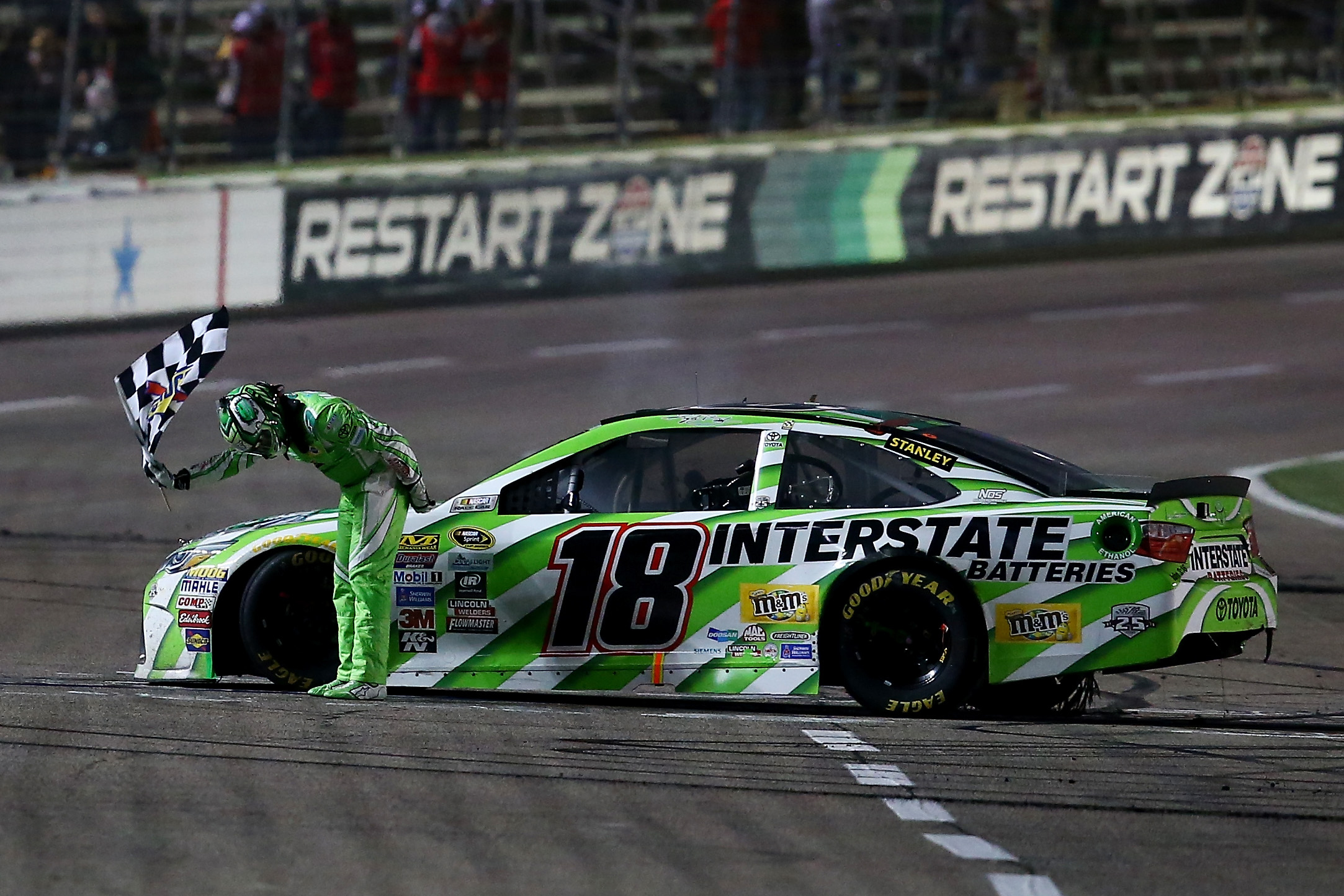 Kyle Busch bows to the fans after winning the Duck Commander 500 at Texas Motor Speedway
You know what they say – everything is bigger in Texas? We that goes for Kyle Busch's head, because after sweeping another weekend, getting his 2nd win and topping the charts for the chase, Kyle must be on cloud nine.
After a 2 hour plus rain delay things got underway and finished up in the wee hours of Sunday morning. The race started under a green-yellow after the started got enough drivers to give him a thumbs up on the dryness of the track. There was a competition caution set around lap 28 during which the 48 of Jimmie Johnson ran into the back of the 18 car, Johnson's nose was all banged up and Kyle's right rear fender was a little torn up. Nothing a little bearabond tape couldn't fix.
The 27 car of Paul Menard was penalized for making adjustments to his car body during pit stops and had to come back in and make repairs under NASCAR's watchful eye. Brad Keselowsi made an unscheduled pit stop for a loose wheel, but he wasn't the only one. The 48 of Johnson also had to come back in for loose lugnuts and the 19 of Carl Ewards pits on lap 225 when the right front had a vibration due to only 2 of the 4 lug nuts being tightened on the previous stop.
Plenty of pit road issues and penalties, including Dale Jr's close call with the 44 of Cole Whitt coming off pit road, Martin Truex coming in sideways to avoid Paul Menard, Kevin Harvick gets slapped with a penalty for both an uncontrolled tire and entering pit road too fast.
On lap 211 the 30 car of Josh Wise takes a hard hit on the right side of his car into the wall in Turn 2. He had already been in the garage one time earlier in the race. With 42 laps to go Greg Biffle smacks the wall in Turn 2 after contact with the 5 of Kasey Khane, and just a lap later the big one of the night (or the morning) when 13 cars got into a wreck after the 11 of Hamlin got the 48 car loose and he tried to check up but had no real estate left and got into the back of Austin Dillon. Dillon was bounced around like a pinball and collected Trevor Bayne, Brian Vickers, Clint Bowyer, Ricky Stenhouse Jr, Matt Kenseth, David Ragan, Paul Menard, Ryan Newman, Brian Scott and Michael Annett.
In the last laps Kyle Busch took the lead away from Martin Truex and claimed his 2nd win of the year and his 2nd weekend sweep.
Here are the full results from this weekend's Duck Commander 500.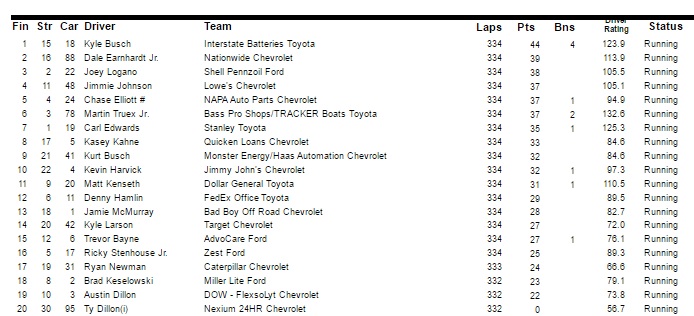 ---