Kiss My Bricks - Celebrating 20 Years at The Brickyard (repost)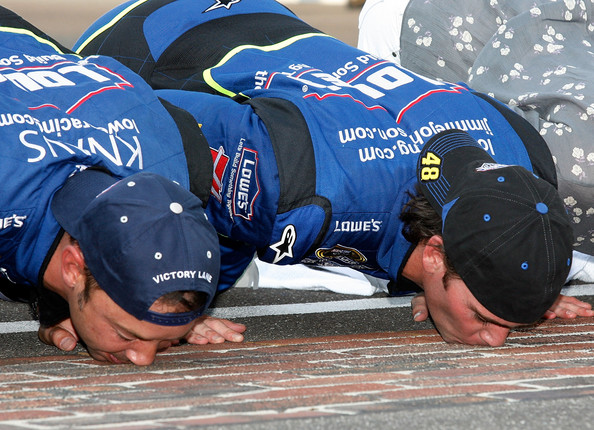 At the conclusion of each year's Brickyard 400 Sprint Cup Race in Indianapolis (and the Nationwide Race in 2001), drivers customarily kneel down on the brick path at the start/finish line, with their crew chiefs, teams, and even children, to "kiss the bricks".
The tradition of "kissing the bricks" was started by NASCAR champion Dale Jarrett. After his Brickyard 400 victory in 1996, Jarrett and crew chief Todd Parrott decided to walk out to the start-finish line, kneel and kiss the Yard of Bricks to pay tribute to the fabled history of the Indianapolis Motor Speedway.
After the victory lane celebration, Jarrett and Parrott started walking out toward the front stretch. It confused track employees and NASCAR. When asked what he was doing Todd said, "We just wanna kiss the bricks." Jarrett and Parrott and the rest of the Robert Yates Racing team turned their hats backwards and kissed the bricks. And so a tradition began…
Famous drivers that have won the race at "The Brickyard" are Jimmie Johnson (2x), Tony Stewart, Brad Keselowski, Kevin Harvick and the only 4 time winner, Jeff Gordon (he accomplished that feat in 2004).
The History of "The Brickyard"
In a span of 63 days in fall 1909, 3.2 million paving bricks, each weighing 9.5 pounds, were laid on top of the original surface of crushed rock and tar to upgrade the Speedway.
Asphalt gradually was added to various section of the brick surface, with patches added to rougher sections of the turns in 1936 and all turns being completely paved with asphalt in 1937. In 1938, the entire track was paved with asphalt except for the middle portion of the front straightaway.
In October 1961, the remaining bricks on the front straightaway were covered with asphalt. A 36-inch strip of the original bricks was kept intact at the start/finish line, where it remains today as the fabled Yard of Bricks.
Brickyard Fast Facts
• 12 different drivers have won at Indianapolis Motor Speedway, led by Jeff Gordon with five; followed by his Hendrick Motorsports teammate, Jimmie Johnson, with four.
• Jimmie Johnson is the only driver to have posted consecutive wins at Indianapolis Motor Speedway (2008 and 2009).
• Youngest Indianapolis winner: Jeff Gordon, 1994 at the age of 23.
• 13 of the 21 (65%) NASCAR Sprint Cup races at Indianapolis have been won from a top-10 starting position.
• Jeff Gordon leads all active drivers in the NASCAR Sprint Cup Series in laps led at Indianapolis with 528 laps led in 21 starts.
Can we say without a doubt that this is Jeff's track? Tune into the Crown Royal presents the Jeff Kyle 400 at the Brickyard on July 26 (3:30 p.m. ET on NBCSN).
---