NASCAR: Is Darian Grubb's Move To Hendrick Good Business?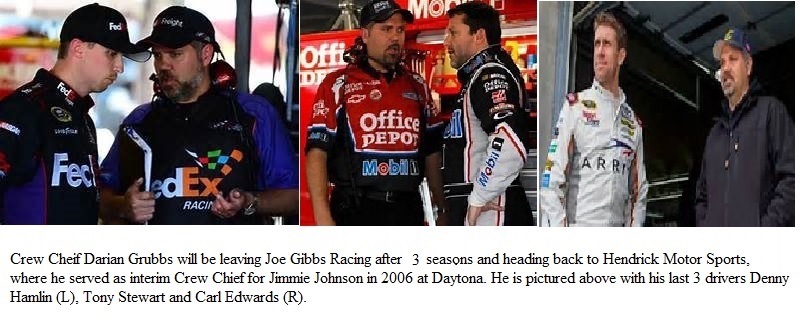 Some people say that Darian Grubb's move back to Hendrick from JGR is a beneficial one for HMS. Grubbs has been named the team's vehicle production director, where he will "oversee every aspect of race car manufacturing", according to a report from NASCAR.com on Monday.
This is a newly created role for Hendrick, and will allow him to work alongside Technical Director Kenny Francis, another former crew chief, which Grubb says Kenny is someone I greatly respect, so the chance to work side by side with him was a big factor. Everything is familiar, and I think that will make for a smooth transition. This is a role that will allow me to contribute to the success of the entire organization.
"The more we talked about the opportunity, the more it felt right. I'm ready to get started."
In a December 21st news release, Grubb was "currently exploring other opportunities" Grubb began his stock car racing with team owner Richard Petty , shortly after graduating from Virginia Tech with a mechanical engineering degree. Darian is a native of Floyd, Virginia.
Grubb left Hendrick to serve as crew chief for Tony Stewart, and the newly formed Stewart-Haas Racing in 2009. He was able to get 11 victories of 3 seasons, culminating with a Sprint Cup Trophy with the 14 car in 2011.
---