Butch Jones Finally Fired at Tennessee; Quick Reaction
It was a long time coming. It was expected. It was surprising that it lasted this long at Knoxville. But Butch Jones, the man that was to guide Tennessee back to glory, is gone.
Nobody argued that Jones couldn't recruit. He did. And it was something that got Tennessee fans excited.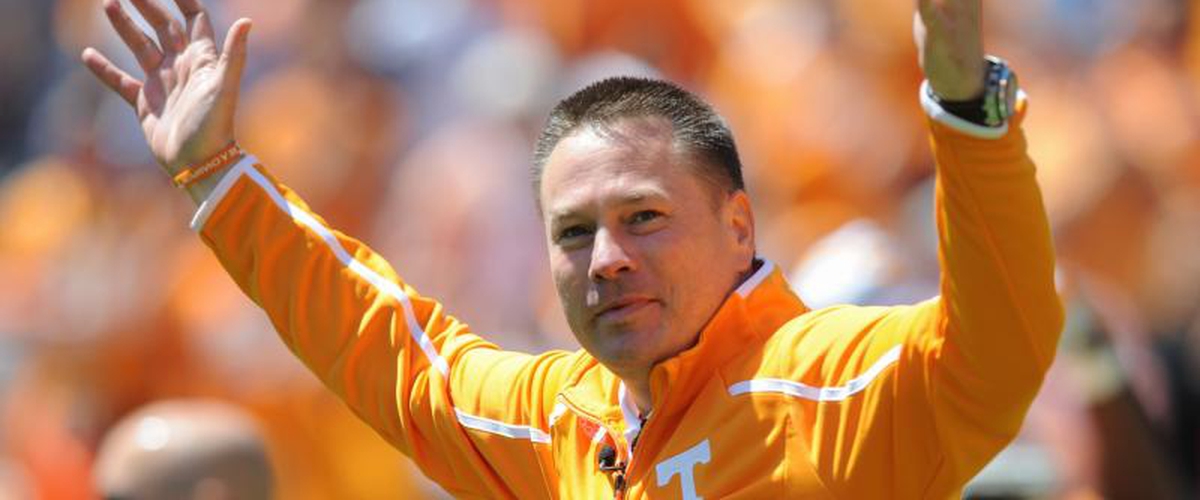 However, he came off as a guy that just seemed like he was more talk than anything. The Brick by Brick comments were ridiculed. His in-game coaching miscues doomed the Volunteers on certain games. But honestly, the beginning of the end for Butch came last year. Tennessee was favored to win the SEC East while be a threat for the national championship. Instead, a sluggish start where the Vols nearly lost to Sun Belt foe Appalachian State and had to take a comeback to get into overtime to get there. A few wins where they still looked unimpressive including a Hail Mary win in Georgia kept things rolling. The luck ran out when the players started to fall, first at Texas A&M after coming back only to lose in overtime, and then they got pulverized in Knoxville by Alabama. A effortless loss against South Carolina and the real stinger of losing big to Vanderbilt to go 8-4.
As the season was wrapping up, Volunteer fans, who were angry the team wasn't as competitive as before, grew angrier as Butch used the "Champions of Life" moniker about his team. It bothered some as it seemed like he was content with an 8-win season. It only made fans more irked on how the Volunteers won their game against Nebraska in the Music City Bowl as players hoisted Butch on their shoulders, as if they won the national championship on a middle-tier bowl.
Of course, Butch, not knowing when to shut up, made a comment saying before the 2017 season that being 8-4 wasn't a disappointment to him, but just a few goals were missed. It made more fans irked thinking that being mediocre was fine. And to start the year, the same thing started as it did in 2016. A come from behind win against Georgia Tech in Week 1 where another ridiculed moment happened with the Volunteers bringing a garbage can every time the defense would get a turnover (Alabama uses a championship belt, Miami uses the golden chain, and others have done something neat; Tennessee, a garbage can). However, despite the early successes, Tennessee traveled to Florida in a game where the Volunteers actually dominated, but some incredibly questionable play-calling on Butch's part costed Tennessee the game, not the Hail Mary (though why the Vols were playing man instead of preventing the Hail Mary was beyond me). Then came a near loss to a then 1-win UMass team and then 2 horrible losses to Georgia and Alabama within 3 weeks (while not scoring an offensive TD in any of those three weeks and the lone TD they got was ridiculed as a Tennessee player gave Alabama fans the finger when the Vols were down by 28 points).
Many thought after the Georgia game Butch would be fired. Nope.
Many thought after the Alabama game Butch would be fired for the embarrassing display. Nope.
Many thought the loss to Kentucky would do the trick for Butch. Negative.
So what gave?
I believe Tennessee wanted to give Butch one more chance at winning a game and he did against Southern Miss last week. But when he gave up 50 to Missouri and the Tigers waxed Tennessee, that was it. And seeing Butch walk off the field that night, he probably knew it was it. The post-game presser was what it was always for Butch, fielding questions about the game (the same thing as always) and getting irked when job security talk came up.
But Butch's days are over in Knoxville as expected. The problem with him was a simple one: his style of isn't SEC. I don't mean the style of play isn't SEC-style, but he is a "gimmicky" head coach. He did all the bells and whistles, of sayings, gimmicks, comments that you felt like he was talking before a wrestling match and so on. And when you have any product that has all these cute bells and whistles, and when you cut it down, you ultimately have product that belongs in the garbage can.
Adding on, the way he talked, was he had this thing of valuing moral victories whether it was the Champions of Life, a non-failure season, or whatnot. It may work at Division 3 or the NAIA but when you are in the SEC and championships are always expected at about every program, fans do not want to hear about the moral victories and want ACTUAL victories. And by the end of the run, the moral victories even dried up.
-Fan in the Obstructed Seat