Butch Jones Must Win vs. Georgia to Stay at Tennessee
"Brick By Brick"
"Champions of Life"
The Turnover Garbage Can
Whatever is next....
Butch Jones is probably one of the more polarizing coaches in college football, let alone the SEC.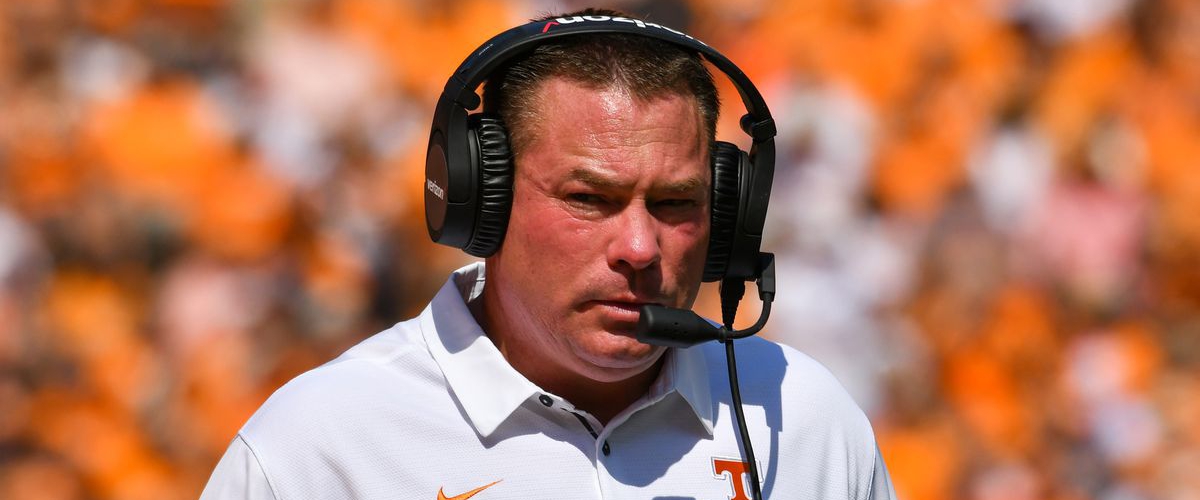 You can say what you will about him, but yeah, he is a charismatic dude. When he speaks, it has a feel like he is about to be a motivational speaker or a wrestler with all the different lines that you normally hear from the stars of the business. It probably wins him over with recruits and the players on his team. It is why Tennessee in 2016 was considered a favorite to win the SEC and be a playoff team.
But there's just a couple of problems:
1. He isn't a very good on-field coach.
2. He accepts mediocrity.
Let's start with the on-the-field issues. Tennessee last year went 8-4 where they were pretty much a favorite in the SEC and fell apart down the stretch. Of course, you can make an argument they should have ended up 6-6 or maybe even 5-7 with how some games turned out (the come-from-behind win against Appalachian State, the Hail Mary vs. Georgia, and the major comeback agianst Florida). But those games it had a vibe it was a win in spite of his coaching. But when it got to the likes of playing games at Texas A&M and the powerful Crimson Tide, Tennessee was exposed for poor coaching ability and just getting outmatched. And later on they were exposed for it with weaker teams like South Carolina and Vanderbilt. An disappointing end to a disappointing season.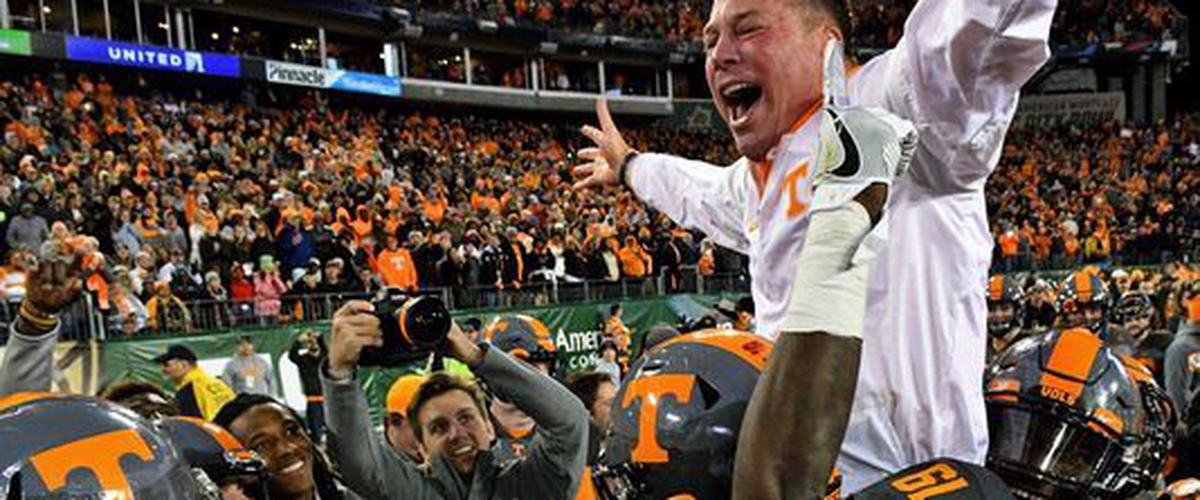 Well, not according to Butch Jones as he was hoisted on the players shoulders after their Music City Bowl win against Nebraska. Not an Orange Bowl win. Not a Rose Bowl win. Not a Sugar Bowl win. The MUSIC CITY BOWL. Nothing against the bowl as it is a decent bowl, but it is not anywhere near the same caliber of the previous ones I mentioned.
Which brings me up to the second part. Butch is fine with the results Tennessee has put out since he has been in Knoxville. During his press conference for SEC Media Days in Birmingham, he called last year's 8-4 season not a disappointment, but "falling short of our goals." 8-4 season that was supposed to be 10-2 or 11-1? Look, Tennessee is a great, prestigeous college football program for a long time and one of the stalwarts of the SEC. Fans of the Volunteers EXPECT SEC East Titles. Fans of the Volunteers EXPECT SEC Championships. Fans of the Volunteers EXPECT to be in the national championship contention. And last year the hopes for Tennessee were they would be all of that for the first time since the days of Casey Clausen and Jason Witten. Instead, an 8-4 meant they were way short and in a place like Tennessee, it is lack of a better word, unacceptable. And Butch was pretty much proud of where his team was?
It really did define where a coach like Butch Jones is than that of a Nick Saban where the latter said a 14-1 season and losing the national championship game was deemed a "failure" and that drive Alabama has under Saban has been why the Tide are the nation's best year in and year out.
And now this week Butch said the last two seasons have been two of Tennessee's best seasons in the last 20 years. I'm not sure given how this is still in that range where the Volunteers won the National Championship in the 1998 season and the year before the SEC Championship and later on winning 10 games wasn't too hard to come by. Honestly, these last few years have been ones that you have to consider Tennessee being "fortunate" than anything.
So far this year has not been great. Yes, the Vols are 3-1 but are probably one non-fumble from a Georgia Tech player from being 2-2 and a very disappointing outing to an 0-4 UMass team where they won 17-13 in Neyland Stadium, getting fans restless. Their lone loss, many felt like it is a bit of karma as the Volunteers outplayed the rival Gators but lost on a Hail Mary to Florida. However, the play-calling Butch had in that game was incredibly dumbfounding including failing to score anything on a first-and-goal at the 1-yard line to which they tried passing and got flagged for penalties and then an interception when they had a beast at tailback. It just got more fans furious with Butch and are ready for a new change at coach.
So this week is it. Jones NEEDS to win against Georgia. I know on paper and really with talent the Bulldogs are a cut above Tennessee and not many are expecting an upset right now, but if the Volunteers lose, they will be 3-2 and will have tough games in the next few weeks at Alabama, Kentucky, and a home tilt near the end with LSU. That could put the Vols easily at 7-5 and if Bama and Kentucky both nail Tennessee, that Southern Miss game may not be a fun one either.
So this is a must-win game for Butch Jones and Tennessee if he wants to keep his job. The antics and comments have worn thin. The results have not been there and it has made the Tennessee faithful tired of seeing their team a middle-of-the-road SEC team now. But Jones insists life is good. It may not be after Saturday.
-Fan in the Obstructed Seat
---