Greatest Teams Never to Win a World Series in the Past 30 Years-88 Athletics
When we think of the Oakland Athletics, we normally accustom ourselves to the small-market teams of the 2000's all the way through now. You know, the Moneyball teams that Billy Beane made famous, using analytics and changing the way how baseball is played. We think of them now as that small market team who has to move their best players to different teams for prospects as the never-ending cycle continues. And if you are a fan of one of the other 29 teams in baseball, the demand for seeing an Oakland Athletics game these days is "well, we have nothing better to do in our spare time."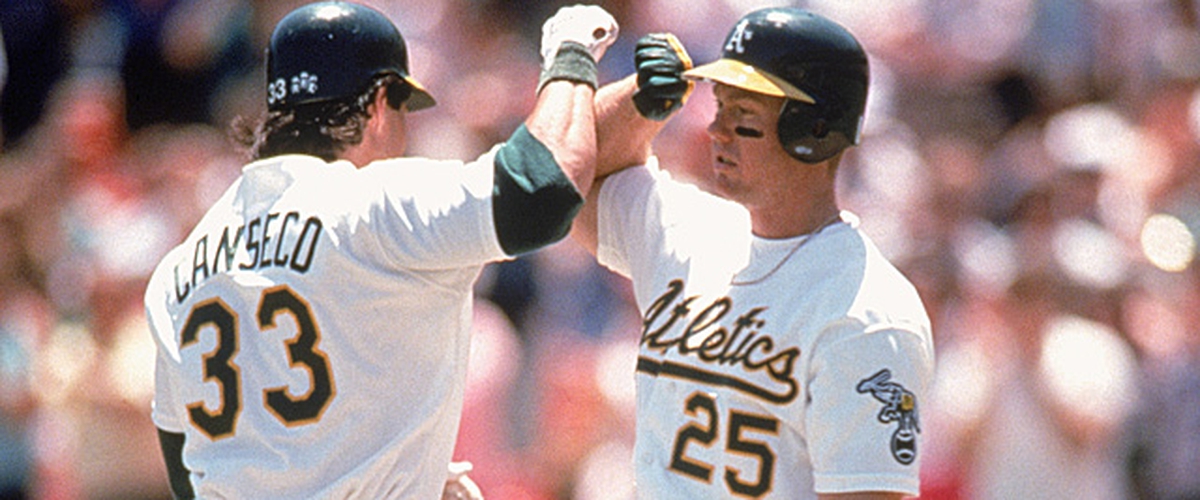 It wasn't always like that...somewhat.
Imagine in the late 80's the team you wanted to see, the team you wanted to come to your town to watch, and the hottest ticket, wasn't the Boston Red Sox, the Chicago Cubs, or the New York Yankees. It was the Oakland Athletics. The Athletics for the late 80's and early 90's were the team you were willing to pay to see, even if it was a bad seat, you wanted to see them. They were unreal and was popular as any team before or after them.
It was really simple: they DOMINATED. And in no year better than the 1988 Oakland Athletics.
Let's start at the lineup. Notably the heart of the order, which was the Bash Brothers of Mark McGwire and Jose Canseco. They had been pretty strong in 1987 when McGwire belted 49 HR's as a rookie, a record that he held for 30 years until Aaron Judge did it this year. Adding on was the young Canseco who hit 31 HR's (and 33 the year before to win AL Rookie of the year). So that tandem was lethal. And adding in for that kicker was Dave Henderson, who was one of the most underrated sluggers in that era. Just when you thought you were done with McGwire and Canseco of pitching careful, you had Henderson who would smash you. Then you had terrors on the basepaths when stolen bases were important like Luis Polonia, Stan Javier, and even Carney Lansford. And let's not forget that Canseco was baseball's first 40-40 man of 40 HR's and 40 SB's, and impressive feat even in that time. They could hit, run, and steal as well as get on base. Adding on, you had that veteran the young guys looked at which was Dave Parker, who served his role perfectly and did his job (he actually did far better in 1989 for the A's).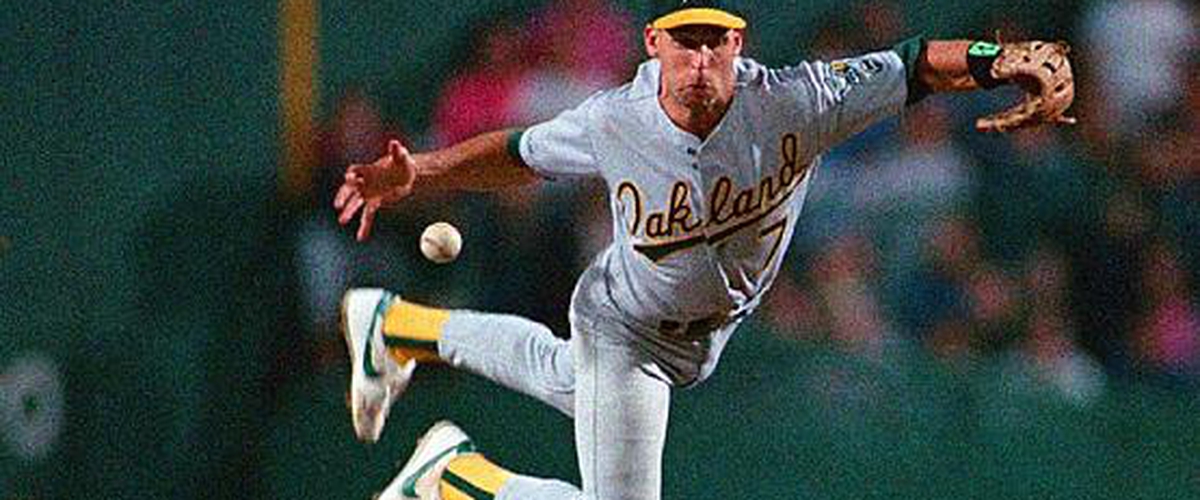 And then they could play some defense. The likes of Glenn Hubbard, Walt Weiss, and even Dave Henderson were excellent fielders (again, Henderson was one of the most underrated players in that time period) and even Mike Gallego was utilized a decent defensive guy for those late inning replacements. The A's also had two backstops that could call games in Ron Hassey & Terry Steinbach. Steinbach was actually probably the better catcher all-around and one of the best in the business in the 80's as he was platooned correctly with Hassey, who was more of a catcher who was a guy who was exclusive for certain pitchers, but he was also a guy who you think of with Todd Pratt, Henry Blanco, or Mike Matheny: just a tough guy who will go out there and give it his all. He was pretty much used for two guys in the A's rotation: Bob Welch and Storm Davis.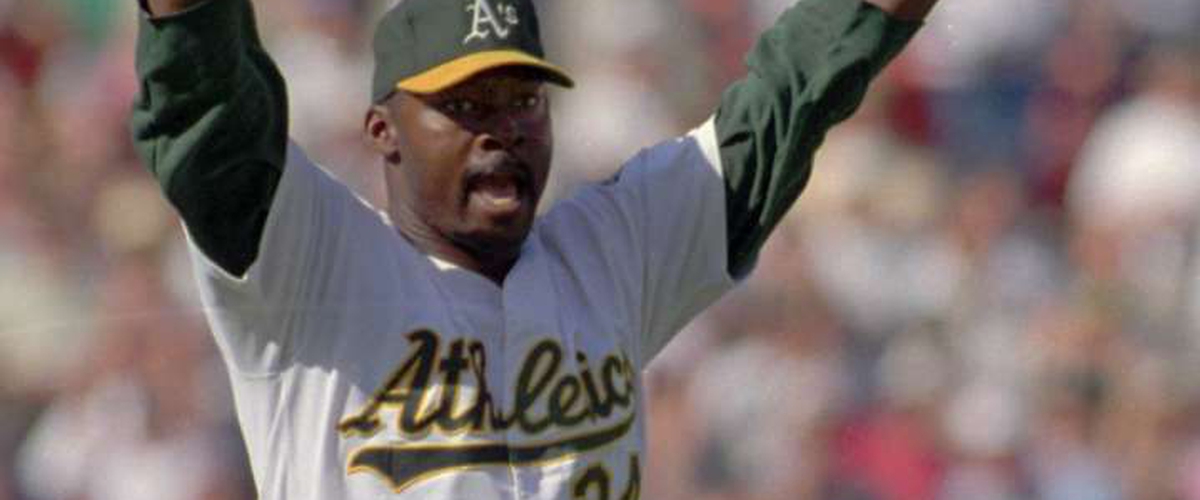 Which brings me up probably to their bread & butter: the pitching. Dave Stewart headlined the rotation. While the numbers didn't show it, he was the ace of Oakland. He went 21-12 and was a true definition of a bulldog pitcher. He led the league in innings pitched, tied for complete games and 2nd in the league in strikeouts. But Welch was the guy that was often "forgotten" behind Stewart. Welch struggled early with Steinbach behind the plate but once Hassey caught him, Welch was off and running and ended with a 17-9 record. A similar case was made for Storm Davis, the #3 guy, won 16 games.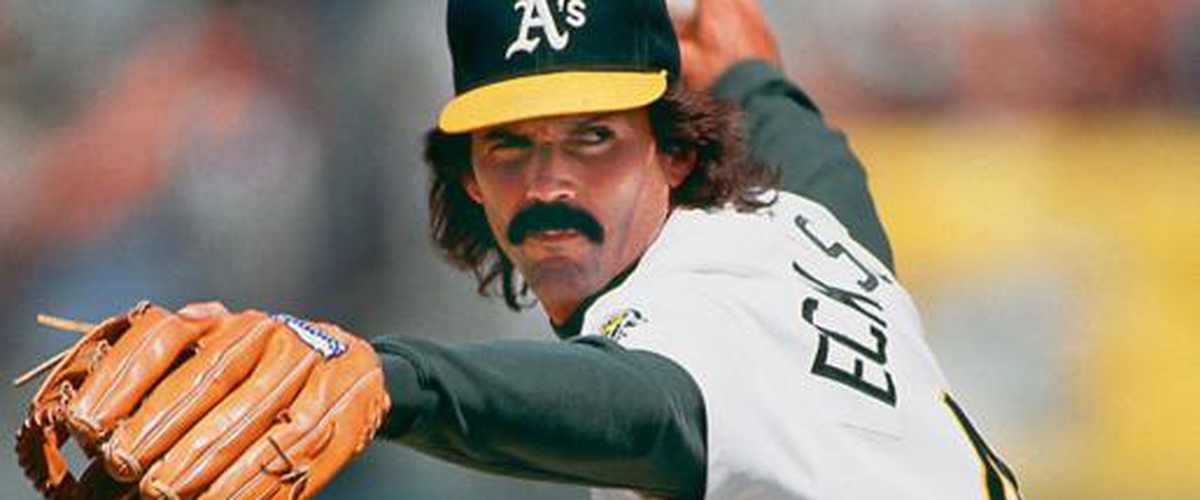 But the bullpen was probably the monster of the group. The numbers you see out of the Athletics bullpen, even the better bullpens in baseball would KILL for those. Gene Nelson was the long-relief guy, and you couldn't ask for much better numbers of holding the fort if the A's pitching struggled and the offense needed to come back. The likes of Eric Plunk and Greg Cadaret were guys that could get out of jams or get that key strikeout (and contrary to his last name, Plunk was NOT a pitcher who hit batters; only 1 in 1988, but his issue early on was he balked a lot). Alongside those guys was Rick Honeycutt, a veteran reliever who was a control guy that could get the needed double play or whatever was asked of him. And they all set up to Dennis Eckersley.
Eckersley was the BEST closer in the game in that time. 45 saves, 2.35 ERA, WHIP at 0.86, and he could mow players down. He was unstoppable in the 9th and to this day, I don't know if. So pretty much when it came to the relief pitching and Oakland had the lead? Game over.
And for added kickers, Tony LaRussa was manager. And whether you liked him or not, he was a baseball manager and trusted his players to come through every time. And with that team, there was plenty of swag with them so there was no lack of confidence anywhere.
So really you think that Oakland had won the AL West with ease in 1988, and you would be right. Oakland had control of the division from the get go and had an 11-game lead at one point in June against the defending world champion Twins, and despite a small swoon in the mid-season, the A's had control (by 3.5 at one point), but really turned it on in August and won the relatively weak AL West (Minnesota was really their lone threat). The A's finished at 104-58, in part of dominating the competitive AL East teams going 35-13 against the Red Sox, Tigers, Blue Jays, and Brewers. It never seemed there was a team that anybody felt could bring down the A's in the AL.
And that feeling came to fruition in the 1988 ALCS. Boston came out of nowhere after firing John McNamara and hiring Joe Morgan to upend the Tigers and Blue Jays (who were both fighting each other for the division). While the A's rested their guys down the stretch and prepared for the ALCS, Boston had to fend off Detroit, Toronto, and Milwaukee until the last day. So when the series began, Oakland (who won 9 of 12 against Boston in the season) swept the Sox in 4 and Canseco continued his torrid pace that would give him the MVP in 1988.
And then the World Series against the Dodgers arrived......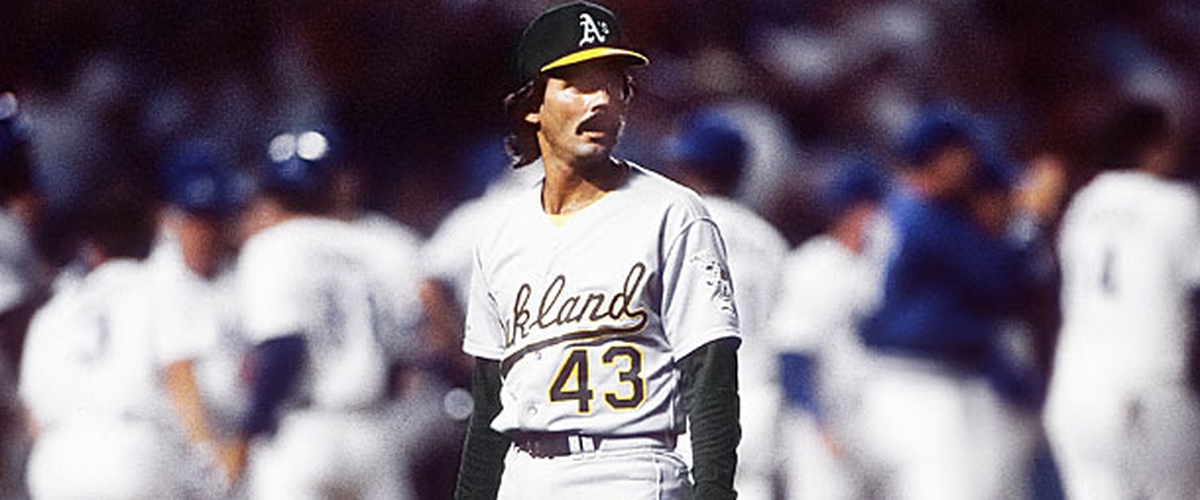 SO WHAT WENT WRONG?
"High fly ball to right field. She is gone!"-Vin Scully
"Unbelievable! A home run for Gibson! And the Dodgers have won the game 5-4! I don't believe what I just saw!"-Jack Buck
Yep. Eckersley, who had been lights out save for two games in the 2nd half (4 ER outside of a Yankees and Mariners games in the 2nd half total) gave up a 2-run blast by Kirk Gibson, still one of the most monumental home runs in baseball history. Needless to say, it was a gut-punch. Oakland had a 4-2 lead thanks to a Jose Canseco grand slam.
It really was the death blow for Oakland, despite it being only Game 1. Orel Hershiser pitched game 2, and continued his dominant year, shutting out Oakland 6-0. After a walk-off HR by McGwire in game 3, Dave Stewart was out-pitched by Tim Belcher in game 4 and then Hershiser finished off the A's in game 5.
The biggest thing was the Dodger pitching was really the key reason that happened. Gibson's blast was the first shot, but Tim Belcher and Tim Leary were as stout as any other pitcher. In fact, going by the numbers, Belcher & Leary would have been the best pitchers Oakland would have had they been on the A's.
And the Dodgers bullpen was actually far better than Oakland's. But what many viewed would be the tipping point of why the A's would have won the Series was the offense, but the saying goes, "Great pitching beats great hitting."
Oakland hit a collective .177 in the Series and Canseco's slam was the lone hit he had in 5 games. And McGwire's walk-off was the lone hit for him as well. And when your two top hitters go cold, you can't win games.
Again, Oakland was a great team that year and deserved to win. However, the A's had a week break after sweeping Boston while Los Angeles had really two days to get ready. In baseball the week break to me is a disadvantage and I think that got lost in the shuffle. But really it is Oakland ran into an excellent pitching staff in the Dodgers and that is where it went wrong for the A's.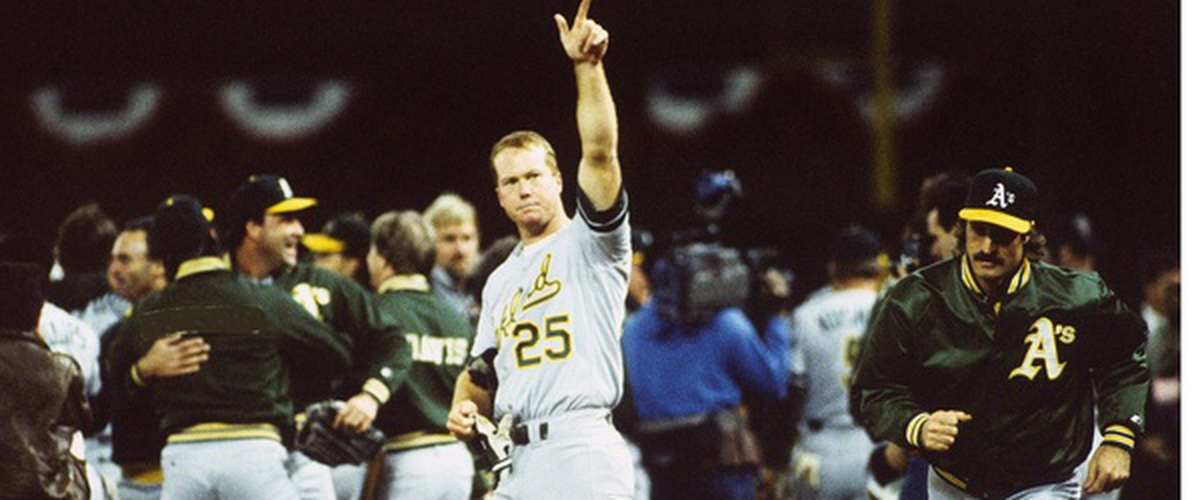 AFTERMATH: Oakland still remained dominant in the years following. The A's added Mike Moore to the rotation as he was another strong arm and re-acquired Rickey Henderson for Cadaret & Plunk. With Canseco having issues with injury and other personal issues, the vibe wasn't as a dominant one like 1988. The pitching was far better including Eckersley and Honeycutt however and Stewart & Welch continued pitching strong. The A's ended up with the World Series win, but it will be forever overshadowed by the Loma Prieta Earthquake (or as we call it the World Series Earthquake). And in a way you have to think the A's are still probably cursed by Gibson's home run. Had they won that Series and repeated in 89, you're talking about a possible great dynasty on the move.
As for after 1989? Guess we will find out in 2 weeks.
-Fan in the Obstructed Seat
---