Why the Falcons Should REALLY Go After Jimmy Graham
Needless to say if you're a Falcons fan, this year was a letdown after the Super Bowl run in 2016. Oddly, the issues weren't on defense like it historically has been for the Falcons, but it was the offense that fell apart.
And we can attribute it to a lot of things: Poor line play. Dropped passes by the receivers. Ryan being a little off. Poor play-calling, etc. Whatever the case is.
Now, getting guards for the Falcons should be the top priority in the off-season. Whether that is through free agency or draft, but they did struggle needless to say. But the other key issue is at tight end. Austin Hooper, say what you want on him, and he was much more active than his rookie year in part because Jacob Tamme retired after the 2016 season, struggled. Hooper made some horrid drops, poor penalties, and missed blocks that at this point you wonder if he will be a reliable option for Matt Ryan in the Steve Sarkisian offense. Levine Toilolo is not what you call a receiving tight end either. So the Falcons have to consider an upgrade at this spot without question. But who?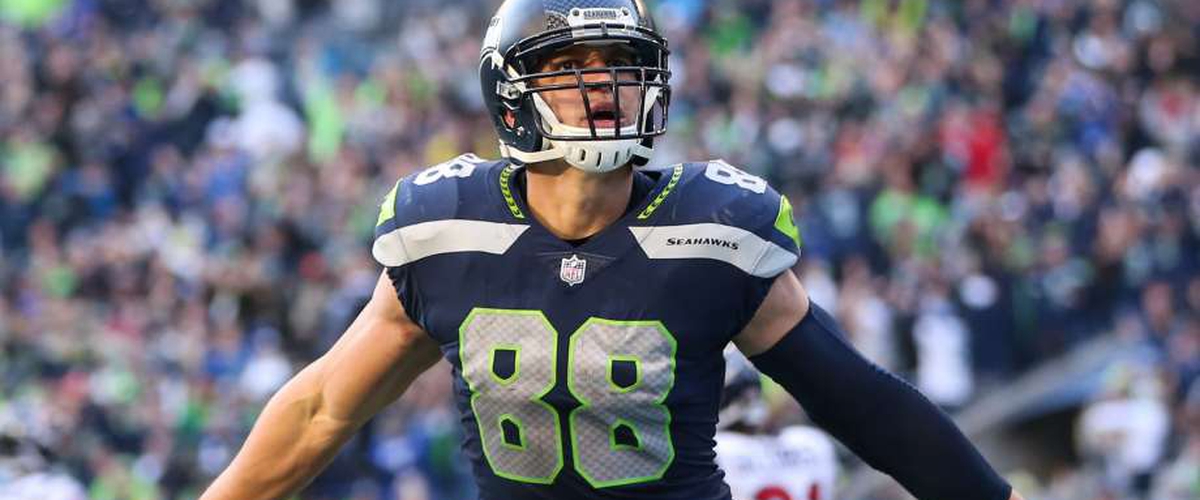 Yep. Falcons killer Jimmy Graham.
Graham from his rookie year in New Orleans through even last year with Seattle has shown Atlanta no mercy over the years. I'm not saying the Falcons should sign him so a team like the Packers, Saints, or Seahawks could terrorize the Falcons if they see them in January (though it would be nice to keep them away from those three, especially the Saints again), but it would be nice to have him terrorize those teams instead.
So why do I think getting Graham in a Falcons uniform in 2018 would be the best thing?
1. He is the immediate red zone impact the Falcons need. What can be said about Julio Jones? He's a great 20-to-20 receiver. But when the red zone comes, he's gone. It is more of double and even triple coverages (hence only why 3 TD's). Austin Hooper showed he isn't reliable in the red zone with key drops in losses this year. The other thing is with the plays Steve Sarkisian called and he got grilled was that he couldn't rely on Hooper which he had to "overthink" it. With Graham there, you get a guy experienced down in this situation, opens up maybe some one-on-one match-ups for Julio and Sarkisian won't look as silly with his play-calls and would have plays dialed up for Graham.
2. Graham brings a bit of a swag attitude on the offense. He isn't a showboat like we see with Odell Beckham, Jr. or Dez Bryant, but he is also that guy that brings a bit of that cocky, arrogant attitude that the Falcons have somewhat lacked over time. I'm okay with that. The defense is starting to get their own swag and attitude which is great, but now it is time for the offense to have that attitude and Graham is just the guy.
3. Graham opens up the offense for everybody else. Julio, Freeman, Coleman, Sanu, etc. Like I said with the red zone bit, people will have to respect Graham and he would see some double teams, which means Julio would be isolated. Or it means Coleman out of the backfield could be in a great match-up with a linebacker. It could mean any of that with great results.
4. A lot of the silliness of the offensive plays would end. Most fans wanted Sarkisian gone after the loss to Philadelphia in the playoffs. Myself included. But I really do feel that with a quality tight end with a great veteran presence would help him call "normal" plays.
5. Matt Ryan would have another MVP caliber season. Yes, sounds funny that one guy could help a quarterback THAT much, but while we think that Ryan's favorite target is and has always been Julio Jones as it was Roddy White, remember when Ryan started in this league and from 09-13 he had Hall-of-Famer Tony Gonzalez to toss it at. Ryan was considered a top tier QB and a guy you didn't want to see on the last drive of the game. He was nicknamed Matty Ice for that reason. But when Gonzalez left, the comebacks dropped and he had 3 times this year to win games against Buffalo, Miami, and Carolina as well as the Philadelphia playoff where he could have netted wins. The dropped passes, the inability of getting Jones open, and the poor play-calls had to make Ryan be darn near flawless to convert. With Graham again, he gets that weapon and would be back to what he was doing in 2016 when he won the MVP and got Atlanta to a Super Bowl.
The Falcons do not have THAT much to spend if they want to keep the likes of Dontari Poe, Matt Bryant, etc while trying to keep Rico Allen in the mix as well as adding guards they need, but with the right moves (including whatever contract extension Ryan gets soon), they could find a way to get Graham doing damage for them and if they are able to do it, the Falcons will be the first team in NFL history to play the Super Bowl at their home.
-Fan in the Obstructed Seat