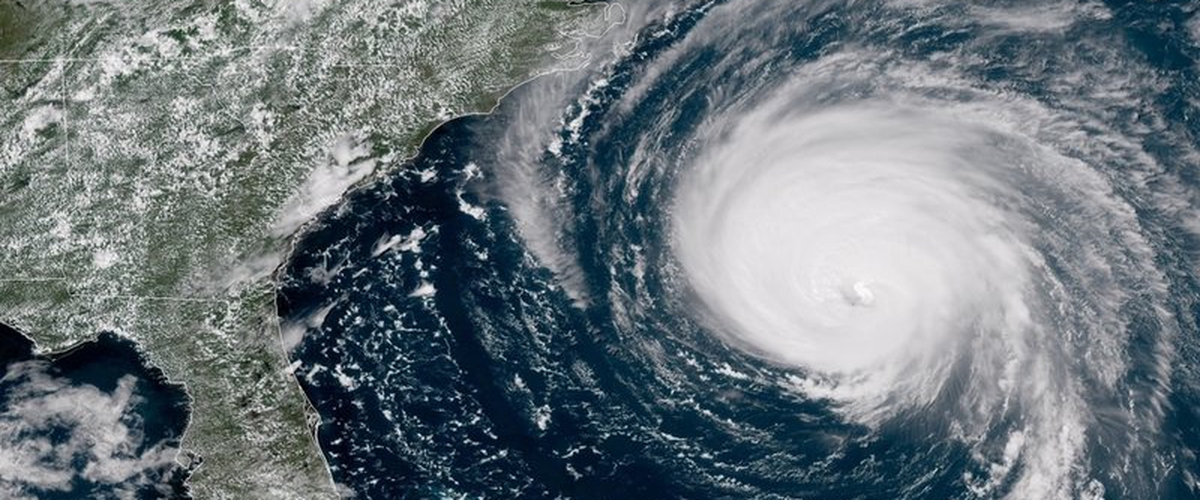 Hurricane Florence is quickly approaching the Carolinas. This is going to be one of the biggest storms we've seen in U.S. history and certainly one of the most expensive by the sounds of it. It is affecting many college football games which is of little importance compared to the real damage that it will cause residents of the states.
The Stack is back on this Thursday and today is the day we normally give our college football weekend forecast. We actually will be talking about weather today with Hurricane Florence about to bear down on the Carolinas. We'll talk that plus a preview and pick for tonight's Thursday Night Football game so let's get right to "the stack" for today, Thursday, September 13th:
College football weekend forecast
Hurricane Florence has caused the postponement or cancellation of several games (more on the hurricane in a moment), but there are still a bevy of college football games this weekend that are sure to be entertaining and great. Maybe we'll even see an upset or two.
There are three games pitting ranked teams against one another. #12 LSU travels to Auburn to take on the #7 Auburn Tigers (3:30 PM ET CBS). LSU has impressed so far. Can they pull off the upset? Don't be surprised if it happens. Auburn barely beat Washington in week one. Certainly LSU can do this. #17 Boise State travels to Stillwater to take on #24 Oklahoma State (3:30 PM ET ESPN). A lot of people, myself included, like Boise State to be that team out of the non-power 5 to make it to a New Year's Six bowl game. They can certainly beat the Cowboys and I'm guessing they will. Finally, #4 Ohio State travels to Arlington for a neutral?? site game against #15 TCU (8 PM ET ABC). College Gameday will be in Fort Worth before taking the jaunt on over to Jerry World for this game. I would love nothing more than to see Ohio State get throttled. Gary Patterson normally has a really good defense. I think they can make life difficult for Ohio State, but I fear Ohio State may come away with a victory here.
There are a number of other intriguing games highlighted by #22 USC traveling to Austin to take on Texas (8 PM ET FOX). Is Texas back? Can USC recover from that bad loss to Stanford last week? We'll find out, but I would guess, okay hope, that yes they will.
Pac-12 after dark is always a magnificent thing. #10 Washington finds themselves in a potential trap game at Utah (10 PM ET ESPN). Utah is a difficult place to play, but hopefully Washington is up for the task and will get the job done. #23 Arizona State travels to San Diego to take on San Diego State (10:30 PM ET CBSSN). Can the fighting Herm Edwards do it again? I'm thinking the Aztecs get them. And can Chip Kelly finally pick up his first win as UCLA head coach? They take on Fresno State (10:30 PM ET FS1). Fresno State is pretty good. UCLA cannot overlook them.
The likeliest chance of an upset this weekend may be found in Ames, Iowa, where Iowa State hosts Kyler Murray and #5 Oklahoma (Noon ET ESPN). Oklahoma lost there a couple of years ago if I recall correctly. Iowa State pulls off upsets over top teams that come to Ames. Oklahoma better be aware. And I can't possibly see Ole Miss taking down #1 Alabama (7 PM ET ESPN)? I don't think so, not when Ole Miss gave up so many points to Southern Illinois last week.
And if you are a gluten for punishment, try finding Rutgers at Kansas at noon ET. Ugh. I'm thinking Rutgers is going to take this one. Enjoy your week of college football.
Hurricane Florence
I mentioned yesterday that there are a number of games this week at the FBS and FCS level that are either postponed or cancelled due to Hurricane Florence that is roaring in the Atlantic and taking dead aim at the Carolinas. All of the games that are either postponed, cancelled or have been affected and changed the kickoff are listed below:
· West Virginia @ North Carolina State (canceled)
· East Carolina @ Virginia Tech (canceled)
· UCF @ North Carolina (canceled)
· Boston College @ Wake Forest (moved from 7:30 PM ET to 5:30 PM ET tonight)
· Old Dominion @ Charlotte (Moved to today, Thursday, 9/13 at 4 PM ET)
· Robert Morris @ James Madison (game moved to today, Thursday, 9/13 at 7 PM ET)
· Elon @ William & Mary (postponed…rescheduling will be determined based on FCS playoff scenarios)
· Tennessee State @ Hampton (cancelled)
· Norfolk State @ Liberty (moved to Dec 1st unless Norfolk State makes the FCS playoffs, then game will be cancelled)
· Guilford @ Davidson (moved to 7 PM ET today, Thursday, 9/13)
· North Carolina Central @ South Carolina State (rescheduled to 11/24)
· Charleston Southern @ The Citadel (postponed to 11/29 if both teams do not qualify for the FCS playoffs)
Those are a lot of games affected. Coastal Carolina has already played their game against Campbell this week. That game was played yesterday and Coastal Carolina won 58-21. I believe they scored 38 straight points.
Let's get to the real news though and that is this storm. There are those predicting that Hurricane Florence, right now a category 4, will be the costliest storm in US history, potentially reaching $170 billion in damage. Hurricane warnings are out along the North and South Carolina coasts. Over one million residents in North and South Carolina have been ordered to evacuate. While it looked like Norfolk, Virginia, was going to be in the storm's direct path, it now looks like the storm is basically going to hover over the North Carolina coast before moving slightly south towards South Carolina. Yes, Virginia won't be unscathed, but this is terrible news for the Carolinas. There are those that will be staying home rather than heed FEMA and the governor's warnings and leave and that means they will be on their own. This storm is going to have winds of roughly 140 MPH. Rainfall could exceed three or four feet. This storm should not be taken lightly. I've always said I would love to experience Mother Nature in her full fury, but I don't wish a storm of this magnitude doing the kind of damage that it will to the coasts and inland as well on anyone. Thoughts are with the residents of North Carolina, South Carolina and Virginia. I'm definitely going to be looking tuning in to the Weather Channel and other news stations for coverage of this one. The storm is expected to be a category 3 by the time it makes landfall sometime on Friday. Hurricane Florence you are not welcomed here and by here I mean the Carolinas and Virginia, since you know, I'm not there, I'm in North Dakota.
Baltimore Ravens @ Cincinnati Bengals 8:20 PM ET NFL Network
Pretty good matchup in the AFC North so early in the year. Both teams won last week. The Ravens absolutely embarrassed the Buffalo Bills while the Bengals scored 24 unanswered points to beat the Indianapolis Colts in Indianapolis. I'm not ready to deem Baltimore back and Joe Flacco elite after last week's play, but the wide receiving group for the Ravens is significantly better than they were last year and it showed. The Bengals seemed to be more balanced on offense and their defense isn't half bad either. The Ravens want revenge though for what happened week 17 last year when Andy Dalton completed that touchdown on fourth down to deprive the Ravens of making it to the playoffs. Not saying the Bengals can't beat the Ravens in Baltimore later in the season, but I just think Baltimore is going to find a way to get the job done in Cincy.
Prediction: Ravens 23 Bengals 20
Coming up Friday: Week 2 NFL preview and predictions