"The Stack" 9-14-18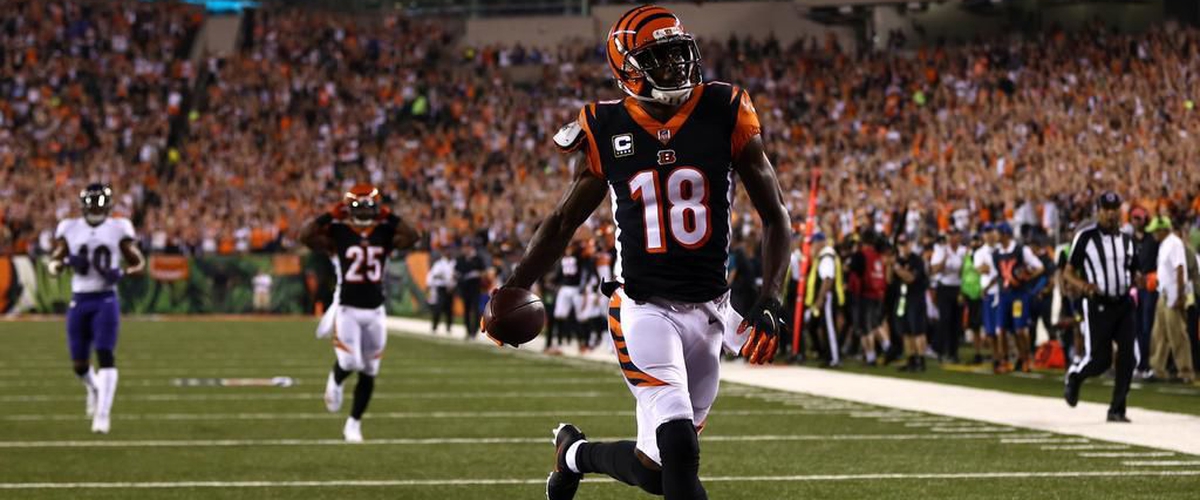 A.J. Green had three touchdown catches in the first half as the Cincinnati Bengals built a big lead and hung on to beat the Baltimore Ravens 34-23 Thursday night.
Welcome to another Football Friday. The Stack is here with previews and predictions for week two in the NFL and hopefully this week is better than last week, because we stunk last week. By my estimation and quick math, I was 7-8-1. Yikes! That's not even against the spread. That's straight up! What's up with that? Well we didn't start out good this week with the Baltimore Ravens falling to the Cincinnati Bengals 34-23. A.J. Green had three touchdowns in the first half for the Bengals and Andy Dalton had four touchdown passes. Ravens didn't look nearly as sharp as they did against the Bills. Bills stinks! Let's get to all of the picks for Sunday's games in "the stack" for today, Friday, September 14th:
1-0 Carolina Panthers @ 0-1 Atlanta Falcons 1 PM ET FOX
Rough week for both teams on the injury front. The Panthers have lost several offensive lineman and Greg Olsen is now out for a lengthy amount of time with a broken foot. The Falcons meanwhile lost safety Keanu Neal and linebacker Deion Jones to injury. You better believe that Cam Newton is going to take advantage of those holes, but the Falcons are out to show people that their offense is indeed better than last year. AT home and somewhat desperate, the Falcons come out on top.
Prediction: Falcons 30 Panthers 20
0-1 Los Angeles Chargers @ 0-1 Buffalo Bills 1 PM ET CBS
No team was worse last week than the Bills. Not bad a long shot. So they have decided to bench Nathan Peterman (what took them so long?) for rookie Josh Allen. Surely the Chargers can't lose to this terrible team. It would be so Charger-like of them to do that. I can't imagine it will happen. Can it?
Prediction: Chargers 27 Bills 10
1-0 Minnesota Vikings @ 1-0 Green Bay Packers 1 PM ET FOX
Will Aaron Rodgers play? That is the question that has been asked all week long in the state of Wisconsin and beyond for Packers fans. The Packers and Rodgers are going to play this one close to the vest. I can't imagine he doesn't play, but he won't be healthy and if I'm Vikings head coach Mike Zimmer I blitz Rodgers at least 40 percent of the time. Rodgers can still beat you though and the Vikings weren't exactly great last week, but I will trust that they can take advantage of a hobbled Rodgers and eek out of Green Bay with a win. I don't have a lot of faith though. The winner of this game will win the NFC North. Book it!
Prediction: Vikings 27 Packers 17
0-0-1 Cleveland Browns @ 0-1 New Orleans Saints 1 PM ET FOX
The Saints defense was awful last week. They leaked more than a (I could say something far worse here but I won't) faucet against Ryan Fitzpatrick of all people. The Browns aren't that explosive, but they will put up a fight. They haven't won a game since Christmas Eve 2016 need I remind you and Browns fans everywhere. I just don't see it happening this week. Drew Brees and company will roll.
Prediction: Saints 37 Browns 20
1-0 Miami Dolphins @ 1-0 New York Jets 1 PM ET CBS
Sam Darnold is the new savior of New York. At least through one week. Jets fans are excited and rightfully so. I don't buy into the Dolphins quite yet and while I'm not buy the Jets yet this year, I think Darnold and company do enough in this one to get the win.
Prediction: Jets 24 Dolphins 10
1-0 Kansas City Chiefs @ 0-0-1 Pittsburgh Steelers 1 PM ET CBS
All aboard the Pat Mahomes bandwagon. May was he good last week with four touchdown passes. Ben Roethlisberger was not good, throwing four interceptions and now he has an elbow injury. Assuming he plays, there will be points a plenty in this one. Can James Conner have another solid game? I think so, but I don't think they will be able to score enough points to stop Mahomes, Tyreek Hill, Kareem Hunt and company.
Prediction: Chiefs 37 Steelers 30
1-0 Philadelphia Eagles @ 1-0 Tampa Bay Buccaneers 1 PM ET FOX
All of a sudden, this game looks like one of the more intriguing games of week two. Can Ryan Fitzpatrick really duplicate his performance last week? No, not against this Eagles defense. He has a better chance of throwing four interceptions than he does throwing four touchdowns, but I think the Bucs will keep this close. It isn't exactly like Nick Foles has lit the world on fire in his regular season starts. We'll see just how crisp the Eagles are this week.
Prediction: Eagles 27 Bucs 20
0-1 Houston Texans @ 0-1 Tennessee Titans 1 PM ET CBS
Deshaun Watson was not very good last week and he knows it. He's admitted to it. The status of Marcus Mariota remains unknown. The Titans quarterback had to leave last week's game against the Dolphins with an elbow injury. If Blaine Gabbert is starting at quarterback for the Titans I know who I am taking. Even if Mariota plays, I think I am still leaning towards the Texans.
Prediction: Texans 20 Titans 16
0-1 Indianapolis Colts @ 1-0 Washington 1 PM ET CBS
Alex Smith just knows how to win. He did it again in his Washington debut last week. Adrian Peterson also looked solid last week. I don't know how long he can keep it up, but he should be able to keep it up against an Indianapolis defense that just isn't that good. Despite having Andrew Luck back, the Colts will lose again.
Prediction: Washington 27 Colts 16
0-1 Arizona Cardinals @ 1-0 Los Angeles Rams 4:05 PM ET FOX
Sam Bradford did not look good last week for the Cardinals. David Johnson has a back injury, but should play. It doesn't look good for the Cardinals who are about to play the explosive Rams. Rams win…BIG.
Prediction: Rams 34 Cardinals 13
0-1 Detroit Lions @ 0-1 San Francisco 49ers 4:05 PM ET FOX
Woof, what was that by the Lions Monday night in Motown? Matthew Stafford looked terrible. Jimmy Garoppolo is coming off of his first career loss, but maybe he can keep George Kittle going again. That 49ers defense wasn't too bad. I think the 49ers won't have much have too difficult of a time with Motor City Kitties no matter what Lions head coach Matt Patricia says.
Prediction: 49ers 23 Lions 12
0-1 Oakland Raiders @ 1-0 Denver Broncos 4:25 PM ET CBS
It was a bag of mixed results for Broncos quarterback Case Keenum last week. He threw three touchdowns, but also threw three interceptions. The Raiders started out hot last week, but cooled off in a hurry against the Rams. I don't think they'll be able to stop Emmanuel Sanders and Demaryius Thomas all game long. Broncos get another win.
Prediction: Broncos 30 Raiders 20
1-0 New England Patriots @ 1-0 Jacksonvillle Jaguars 4:25 PM ET CBS
Is it safe to say that this is the most excited Jaguars fans have been for a regular season game in years? Certainly for a home game. The Jaguars defense has a tall task to be able to stop Tom Brady and Rob Gronkowski, but hopefully Jalen Ramsey can back up his talk. The fact that running back Leonard Fournette may not play makes me very leery of picking the Jaguars, but I am not picking against that defense plus I picked against the Patriots last week so why not be wrong two weeks in a row?
Prediction: Jaguars 20 Patriots 16
0-1 New York Giants @ 0-1 Dallas Cowboys 8:20 PM ET NBC
The loser of this game falls to 0-2 and puts them in a large hole in the NFC East. Neither offense was great last week. I have more faith though in Odell Beckham Jr., Saquon Barkley and Eli Manning more than I do in Ezekiel Elliott, Dak Prescott and that group of wide receivers they have. Remember, the Cowboys also don't have Dan Bailey, only the second most accurate kicker in the NFL during his time I do believe.
Prediction: Giants 24 Cowboys 17
Coming up Monday: Sunday week 2 NFL reaction plus MNF preview