"The Stack" 1-28-19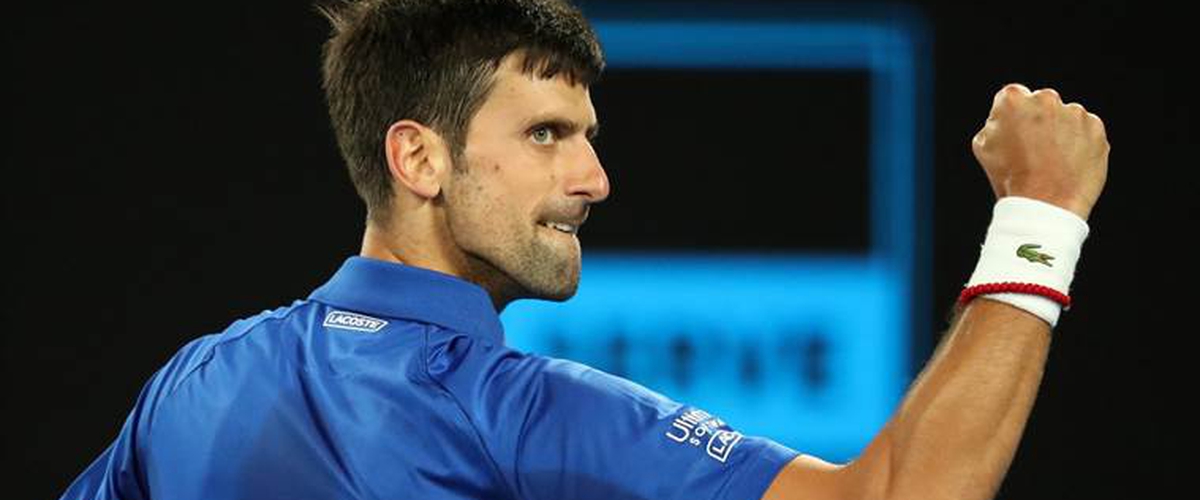 Novak Djokovic claimed his seventh Australian Open early Sunday morning with a straight set win over Rafael Nadal.
The Stack is back on this Monday and it is Super Bowl week. Looking forward to the big game on Sunday, but before then we have a few things to talk about. Who knows if there will be another blog between now and Friday. As I mentioned a little while back, the blog posting are going to be fewer over the next few months as we're just a little busy, but we'll do our best to get as many blog postings out as we can in March for March Madness. Now then let's get right to "the stack" for today, Monday, January 28th:
Australian Open results
We haven't mentioned this since it started two weeks ago, but tennis' first major of the season was underway down under. The Australian Open is now over and it was plenty entertaining. On the women's side Naomi Osaka won her second straight grand slam event with a 7-6, 5-7, 6-4 victory of Petra Kvitova. You might recall that Osaka won the U.S. Open last September in controversy after Serena Williams' meltdown. Fans booed during the trophy ceremony and you had to feel for Osaka. She was in tears. It was not good. She was very good in this tournament. She also joined an exclusive list as being one of only five women to ever win their first two grand slam event titles in consecutive grand slam events. Congratulations to her.
On the men's side, surprise, surprise, Novak Djokovic won in straight sets over Rafael Nadal 6-3, 6-2, 6-3. It was a battle of the top two seeds, but it wasn't even close. Djokovic was just too dominant. It is Djokovic's seventh Australian Open title. That is very impressive. He is so good. Next grand slam title happens in June I believe at the French Open at Roland Garros.
All-Star weekends
Two sports had their all-star games this weekend. The NHL's all-star festivities took place Friday and Saturday in San Jose while the NFL's Pro Bowl took place in Orlando on Sunday. The NHL's Skills Competition was very entertaining Friday night. It is amazing how fast some of these guys' slapshots are and how fast these guys can skate. Also, Kendall Coyne from the U.S. women's team took part in the competition. That was fun. On Saturday, the Metropolitan Division topped the Central Division in the final 10-5 to claim the win and the prize money. Sidney Crosby was named MVP.
The Pro Bowl was more than likely watched by way more people than what you would think a silly exhibition game would draw. The AFC throttled the NFC 26-7. IT was not a good look for the NFC. Kansas City Chiefs quarterback Patrick Mahomes was named MVP. I'm sure he would rather be preparing for the Super Bowl, but this is a consolation. Did I mention it is Super Bowl week?
Misc thoughts
Plenty of good college basketball going on right now. #6 Michigan State was upset Sunday by Purdue 83-73. #9 Kentucky took down #8 Kansas in the Big 12/SEC challenge on Saturday. #13 Maryland inexplicably lost 78-67 to Illinois at home. And you won't believe the crazy comebacks that UTSA and LSU pulled off Saturday. Old Dominion had a 99.9% chance of beating UTSA with under two minutes left only to lose 74-73. UTSA was down 17 points with under four minutes left. Don't give up. Don't ever give up. LSU beat Missouri 86-80 in overtime after being down double digits with just over two minutes left. Crazy comebacks and wins that could help determine who gets a good seed in their respective conference tournaments (Old Dominion and UTSA are in Conference-USA and LSU is in the SEC), and whether or not they are dancing in March.
Coming up later this week: Reaction to top sports stories/headlines and/or Super Bowl LIII preview
---