"The Stack" 2-1-19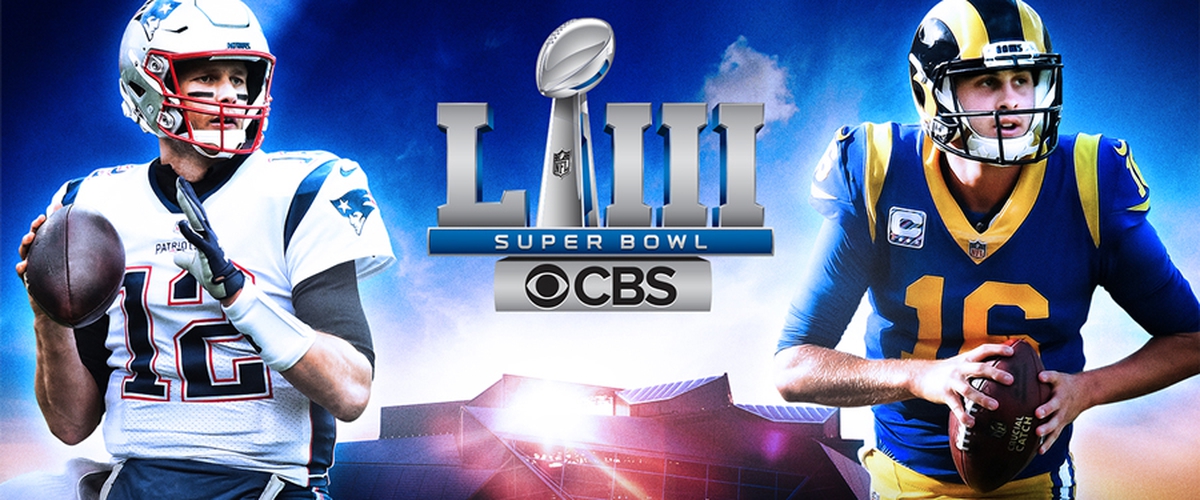 A rematch of Super Bowl XXXVI to the day when Tom Brady won his first Super Bowl, the Patriots will try to win their sixth Super Bowl against the offensively explosive Rams on Sunday at 6:30 PM ET on CBS.
The Stack is back on this Friday and first off, my apologies for not posting earlier this week. With Anthony Davis demanding a trade from the New Orleans Pelicans (presumably to the Los Angeles Lakers), Khabib and McGregor getting suspended for 9 months and 6 months respectively retroactive back to October and Kristaps Porzingis getting traded from the New York Knicks to the Dallas Mavericks yesterday, there is plenty to talk about. Maybe we'll talk about the Porzingis trade next week. Life has been busy and as I have said a number of times, the posts will be fewer between now and March. There will be more though, I promise. However, today it is our last Football Friday post of the season as Sunday is Super Bowl LIII! We've got a preview and prediction that I hope you demand so let's get right to "the stack" for today, Friday, February 1st:
Super Bowl III (Atlanta, GA) Sunday, February 3rd
#2 New England Patriots VS #2 Los Angeles Rams 6:30 PM ET CBS
The big game is finally here. In a rematch of Tom Brady and Bill Belichick's first Super Bowl appearance and subsequent victory 17 years ago to the day, the Patriots and Rams square off again. This isn't the Greatest Show on Turf versus the underdog, feel good story, everybody wants them to win Patriots. This is the GOAT (quarterback or coach…take your pick or take both) versus the offensive genius (Sean McVay). The Patriots, of course, have a great deal of Super Bowl experience while the Rams have very minimal. Will that play a factor in this game? I certainly think it could.
Offensively it might appear that the Rams are superior. After all, they do have a top five running back in Todd Gurley and a tremendous slew of receivers led by Brandin Cooks and Robert Woods. The problem though for the Rams is that they no longer have Cooper Kupp who suffered a torn ACL earlier in the season. Since he got injured, they just aren't as threatening. Kupp was great in the slot. And the Rams arguably wouldn't be in the Super Bowl if it wasn't for C.J. Anderson whom the team signed with just a couple of games left in the regular season. He has been especially big in the postseason. The Rams have said that Gurley will play a big role and be himself, but it's hard not to envision Anderson playing a significant role himself.
The Patriots can beat you any number of ways. Of course you have to give Tom Brady the edge over Jared Goff. James White is a huge receiving threat out of the backfield. Sony Michel has been great. Don't sleep on Rex Burkhead either. Factor in the ultimate slot weapon in Julian Edelman and the Patriots are dangerous. Plus Gronk is going to make a play or two right? The Patriots offensive line has not allowed a sack on Brady in 90 dropbacks so far this postseason. That is unheard of. Of course, they will be going against the best defensive player in the game in defensive tackle Aaron Darnold. He poses a significant challenge as does his teammate, defensive tackle Ndamukong Suh. Will they wreak havoc on Brady all night or at all?
I'd say defensively both teams are about the same. The Rams have the better of the defensive lines obviously and Aqib Talib and Marcus Peters are good cornerbacks, but the Patriots defensive all around is very good. Kyle Van Noy is a do-it-all linebacker. Their secondary is good. Their defensive line isn't terrible. The Rams have the best player, but the defenses are overall almost a draw.
Give the Rams the edge in special teams. I will take Greg the Leg Zuerlein and Johnny Hekker over Stephen Gostkowski and punter Ryan Allen. Remember Zuerlein's game-winning kick against the Saints in the NFC Championship game? He would have made it from close to 70 yards. Plus Hekker can throw. No question, advantage Rams.
So how is this game going to go? Well the Patriots never score in the first quarter except for last year. They start slow. I think the Rams will be jacked and have a lead midway through the first quarter 7-3. It will be 17-10 in the second quarter, but Brady and company will score late to tie the game 17-17 going into halftime.
It is going to be incredibly fascinating to see how McVay and Belichick and Patriots offensive coordinator Josh McDaniels used these two weeks. McDaniels put together a fantastic gameplan against the Los Angeles Chargers in the Divisional round of the NFL Playoffs and was fantastic in the NFC Championship. He is going to have something great put together. I think what they are going to do, what they should do is get the ball out of Brady's hands quickly to eliminate the effect that Donald can have on this game. That means swing passes to White. Screen passes. Quick slants to Edelman. Yards after the catch are going to be critical for the Patriots. Michel is going to be able to run the ball against a Rams defense that gives up over five yards per carry. They will play ball control.
The Rams can do that too though. Assuming Gurley is healthy (and that is a bit of an assumption at this point) they can also play ball control as well mixing in Anderson when needed. McVay will come up with some clever formations and get the ball in the hands of Cooks and Woods. You hate to think that it may come down to experience, but it ultimately may. The Patriots have way more experience and who do you think will be more prone to make a mistake…Brady or Goff? My money is on Goff.
I hope the commercials are good. There certainly are a lot of prop bets…and a lot of good ones. I don't care that Maroon 5 is the halftime show. No thank you.
Oh you want a final prediction. Well unlike in previous Super Bowls involving the Patriots, I'm going against the grain. No I'm not picking the Rams. I think the Patriots win by two scores. It will be a one score game going into the fourth quarter, but the Patriots will score a touchdown with six minutes left and then stop the Rams on a fourth down attempt and run the clock out. Make it a sixth Super Bowl championship for Brady, Belichick and the Patriots.
Prediction: Patriots 34 Rams 20
Enjoy the Super Bowl everyone. Super Bowl Sunday is one of the best days of the year.
Coming up Monday: Reaction to the Super Bowl
---