"The Stack" 2-4-19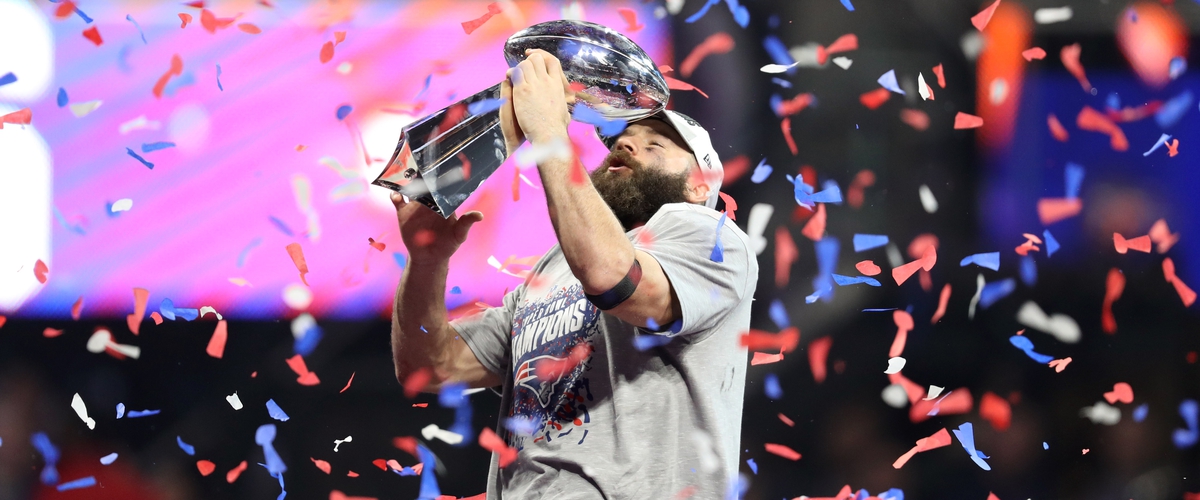 New England Patriots wide receiver Julian Edelman dominated an otherwise very boring Super Bowl with ten catches for 141 yards...stats good enough to give him MVP honors in the Patriots 13-3 win over the Los Angeles Rams. It is the Patriots sixth Super Bowl title.
The Stack is back on this post-Super Bowl Monday and I must say, this day should be a national holiday. Good game or bad game, no one should have to work the Monday after the Super Bowl. And it was a bad game. The first Super Bowl that I really remember was either 1995 or 1996. This will go down as probably the third worst one (I'll give the two above it here later on). We'll react to it all (trust me, there isn't much to react to) in "the stack" for today, Monday, February 4th:
Super Bowl LIII (Atlanta, GA)
Patriots 13 Rams 3
What a dud of a game. Plenty of people were hoping for a great game with the young offensive genius head coach Sean McVay going up against the GOAT, Bill Belichick. That didn't happen. Maybe everyone was just doing some wishful thinking, because the game not only failed to live up to the hype, it will go down as one of the worst Super Bowls in recent memory if not all time.
This was bad. The New England Patriots got the ball first and were running it down Los Angeles' throats, but Tom Brady threw an interception and that ended the drive. They got the ball again and attempted a field goal. No kicker missed a field goal at Mercedes Benz Stadium this season, CBS play-by-play man Jim Nantz said. Stephen Gostkowski missed. Announcers jinx. Broadcasters jinx. Tony Romo had fun with it at least. The Rams as a whole didn't do anything in the first half. They had just two first downs yet found themselves down only 3-0.
Second half started with the Rams receiving the opening kickoff and they couldn't do anything with it. Apart from the drive to tie the game up 3-3 late in the third quarter and then their last possession of the game, with the Patriots up 13-3, the Rams offense stalled much of the day. Running back Todd Gurley once again was a non-factor. A virtual no-show. He had to have either re-aggravated his injury from late in the regular season against the Dallas Cowboys in the divisional round or early in the NFC Championship game against the New Orleans Saint or suffered a new injury, because the best running back in the game just doesn't disappear like that. It's perplexing to say the least.
The Rams didn't have an answer for Patriots wide receiver Julian Edelman all game long. Edelman kept making Rams cornerback Marcus Peters looking like a fool much of the game. He finished with ten receptions for 141 yards and was named MVP. The only touchdown of the game came on a drive that saw Brady hit Rob Gronkowski (who was battling injury for gains of 18 and then 29 yards to set up first and goal. Rookie running back Sony Michel punched it in from two yards out and a 10-3 lead never felt so safe. The Rams did drive down the field, but on second down, the Patriots did an all-out blitz with zero coverage over the top meaning everyone would be man-to-man with no help. Jared Goff lofted a pass up to Brandin Cooks, but he didn't have enough on it. Stephon Gillmore picked it off and that was that. The Patriots would milk the clock and kick a field goal with just over a minute to go and win by that 13-3 score.
This game was awful, but give credit to both Belichick and Rams defensive coordinator Wade Phillips. You give Belichick two weeks to prepare and he will come up with ways to contain your offense. The Patriots defense frustrated the Rams all night long. They couldn't get anything going. Again, it helps that Gurley was a non-factor. Credit though needs to be given to Wade, son of Bum, who made Brady uncomfortable for much of the game and held the Patriots offense in check. His best player though, Aaron Donald, was held in check and had a quiet day, and Phillips had no answer for Edelman. The Rams have a young team and they have a decent window available for them. This was just not meant to be. The Patriots have won their sixth Super Bowl and Brady and Belichick have been a part of them all. They have now been to nine Super Bowls. That is really special. Too bad the game was a dud, but like I said Friday, I thought the Patriots would win by multiple scores. Who knew it would take so long in such a low scoring game to get there.
So the game sucked. The halftime show featuring Maroon 5 I thought was fine. Nothing terrible, but nothing simply fantastic. It was just kind of there. Kind of blah. Kind of like the game.
The best part about the Super Bowl is when it was finally over. The commercials I thought were overall decent with the NFL 100 commercial and Amazon featuring Harrison Ford stealing the show. Those commercials were great. In case you missed halftime, that is when the NFL 100 commercial aired. I highly recommend checking it out. Bud Light was great. Game of Thrones killed the Bud Light Knight (spoiler alert) in a great commercial. M&Ms also was good. The rest of the commercials were so-so, but I thought overall the commercials were good this year. Better than the game anyway.
So congrats to the New England Patriots on their sixth Super Bowl championship. Love them or hate them, you can't deny how impressive a run they are on. Nine Super Bowl appearances in 18 years and six championships. Only the Pittsburgh Steelers have six championships. That is quite impressive. Sure there is #SpyGate and #DeflateGate, but there is no denying that they have two GOATs (Greatest Of All Time) in Brady and Belichick.
Coming up later this week: Reaction to top headlines in the sports world
---