"The Stack" 10-2-18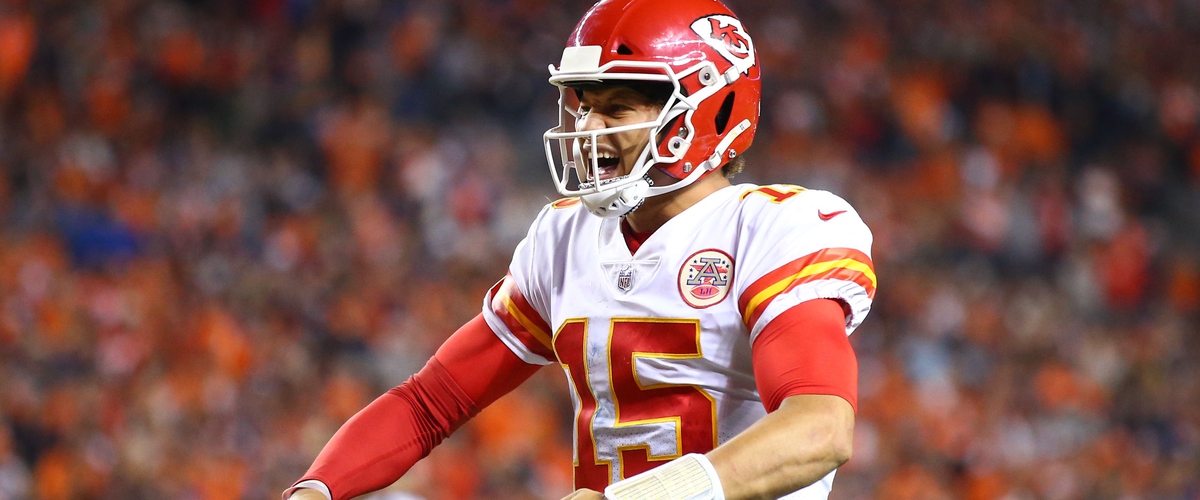 Pat Mahomes was sensational in the 4th quarter Monday night even throwing a pass left handed to Tyreek Hill as the Chiefs came back to beat the Broncos 27-23.
The Stack is back on this Tuesday and we have a number of things to talk about today. Plenty of baseball and football to talk about so let's get right to "the stack" for today, Tuesday, October 2nd:
Brewers clinch NL Central, Dodgers NL West
We had not one but two "Game 163"s yesterday and I was half right with my predictions. I had hoped both the Milwaukee Brewers and Colorado Rockies would win, but thought that the Chicago Cubs and Los Angeles Dodgers would win. Well, the Dodgers won, but the Cubs did not. Cubs pitcher Carlos Quintana had been very successful against the Milwaukee Brewers this season going 4-1 on the year and he was once again good going five innings and allowing only one run on six hits. Sadly enough for Cubs fans, it was the bullpen that faltered for the Cubs. Justin Wilson came into the eighth inning and gave up two hits and a run, but got charged with two runs after Steve Cishek gave up a single which allowed another run to score and increase the Brewers lead to 3-1. They would win by that score to win their first NL Central title since 2011. Great job by the Brewers. The Cubs' season is on the line now tonight.
Rockies starting pitcher German Marquez was tremendous early on striking guys out right from the gate and striking out nine through 4 and 2/3 innings. It was that fourth inning that did him in though when he gave up a two run homerun to Cody Bellinger with two outs. He gave up another two run homerun to Max Muncy in the fifth inning and that would be all that the Dodgers would need, because the next great ace in their rotation, Walker Buehler was absolutely lights out, giving up one hit over six runs. The Dodgers would win 5-2 which gives them their sixth straight NL West title. They will host the Atlanta Braves in the NLDS. The Rockies are headed to Chicago for the NL Wild Card game tonight between them and the Cubs (8 PM ET ESPN). I hope the Rockies win, but I'm thinking the Cubs will. The winner goes too Milwaukee to take on the Brewers. The loser, of course, goes home.
Mahomes great late, stages comeback win for Chiefs over Broncos
The Denver Broncos defense was making things difficult for Patrick Mahomes and the Chiefs offense for three quarters. Mahomes had just 65 passing yards at half and the Chiefs prolific and high-powered offense had just 13 points through three quarters. Mahomes and the offense went to work in the fourth quarter though. Down ten, 23-13, the Chiefs went on a 12 play, 75-yard touchdown drive and Mahomes looked in charge. He converted on a fourth down. He threw the ball accurately on the run. His arm strength is truly amazing. His best throw of the night though arguably came on the game-winning touchdown drive when he was on the run getting chased by Von Miller and switched the ball from his right hand to his left hand and threw it to Tyreek Hill for a first down on 3rd and 5. Unbelievable! A Kareem Hunt four-yard touchdown run later in the drive and the Chiefs took a 27-23 lead and they would win by that score. Mahomes has taken the league by storm and rightfully so. Man is he fun to watch. The Chiefs offense is high-octane. Their defense isn't great, but I think if they get in a number of shootouts, I'll take Mahomes and the offense more times than not. The Chiefs and Rams are the lone undefeated teams remaining in the NFL and we will get to see them both on MNF later this season from Mexico City.
Eric Reid signs with the Panthers
One of the better safeties in football, Eric Reid couldn't get anyone to sign him in the offseason following his release from the San Francisco 49ers. He had a visit with the Cincinnati Bengals, but after someone (Bengals owner Mike Brown??) asked Reid if he would continue his anthem demonstration. Ultimately, Reid would not be signed by the Bengals keeping him on the open market. He no longer is a free agent following the Carolina Panthers signing him last week on a one-year, $2 million deal. The Panthers had a need at safety and kudos to them for signing the best free agent safety out there. There is no reason Reid shouldn't have been on an NFL team prior to last week. He is more than capable of playing, but the national anthem deal appears to be the main reason why he wasn't signed. After all, why would the NFL want to give a voice to their players who are trying to raise awareness to social injustices going on the United States of America? New Panthers owner David Tepper appears to be a little more open minded about things which is refreshing. This is a sound football move by the Panthers. Reid will continue his collusion case against the NFL along with Colin Kaepernick. It's just nice to see someone give him a chance since he has not shown any reason with his play why he shouldn't be out there.
College football thoughts
Penn State, Penn State, Penn State. What in the world was that Saturday night? For the second time in as many years, the Nittany Lions had a lead on Ohio State only to see them falter down the stretch yet again and lose. This time around, Penn State's defense was flying in the first half against the Buckeyes, but their lead wasn't big enough. They had a 26-14 lead in the fourth quarter, but Ohio State quarterback Dwayne Haskins made some big plays, including lead the Buckeyes on a 96-yard game-winning touchdown drive to give the Buckeyes a 27-26 lead. Penn State had a chance, but on 4th and 5, after two timeouts, Penn State inexplicably ran a read option play with the running back right into the teeth of the Ohio State defensive line. Game over. What an absolutely horrendous call especially when quarterback Trace McSorely had done such a good job the entire game accounting for over 400 yards of offense, with roughly 150 of those yards coming on the ground. Head coach James Franklin took blame and responsibility for the call and rightfully so. Penn State will rue the day when Ohio State makes it to the College Football Playoff and they don't because of that decision and their play in the fourth quarter. Speaking of comebacks, #14 Michigan fell behind 17-0 to Northwestern, but rallied to win 20-17 and keep their College Football Playoff hopes alive. They are skating on some thin ice.
Elsewhere, after that come-from-behind win on the road at Oregon last week, #7 Stanford lost to #8 Notre Dame 38-17. It was close into the third quarter before Notre Dame pulled away. This quarterback, Ian Book, is pretty good. Watch out for the Fighting Irish.
#3 Clemson survived a scare from Syracuse 27-23. They had to come back after falling behind in part due to freshman quarterback Trevor Lawrence being forced to leave the game due to injury. Scary times for the Tigers. Where's Kelly Bryant when you need him?
#12 West Virginia traveled a long ways from Morgantown, West Virginia, to Lubbock, Texas, but Will Grier and company took down the #25 Texas Tech Red Raiders 42-34.
UCLA and Nebraska are still winless after losing to Colorado and Purdue respectively. It is not a pretty scene at either place. And don't look now, but Kentucky football is alive and well. The #17 ranked Wildcats (as of last week) are 5-0 after taking down South Carolina 24-10. Big test coming up this week against Texas A&M and we will talk about it in the college football weekend forecast on Thursday.
Coming up Wednesday: 2018-19 NHL season preview