"The Stack" 10-3-18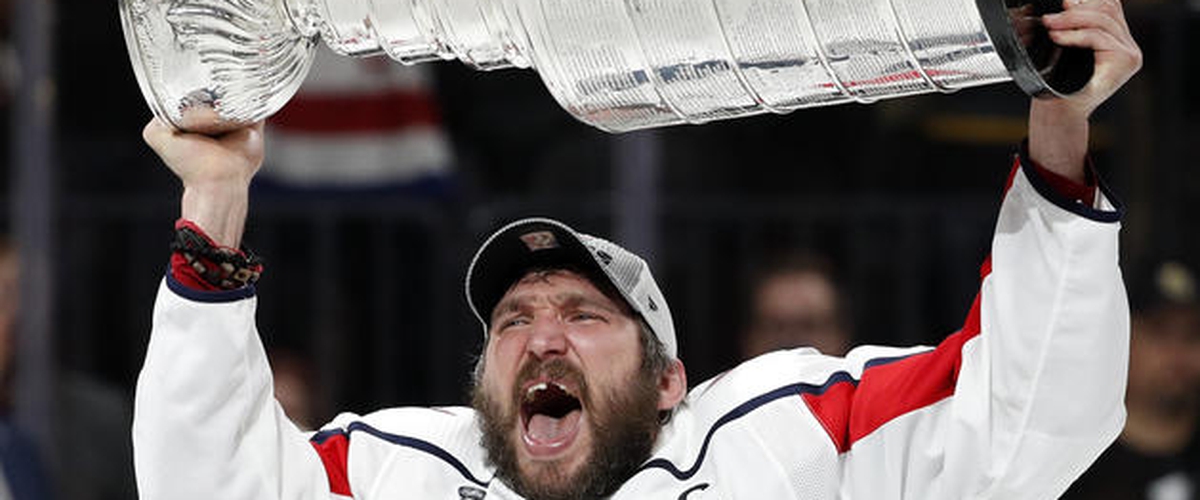 Last we saw Alex Ovechkin on the ice, he was lifting the Stanley Cup. Can he and the Capitals repeat? The puck drops on the NHL season tonight!
The Stack is back on this Wednesday and the puck drops on the 2018-19 NHL season tonight. Did it sneak up on you too? I have to tell you, I feel somewhat ill-prepared for this season so this preview may be a little shorter than our normal previews. We'll take a look at each division, pick who is making the playoffs and have your Stanley Cup winner so let's get right to "the stack" for today, Wednesday, October 3rd:
2018-19 NHL season preview
Has anyone had any more fun celebrating a Stanley Cup championship than the Washington Capitals, specifically Alex Ovechkin? Between the parties and the keg stands, Alex Ovechkin still may be tipsy or hungover when the banner is unveiled at home tonight. Can the Capitals repeat? Certainly they are capable, but there are some loaded teams throughout the NHL. Let's take a look at the eastern conference first.
Eastern Conference
Atlantic Division
It's hard to look at the Atlantic Division and not like a team more than the Tampa Bay Lightning. This team has been built the right way. It was surprising that Steve Yzerman retired from the front office a few weeks ago. Is he headed to Detroit? The smart money says yes. Between Tyler Johnson, Steven Stamkos, Nikita Kucherov and more, this team has depth and a great goalie in Andrei Vasilevskiy. Watch out for the Lightning.
If there is a team that can compete with them though, it is the Toronto Maple Leafs. With Auston Matthews leading the way, there is so much young talent on this team that is ready to break out. They added a new toy in John Tavares and they have the right balance between youth and some veterans. The big question is the goaltending. Will that hold up? That will be the key to the Maple Leafs' success for the season.
Boston should be good this year again. The ageless wonder, defenseman Zdeno Charo, and other veterans like Brad Marchand, Patrice Bergeron and young guys like Ryan Donato, the Bruins should once again find themselves in the postseason. Florida has some good talent. The team disappointed a little bit last year, failing to make the playoffs. I think they are a team to watch for this year to rebound. People say that the Buffalo Sabres are the team to keep your eye on this year. They are a major sleeper. I like Jack Eichel and I certainly hope that the Sabres have success and can make the postseason this year, but I don't know if I am completely sold on them yet.
There may be no worse team this year in the NHL than the Ottawa Senators though the Detroit Red Wings will be right there with them. It's going to be a long year for both of those teams. Montreal will likely struggle as well.
Predicted Atlantic Standings
1. Tampa Bay Lightning
2. Toronto Maple Leafs
3. Boston Bruins
4. Florida Panthers
5. Buffalo Sabres
6. Montreal Canadiens
7. Detroit Red Wings
8. Ottawa Senators
Metropolitan Division
The Washington Capitals are your reigning Stanley Cup champions and yes, Alex Ovechkin is still celebrating. Oh, I said that already? There is no reason why this team can't repeat with T.J. Oshie, Devante Smith-Pelly, Tom Wilson, John Carlson and company. They will get everyone's best shot, but after watching them last year, we know what they are capable of. Same with the Pittsburgh Penguins. Any team that has Sidney Crosby and Evgeni Malkin to go with Jack Guentzel and the ageless wonder Matt Cullen can not be taken lightly. They certainly should be considered one of the favorites to hoist Lord Stanley's Cup.
Hard not to count out Columbus as a favorite to make the playoffs. Love what head coach John Tortorella has done throughout his career. While the team may have some question marks, particularly left wing Artemi Panarin, they have enough to make the playoffs I think.
The most interesting thing about the Philadelphia Flyers this year? Their mascot Gritty. He looks like a slightly demented character from Sesame Street. Get to love him America! Taylor Hall helped lead the New Jersey Devils to the playoffs last year. Can he do it again? The Devils are a weird team for me to peg, but we'll see how it goes. Speaking of teams that are difficult to peg, what do we do about the Carolina Hurricanes? There is talk that this team could really break out this year. I wouldn't mind seeing it, but I need to see it before I will be completely sold. At least they are going to wear the throwback Hartford Whalers jerseys a couple of times this season. That is going to be fun to see. Can goalie Henrik Lundqvist carry the New York Rangers, a young Rangers team to the postseason? I won't dismiss the possibility, but I think the odds are a little high. The New York Islanders have their coach in Barry Trotz. Now they just need a team around him.
Predicted Metropolitan Standings
1.Washington Capitals
2. Pittsburgh Penguins
3. Columbus Blue Jackets
4. New Jersey Devils
5. Carolina Hurricanes
6. Philadelphia Flyers
7. New York Rangers
8. New York Islanders
Predicted Eastern Conference playoff teams (A = Atlantic, M = Metropolitan, WC = Wild Card)
Tampa Bay Lighting (A)
Toronto Maple Leafs (A)
Boston Bruins (A)
Washington Capitals (M)
Pittsburgh Penguins (M)
Columbus Blue Jackets (M)
Florida Panthers (WC1)
New Jersey Devils (WC2)
I have the Sabres just missing out on the playoffs, but I hope they prove me wrong and make the playoffs. Rooting for you Buffalo.
Eastern Conference Finals
Toronto Maple Leafs vs. Washington Capitals
Western Conference
The Vegas Golden Knights took the NHL by storm last year and surprised everyone in route to the Stanley Cup Final. Everyone will be well aware of them this year. There won't be a surprise like that in the western conference this year, but this will still be a conference full of loaded teams battling it out with one another and there will be some really good teams left out unfortunately.
Central Division
There is no division more difficult in the NHL of the four divisions than the Central Division. Last year featured the two best teams in hockey, the Winnipeg Jets and the Nashville Predators. I don't see that changing. Winnipeg is great. Patrick Laine's beard is awesome and gross at the same time. His game is sick, the good kind of sick. Blake Wheeler, Dustin Byfuglien, Mark Scheifele and company provide good support and Connor Hellebuyck seems to have taken that next step as a goalie. Pekka Rinne is one of the better goalies in the NHL. The Predators are glad to have him. P.K. Subban is a star and between Ryan Johanson and Roman Josi, this team is once again poised to make a deep run into the playoffs.
The St. Louis Blues added some weapons in the offseason in center Ryan O'Reilly and left wing Patrick Maroon (a St. Louis native) to go with Alexander Steen and Vladimir Tarasenko. Yet, with ever Mike Yeo head coached team, there inevitably will be a mid-season swoon and hopefully that won't take the Blues out of playoff contention. The Minnesota Wild know that all too well. Gone is GM Chuck Fletcher. Insert Paul Fenton from the Nashville Predators. This isn't a rebuild as there is some great talent on the team and some huge contracts that make the salary cap an unavoidable pain, but with Zach Parise and Ryan Suter, provided they can stay healthy, there should be no reason why they don't make it back to the playoffs. That's a big if though. Charlie Coyle needs to play consistent. The defenseman need to be more consistent. Jason Zucker needs to keep scoring goals just like Eric Staal. I'm pulling for you Wild.
The Dallas Stars disappointed last year, but this team is explosive led by Tyler Seguin. They need him to stay healthy. Left wing Jamie Benn and right win Alexander Radulov certainly support him in helping the scoring. Provided this team can stay healthy and Ben Bishop can stay healthy in net, the Stars should be back in the postseason. Maybe they will be taking Colorado's place. I'm not sold that Nathan McKinnon, Gabriel Landeskog and company can go on the run they did last year to make the playoffs for a second straight year. I've been wrong before though. How have I not even mentioned the Chicago Blackhawks yet? They were bad last year despite having Jonathan Toews and Patrick Kane. A health Corey Crawford in net could be an X-factor for this team, but I think it will be another long year for the team.
Predicted Central Division Standings
1. Winnipeg Jets
2. Nashville Predators
3. Dallas Stars
4. St. Louis Blues
5. Minnesota Wild
6. Colorado Avalanche
7. Chicago Blackhawks
Pacific Division
It is nearly impossible to start a conversation on the Pacific Division and not marvel at what the Vegas Golden Knights did last year. For an expansion team filled with misfits from every team in the league to make the postseason and advance to the Stanley Cup Final is truly remarkable. They should be just as good this year though no team will take them lightly. They will receive everyone's best shot. They did add center Paul Stastny and left wing Max Pacioretty so the offense should be better. Can Marc Andre-Fleury play as well as he did in net last year? He won't be as stellar, but he will still be really good. Vegas though will have to watch out for the San Jose Sharks who added arguably the best piece in the offseason in defenseman Erik Karlsson from the Ottawa Senators. Yes he comes with some baggage, but this dude can play. Adding him to a blue line with the likes of Brent Burns is a huge plus for the Sharks. Between Joe Pavelski, Joe Thornton and Evander Kane, this Sharks team is going to be one to really watch for this season.
It's a toss up for me between the Anaheim Ducks and Los Angeles Kings who makes that last guaranteed playoff spot in this division. I feel like the Kings are in for a bit of a down year. The Ducks still have Ryan Getzlaf and Corey Perry who can score goals like crazy. Adam Henrique is pretty good as well. Look for the Ducks offense to be pretty good this season.
A team that disappointed last year, the Edmonton Oilers, they should rebound this year. They do have Connor McDavid after all. Maybe the pressure on them was just too much last year. They need consistent goaltending, but with McDavid, I am thinking this team will find a way to make it back into the postseason.
The Calgary Flames I think will be close, but will not make it to the playoffs. The Vancouver Canucks rebuild is in its fifth or sixth year it seems. They will be bad and to the Arizona Coyotes, can you please just play decent this season and make things interesting in the division. Playoffs would be great, but just don't suck.
Predicted Pacific Division Standings
1. San Jose Sharks
2. Vegas Golden Knights
3. Anaheim Ducks
4. Edmonton Oilers
5. Los Angeles Kings
6. Calgary Flames
7. Arizona Coyotes
8. Vancouver Canucks
Predicted Western Conference playoff teams (C = Central, P = Pacific, WC = Wild Card)
Winnipeg Jets ( C)
Nashville Predators ( C)
Dallas Stars ( C)
San Jose Sharks (P)
Vegas Golden Knights (P)
Anaheim Ducks (P)
St. Louis Blues (WC1)
Edmonton Oilers (WC2)
Please Minnesota Wild! Please prove me wrong. Thank you.
Western Conference Final
San Jose Sharks vs. Winnipeg Jets
Stanley Cup Final
Winnipeg Jets vs. Toronto Maple Leafs
That's right…an all Canadian Stanley Cup Final which means the two decade plus drought for Canadian teams is over! Probably won't happen.
Hart Trophy (MVP): Connor McDavid (EDM)
Enjoy the NHL season everyone. These next six months will fly by! Can't wait for postseason hockey. Let's go Wild!
Coming up Thursday: College football weekend forecast, playoff baseball and a TNF pick
---