"The Stack" 10-4-18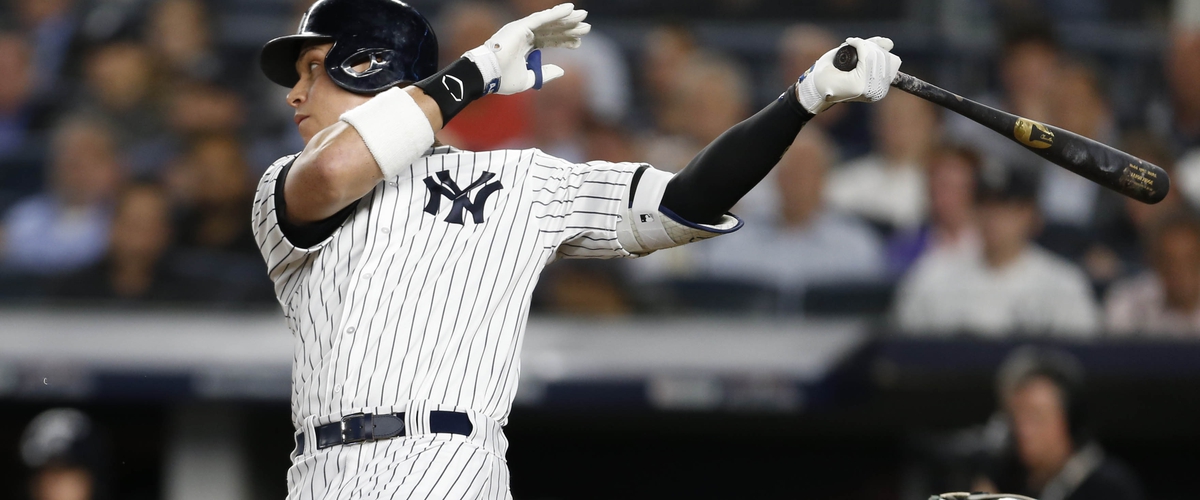 Aaron Judge hit a two-run homerun in the first inning that helped lift the Yankees to a 7-2 win over the Oakland Athletics. They now advance to the ALDS to take on the arch-rival Boston Red Sox.
The Stack is back on this Thursday and the baseball playoffs are officially here. We will preview the playoffs in just a moment. First though, the Washington Capitals raised their Stanley Cup championship banner Wednesday night and then promptly spanked the Boston Bruins 7-0. Hopefully everyone caught the big NHL season preview yesterday. Tom Wilson won't be with the Capitals for the first 20 games of the season thanks to a viscous hit delivered in the preseason. Speaking of suspensions, Chicago Cubs shortstop Addison Russel has been suspended for 40 games from MLB for domestic violence. He's going to be out close to 25 percent of the season. Now, let's see what else we have in "the stack" for today, Thursday, October 4th:
Yankees top A's, advance to take on the Red Sox
The Oakland A's went the Tampa Bay Rays approach and went the bullpen route starting Lance Hendriks right away. If the New York Yankees were nervous and apprehensive, Aaron Judge ended that with one swing. Judge's two-run homerun in the first inning gave the Yankees a 2-0 lead and they would not look back. Oakland's bats went quiet all night except for a two-run homerun by Khris Davis, but by that point it was too late. A four run sixth inning by the Yankees doomed the A's and Giancarlo Stanton topped it all off with a solo moonshot in the eighth inning. The Yankees would win 7-2 and now they get to face the Boston Red Sox, their arch-nemesis. Tough way to end the season for Oakland, but considering where they were a couple of months in, at least they made it in.
Baseball playoff preview
The division series (ALDS and NLDS) are set. The American League series are on TBS and the National League series are on FOX, FS1 and MLB Network. The NLDS starts today. Colorado is at Milwaukee (5:07 PM ET FS1) and Atlanta is at Los Angeles (Dodgers) (8:37 PM ET MLB Network). I picked the Cubs initially to make it to the World Series, but I am glad to see Colorado took them out. That leads me to the Brewers. That offense is good led by Christian Yelich. He has been sensational this year. Josh Hader (Hader in the house) is great out of the bullpen (he may still be racist) and he is a big weapon for the Brewers. I think they are just going to be too much and will beat the Rockies in five. The Braves have not played well down the stretch, and while that isn't necessarily indicative of how a team does in the playoffs, I just don't like how this team is looking with the postseason starting. Plus they haven't had the greatest success in the postseason in their history anyway. Dodgers starting pitcher Clayton Kershaw hasn't been successful in the postseason himself. Reluctantly, I'll take the Dodgers. If it's Brewers-Dodgers, I will take the Brewers to go to the World Series. They just have it all working together for them.
In the AL, maybe you've heard, but the Boston Red Sox and New York Yankees are playing one another in the ALDS so expect four to five hour games. The Red Sox are too strong and I like their starting rotation more so give me them over the Yankees. With so much attention being paid to that series, the Cleveland Indians and Houston Astros are flying under the radar, specifically the Astros. They are your defending World Series champions after all. I think the Astros are the most complete team in the playoffs. That's good enough for me. I like them to beat the Indians and then take down the Red Sox in the ALCS. If the Brewers and Astros meet in the World Series, I like the Astros to win their second consecutive World Series. They are just too strong. It is going to be a very fun month of playoff baseball. Enjoy it everyone. October is here!
College football weekend forecast
It's cold up here in the upper Midwest and Great Plains. Like, well below average. It sucks. I want to golf, but instead I'll be watching some college football. Too bad this weekend isn't very good. Yes the Red River Rivalry at the Texas State Fair at the Cotton Bowl between #19 Texas and #7 Oklahoma (Noon ET FOX). I can definitely see Texas winning since they have been playing so well since that opening week loss to Maryland, but it is really hard to pick against Kyler Murray and company. I'll lean towards the Sooners.
There are only two other games pitting ranked teams against one another. #5 LSU travels to #22 Florida to take on the Gators (3:30 PM ET CBS). First one to 13 wins. Seriously the over/under for this game is 43.5 points. Take the under. I'll pick LSU narrowly. The other game with ranked teams is #6 Notre Dame at #24 Virginia Tech (8 PM ET ABC). Can my Hokies hand Notre Dame their first loss of the season? Blacksburg at night?! Heck yes!
That's pretty much it for the week. Florida State @ #17 Miami (FL) (3:30 PM ET ABC) barely registers on the radar. There are five ranked teams on the road. #1 Alabama @ Arkansas (Noon ET ESPN), No chance of an upset here. #4 Clemson @ Wake Forest (3:30 PM ET ESPN), with Trevor Lawrence back at quarterback for Clemson, I'm not liking Wake Forest's chances of pulling off the upset. #8 Auburn @ Mississippi State (7:30 PM ET ESPN2), I can see Auburn losing, but after Mississippi State lost 13-6 at home to Florida last week, give me Auburn. #10 Washington is not losing at winless UCLA (7:30 PM ET FOX). Not happening! Nebraska is remaining winless as well when they visit #16 Wisconsin (7:30 PM ET BTN). The most intriguing ranked team on the road is #13 Kentucky at Texas A&M (7 PM ET ESPN). Can Kentucky win to improve to 6-0? This is their last great test before Georgia in a month. Highly intriguing game. San Diego State and Boise State would also like me to remind you that they play at 3:30 PM ET on ESPNU on the blue turf. Should be a good game. Overall, not the best week of college football, but it is still college football. Enjoy the weekend everyone.
1-3 Indianapolis Colts @ 2-2 New England Patriots 8:20 PM ET FOX and NFL Network
The Colts players like what head coach Frank Reich did last week in going for it on fourth down in OT with 27 seconds left with the ball on their own 42. They ended up losing that game to the Houston Texans, but the players liked it. They won't need to worry about anything like that happening tonight. No T.Y. Hilton spells bad news for the Colts offense. Tom Brady and the Patriots offense will be putting up a lot of points. Andrew Luck will not be able to keep up. Pats roll.
Prediction: Patriots 34 Colts 13
Coming up Friday: Week 5 NFL preview and predictions
---