"The Stack" 10-19-18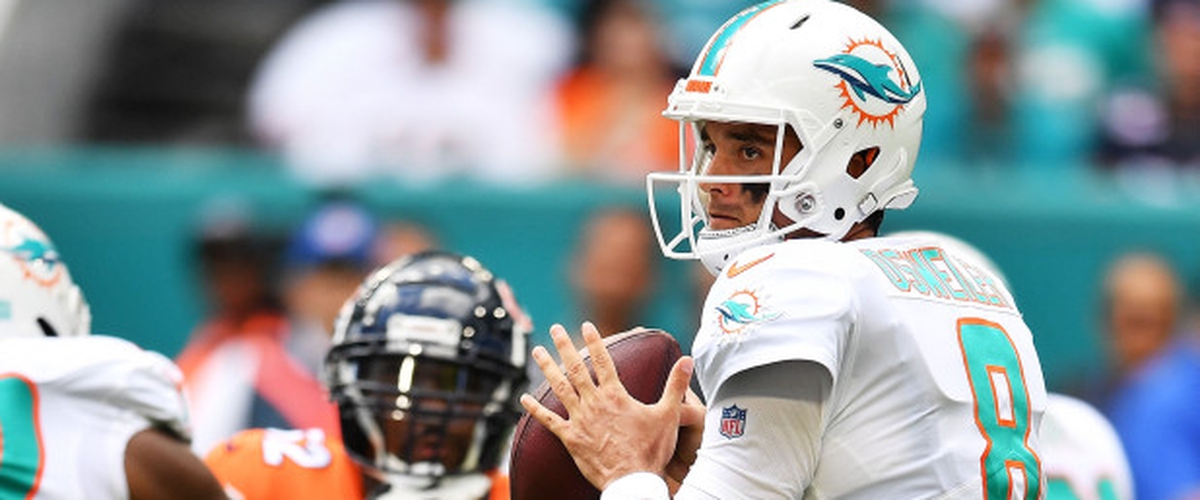 Brock Osweiler is looking to go 2-0 this season when both wins against the NFC North when Detroit comes to town on Sunday.
Tis another Football Friday and The Stack is here with some previews and predictions for week 7 in the NFL. Off to 1-0 start thanks to the Denver Broncos 45-10 drumming of the Arizona Cardinals. I thought this would be a close one, but it was not even close. The Broncos defense had six sacks, five takeaways and two defensive touchdowns. The Cardinals are an absolutely terrible team. We are 55-37-2 on the season so let's get right to the previews and predictions for week seven in the NFL in "the stack" for today, Friday, October 19th:
3-3 Tennessee Titans @ 4-2 Los Angeles Chargers 9:30 AM ET CBS (London)
The Titans offense was awful last week. I don't see it getting much better across the pond. Melvin Gordon is going to have another big day for the Chargers and they will score enough points to beat the Titans in the Chargers' "home" game.
Prediction: Chargers 27 Titans 13
4-2 New England Patriots @ 3-2 Chicago Bears 1 PM ET CBS
Bears head coach Matt Nagy was the Kansas City Chiefs offensive coordinator last year so there will be some familiarity between the Chiefs, whom the Patriots played last week, and the Bears this week,. Tom Brady and company will do enough to get by the Bears.
Prediction: Patriots 27 Bears 20
2-4 Buffalo Bills @ 1-5 Indianapolis Colts 1 PM ET CBS
Somehow, someway, the Bills have more wins than the Colts do to this point in the season. The Bills want to win more games and since Josh Allen is out this week with an elbow injury, Buffalo decided it would be good to not start Nathan Peterman and instead go with Derek Anderson. Isn't he almost 40? Either way, Andrew Luck and the Colts should win this one comfortably.
Prediction: Colts 26 Bills 16
3-3 Houston Texans @ 3-3 Jacksonville Jaguars 1 PM ET CBS
A battle of two teams atop the AFC South. Yes, the AFC South has three teams at 3-3. The Texans looked bad against the Bills last week and were lucky to get the win. The Jaguars defense has given up 70 points the last two weeks. At home, they will get right before they go over to London for next week's game. Jalen Ramsey is quiet which he probably should be, but he needs to back his talk up next time.
Prediction: Jaguars 20 Texans 13
2-3 Detroit Lions @ 4-2 Miami Dolphins 1 PM ET FOX
Brock Osweiler is getting another start at quarterback for the Dolphins and he faces a vulnerable Lions defense which is exactly what he and Albert Wilson are looking for. I don't think things are going to get as crazy as they did last week, but I do think the Dolphins do enough to get the win.
Prediction: Dolphins 24 Lions 19
3-2-1 Minnesota Vikings @ 3-3 New York Jets 1 PM ET FOX
Right now, Vikings wide receiver Adam Thielen is the best wide receiver in the league. Hopefully he has another game with over 100 yards receiving. It will be easier against a Jets secondary that will be missing several starters potentially. The Vikings defense has gotten better the last couple of weeks. They need to take another step on the road. I think they will.
Prediction: Vikings 27 Jets 17
3-2 Carolina Panthers @ 3-3 Philadelphia Eagles 1 PM ET FOX
Eagles quarterback Carson Wentz looked really good last week against the Giants. He's getting more and more comfortable coming off of that torn ACL. The Panthers had issues last week and I don't think they are going to be resolved in time for this game. Too many weapons on both sides of the ball for the Eagles in this one.
Prediction: Eagles 30 Panthers 20
2-3-1 Cleveland Browns @ 2-3 Tampa Bay Buccaneers 1 PM ET CBS
The Browns looked like the Browns of last year last week. Against a bad Buccaneers defense though, they should rebound nicely. The Bucs offense though is better. At home, Jameis Winston will lead his team to a win to end their three game losing streak and keep the Browns at two wins.
Prediction: Buccaneers 31 Browns 24
4-1 New Orleans Saints @ 4-2 Baltimore Ravens 4:05 PM ET FOX
This is an incredibly difficult game to pick. The Saints offense is so good, but can they please use Alvin Kamara more than they did a couple of weeks ago. Please, New Orleans? That Ravens defense is so good though. The Saints defense isn't great so Joe Flacco will get to be elite perhaps. I'll still take offense over defense though in a really close game.
Prediction: Saints 27 Ravens 26
3-3 Dallas Cowboys @ 3-2 Washington 4:25 PM ET CBS
This is the biggest toss up of the weekend. The Cowboys are a different team away from Jerry World, but did they turn the corner, especially on offense with Dak Prescott running as well as he did and finding his old pal Cole Beasley? Washington played much better last week and I think I am leaning with the home team in this one, but I say that with very little confidence.
Prediction: Washington 24 Cowboys 20
6-0 Los Angeles Rams @ 1-5 San Francisco 49ers 4:25 PM ET CBS
That was a tough loss for the 49ers Monday night against Green Bay. They had that game won! At least Marquis Goodwin was great Monday night. Can he do it again on Sunday? The Rams most likely will be without wide receiver Cooper Kupp, but who needs him when you have Todd Gurley running it as well as he has so far this year? Rams will remain undefeated.
Prediction: Rams 31 49ers 23
4-2 Cincinnati Bengals @ 5-1 Kansas City Chiefs 8:20 PM ET NBC
Tough losses for both teams last week, but the loss by the Bengals to the Steelers at home was more deflating. Going on the road at Arrowhead against the tremendous Chiefs offense? No thank you. Give me the Chiefs to win comfortably.
Prediction: Chiefs 34 Bengals 20
Coming up Monday: a
---