"The Stack" 10-23-18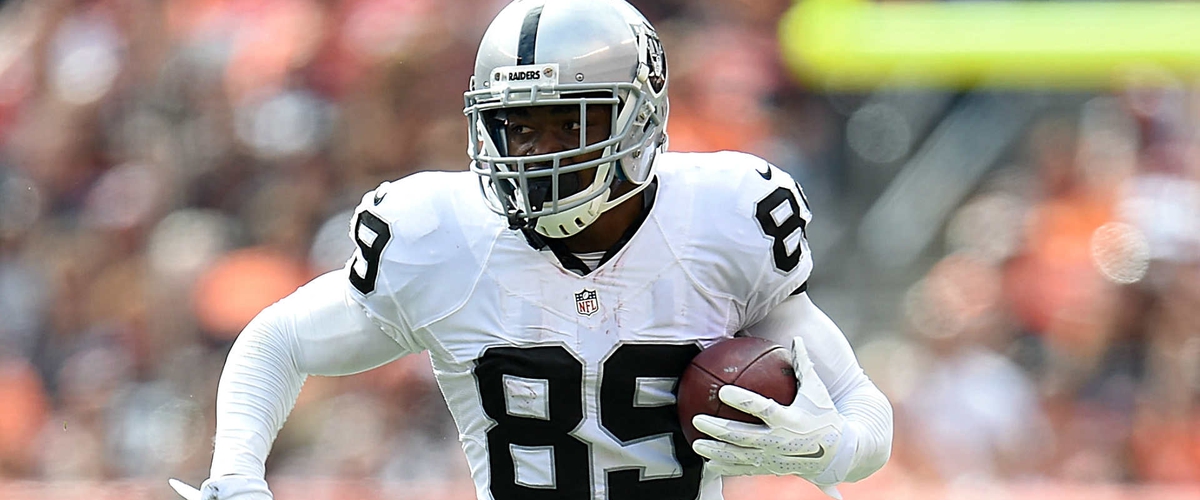 Wide receiver is on the move, going from Oakland to Dallas after the Raiders traded him for a first round pick in the 2019 NFL Draft.
The Stack is back on this Tuesday, very upset with ourselves for not starting Pat Mahomes this week in one of my fantasy leagues. Started Matt Ryan instead. Ryan didn't have a bad game. It just wasn't as good as Mahomes. And when you are down by 24 entering Monday night with Ryan and Julio Jones going against Odell Beckham Jr., you think you have a chance only to see OBJ go off. Lost by 14. Would have won had I started Mahomes. Yikes. Woe is me. We have a few things to talk about so let's get right to "the stack" for today, Tuesday, October 23rd:
Falcons outlast Giants on MNF
We expected fireworks and lots of points in last night's MNF game between the Atlanta Falcons and New York Giants. We did not get that, especially in the first half. Both teams have poor offensive line play and the two teams kept sacking one another. Matt Ryan and the Falcons finally broke through on a long touchdown pass to get up 7-0. The defense came up big all night. They had a stop on the opening drive of the second half. The defense came up big when they had to. Falcons running back Tevin Coleman took it in from 30 yards out to put the Falcons up 20-6, but the Giants battled back and scored to make it 20-12. They decided to go for two, but didn't get it. Plenty of questions surrounding that decision. They would score late (after a couple of inexplicable QB sneaks with Eli Manning that failed) on a nice catch by Odell Beckham Jr., but it wouldn't be enough. The Falcons would win 23-20 to improve to 3-4. Injuries have decimated the Falcons defense, but with that offense, they aren't out of it. The Giants are 1-6 and questions abound.
Raiders trade Amari Cooper to Cowboys
Hurry, hurry. Step right up folks. Everything must go. The Raiders are leaving Oakland and everything is on clearance. While not nearly as stunning as the Khalil Mack trade, the Raiders definitely surprised by trading wide receiver Amari Cooper to the Dallas Cowboys for a 2019 first round draft pick. The trade fills a large void the Cowboys had and that was the lack of a true number one wide receiver. Their offense has been inconsistent at best this year and Dak Prescott could use so more weapons. So too could Oakland Raiders quarterback Derek Carr. Running back Marshawn Lynch is going on IR with a groin injury and now the number one wide receiver target is gone? Carr can't be happy. The team can't be happy. But hey, at least Jon Gruden has five first round draft picks in the next two drafts. We'll see if use them wise enough to find immediate impact players. I don't know if this move puts the Cowboys as the team to beat in the NFC East, but they should be in it with a couple of weeks left to go in the season.
The trade deadline is going to be awfully busy this week. We'll try to keep tabs on most of the big ones.
College football weekend recap
Several statements were made over the weekend in college football. When #6 Michigan wasn't stopping all over the Michigan State Spartans logo on midfield, the defense was holding Sparty to 94 yards of total offense for the game as Michigan beat # 24 Michigan State 24-7. #3 Clemson thumped #16 NC State, previously unbeaten NC State 41-7. NC State was talking about how great their offense was. Not on Saturday.
It was such a cool scene on Saturday for College Gameday as they were in Pullman, Washington, at the Oregon-Washington State game. Cougars fans (Washington State) had been waiting for at least 15 years for the folks to make their way out to Pullman. Finally they did and it was well worth it. Had to be at least 20 thousand there. They would be rewarded with a 34-20 win over # 12 Oregon. #25 Washington State was up 27-0 at half and Oregon almost came back to win. Alas, they could not. On Gameday¸ ESPN's Tom Rinaldi shared a story about a Purdue fan that is battling cancer and he just wanted to be at the #2 Ohio State-Purdue game Saturday night. He was and Purdue rewarded him with a 49-20 thumping of previously unbeaten Ohio State. Good! It's going to be tough for the Buckeyes to make it to the playoffs unless they win out and even then that might not be enough. The Purdue fan, Tyler I believe, got his wish and was with the team in the locker room after the game. So cool. He unfortunately has been moved to hospice and will not be here that much longer. Thoughts with the family and friends and the Purdue community.
Oh, and speaking of unbeaten, #20 Cincinnati lost on the road at Temple 24-17 in overtime. They gave up a touchdown late in the fourth quarter. Tough loss for Cincinnati. Have to do it. You have to win that game. We'll have the college football weekend forecast on Thursday.
World Series preview
It's a battle of west coast versus east coast as the Los Angeles Dodgers and Boston Red Sox square off and I am not going to lie, I have no desire to watch this series. I have no rooting interest. I wanted to see Brewers-Astros in the World Series or at the very last one of them. Alas, that will not happen. The Red Sox offense is too good with Mookie Betts and J.D. Martinez, just to name a couple. I am very curious to see how both teams use their pitching staffs. Going traditional starters and yanking them quickly or are you going to let them work through the lineup? I truly don't know. What I do know is that these two teams are great, but I have to take the Red Sox in five. Game one is tonight at 8:09 PM ET on FOX. Game two is Wednesday, then an off day and then three, four and five over the weekend. Enjoy the World Series everyone.
Coming up Thursday: World Series reaction, college football weekend forecast, TNF preview and prediction and more.
---