"The Stack" 10-25-18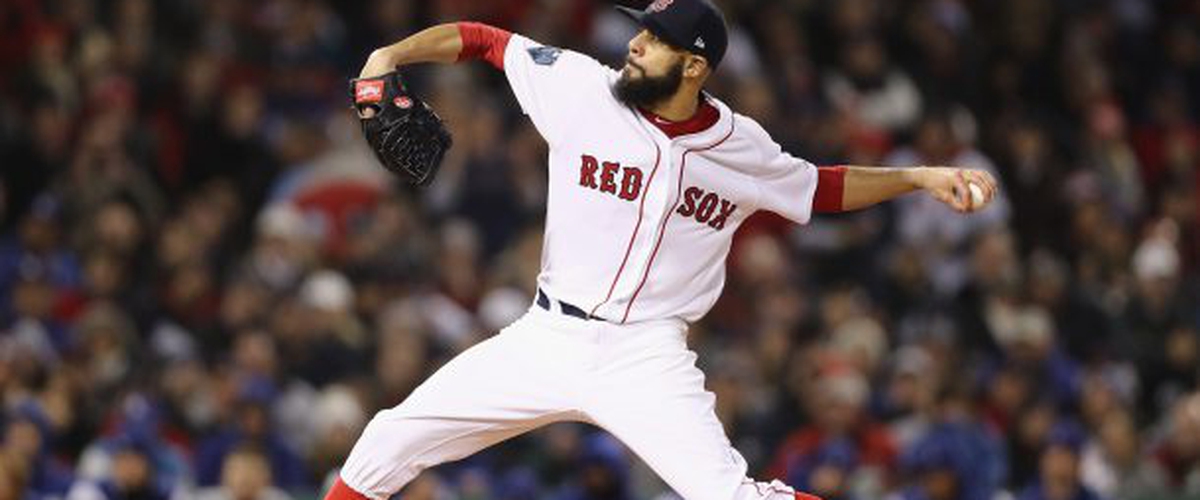 Boston Red Sox pitcher David Price had the right stuff Wednesday night, allowing just two runs on three hits in six innings as the Red Sox beat the Los Angeles Dodgers 4-2 to take a 2-0 lead in the World Series.
The Stack is back on this Thursday and there are a few things to get to today. The World Series is two games in, the NHL and NBA seasons are in full swing, and football (college and pro) is getting really interesting. Let's get right to it then and see what's in "the stack" for today, Thursday, October 25th:
Red Sox take 2-0 series lead on Dodgers in World Series
Boston Red Sox pitcher David Price finally got the monkey off of his back with that incredible performance in game five of the ALCS against the Houston Astros. With that monkey off of his back, Price pitched a gem against the Los Angeles Dodgers in game two giving up two runs on three hits in six innings of work as the Red Sox beat the Dodgers 4-2 to take a 2-0 lead in the World Series. The Dodgers scored both of their runs in the fourth inning to take a brief lead, but the Red Sox responded in the fifth inning with three runs and jumping ahead for good after J.D. Martinez singled to right scoring Mookie Betts and Andrew Benintendi. After that the Red Sox bullpen shut down the Dodgers bats, not allowing a hit over the final three innings. I don't want to say that the Dodgers don't have a chance to come back in this series, but with the way the Red Sox are playing right now, it's going to be tough to win two games let alone the series. The Red Sox are rolling right now. Game three is Friday in L.A.
College basketball "pay for play"
The scandal that rocked the college basketball world last year just saw what could be the first of many guilty pleas with three men getting found guilty on felony charges of wire fraud and conspiracy to commit wire fraud. The three men, Adidas employee James Gatto, former Adidas consult Merl Code and Christian Dawkins, a former NBA agent, are some of the faces of this scandal that put college basketball in a negative light such that it needed it. Schools are to blame. The three tried to influence top recruits to go to Kansas, Louisville and North Carolina State. There will be more trials to come as well so expect this outcome at least a few more times. Obviously this not good for college basketball, but if this sort of thing can bring about changes to the game, then I am all for it. I love college basketball and hope that it can come back to be a very popular sport again outside of March. I have a feeling we haven't heard the last of this scandal or its fallout either.
College football weekend forecast
Not going to lie, this is not a great weekend on the slate for college football. There are three games featuring ranked teams playing against one another. The big one is in Jacksonville for what was formerly the "World's Largest Outdoor Cocktail Party" for #7 Georgia and #9 Florida (3:30 PM ET CBS). College Gameday will be there. Georgia has had two weeks to stew on that beatdown LSU gave them. While Florida's defense may be better, Georgia is the better overall team and I think they win. At that same time on ESPN, #18 Iowa visits Happy Valley and #17 Penn State. Penn State has disappointed a little bit this year, but I think they are too talented to not beat Iowa. It's weird, but for whatever reason #14 Washington State at #24 Stanford 7 PM ET on Pac-12 Network. Two ranked teams not on ESPN or Fox Sports or CBS? Puzzling. After last week's big win over Oregon, can Washington State beat Stanford? They can, but I don't think they will be able to.
As always, a number of ranked teams are on the road this weekend. Appalachian State is ranked for the first time in school history. At #25 they go to Georgia Southern (7:30 PM ET ESPNU). #23 Utah visits Chip Kelly and UCLA on Friday (10:30 PM ET ESPN). UCLA has won two in a row. Can they make it three? Doubtful. #2 Clemson is at Florida State (Noon ET ABC). Normally this would be a tough game, but Florida State is not that good. Clemson will roll. #20 Wisconsin is at Northwestern at that same time on FOX. Northwestern has played better recently, but Wisconsin takes this one. Maybe there won't be snow for the game. There's your forecast. One of the more intriguing games of the weekend takes place in Houston where #21 South Florida, undefeated at 7-0, takes on 6-1 Houston. Undefeated Cincinnati went down last weekend leaving USF and UCF as the remaining undefeated teams in the conference. South Florida better watch out. I think I have to lean towards Houston in this one. #12 Kentucky is at Missouri (4 PM ET SEC Network) and somehow Missouri is favored by seven points. Maybe it is because Kentucky is not nearly as good as their #12 ranking would have you think. I'll still go with Kentucky, but I don't, nevermind, I'll go with Missouri. #15 Washington is at California (6:30 PM ET FS1). Washington will take care of business. #16 Texas A&M is at Mississippi State (7 PM ET ESPN). Be leery of an upset, but I'll take A&M. #22 NC State is at Syracuse (7 PM ET ESPN2). I deem this a toss-up. Syracuse is much better than they have been in previous years. After NC State's disappointing loss last week to Clemson, they may be a little flat. #3 Notre Dame is heading to San Diego for a neutral site game with Navy (7 PM ET CBS). Navy is not nearly as good as they have been in previous years, but in a big game against the undefeated Fighting Irish, I would not put it past Navy to pull off the upset. I'm still taking Notre Dame. #6 Texas is at Oklahoma State (8 PM ET ABC). Watch out Texas. Too bad Oklahoma State doesn't have a defense or I'd call for the upset in this one. #19 Oregon is at Arizona (10:30 PM ET ESPN). Too bad Arizona isn't as good this year as they were last year or I'd pick them. Ducks win.
Yes that is a lot of games, but there aren't many marquee matchups. Must mean we should prepare for a bunch of upsets that will turn the college football world upside down.
4-3 Miami Dolphins @ 4-3 Houston Texans 8:20 PM ET ESPN FOX & NFL Network (Streaming on Amazon Prime)
I don't think many people thought this would be a battle of above .500 teams when the season began. It's amazing that the Texans are above .500 given that they started off 0-3. Deshaun Watson could really use another game of not getting hit much. The Dolphins wide receiver group is not very deep and they have Brock Osweiler making his third straight start. The Texans defense is licking their chops to get after Osweiler. Remember he signed that massive deal in the offseason with the Texans a couple of years ago. He was not very good. He won't be good in this one.
Prediction: Texans 23 Dolphins 10
Coming up Friday: Week 8 NFL previews and predictions
---