"The Stack" 10-21-19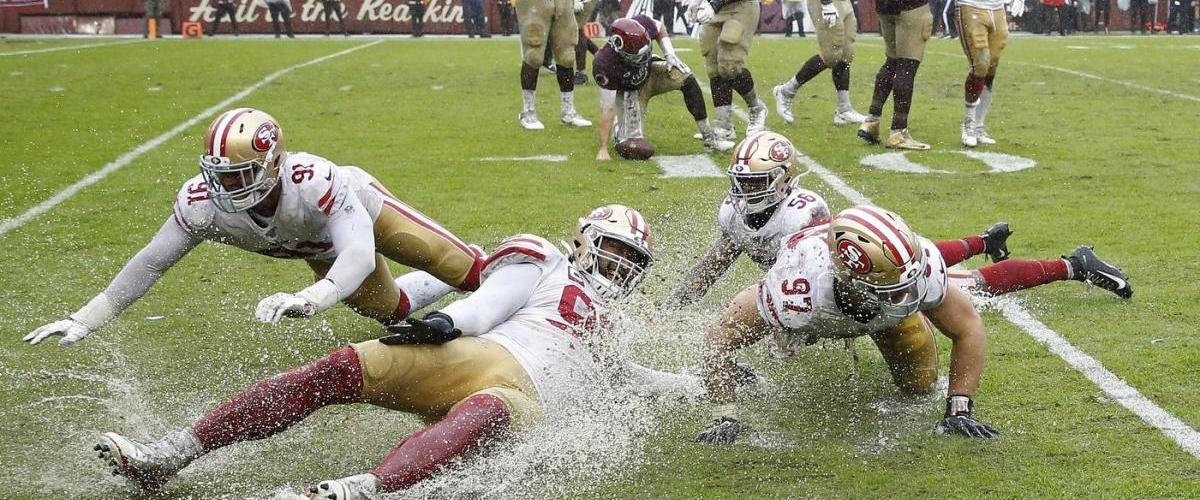 So many great photos of the San Francisco-Washington game in the rain and this is one of them. The 49ers have slid into the first place with a 6-0 record seven weeks into the season. They aren't slowing down anytime soon.
The Stack is back on this Monday and some statements were made yesterday in the NFL. We had a slip and slide game just outside our nation's capital and the Los Angeles Chargers lost a game as only the Chargers could. Reaction to it all plus a preview and prediction for Monday Night Football so let's get right to "the stack" for today, Monday, October 21st:
49ers 9 Washington 0
The game conditions made throwing almost impossible as torrential rains forced both teams to all but abandon the run. Washington did their best to run, but the 49ers defense was just a little better. The optics weren't pretty…actually all of the splashing and sliding around was, but the 49ers are now 6-0.
Cardinals 27 Giants 21
The rain that was affecting the 49ers-Washington game also affected the Arizona Cardinals and New York Giants. The Cardinals got off to a fast start and their defense was the big factor in this one forcing five turnovers and blocking a punt for a touchdown. Giants rookie quarterback Daniel Jones had a rough outing and Saquon Barkley didn't have the impact he would have hoped for. Cardinals running back Chase Edmonds did though. Filling in for David Johnson who left the game with an injury, Edmonds had 126 yards rushing and three touchdowns. Big day for him and big day for the Cardinals who have now won three in a row.
Texans 23 Colts 30
What a game this was. The Indianapolis Colts defense was really good for most of the game, but this was more about quarterback Jacoby Brissett throwing four touchdowns. That touchdown catch by tight end Eric Ebron? Incredible. The Texans had a touchdown wiped off as Deshaun Watson was called being in the grasp. No Eli Manning-David Tyree magic there. The Texans battled back, but ultimately couldn't win. Tough loss for them. The Colts jump into first in the division.
Raiders 24 Packers 42
Aaron Rodgers, have yourself a day. Green Bay's quarterback threw for five touchdowns and ran for one more as the Packers offense under head coach Matt Lafleur finally looked like they had it all together. The Raiders didn't have any answers and ill-timed turnovers like Derek Carr's fumble that went out the endzone didn't help either. Good win for the Packers.
Vikings 42 Lions 30
Minnesota Vikings quarterback Kirk Cousins is on a roll. Three straight games with over 300 yards and this week Cousins had four touchdowns. Their offense was unstoppable and that was even after wide receiver Adam Thielen left after catching a touchdown on the first drive of the game with a hamstring injury. Detroit Lions wide receiver Marvin Jones Jr. had himself a day with four touchdown receptions, but it was all for naught as the Lions defense couldn't stop running back Dalvin Cook and the Vikings offense all game long. The Vikings are just one game back of the Packers while the Lions have now lost three in a row.
Jaguars 27 Bengals 17
Jacksonville dominated most of the first half, but found themselves trailing 7-6 at the half. The Bengals had 10-9 lead, but Leonard Fournette, Gardner Minshew II and the Jaguars defense took over. So nice that a little north over 40000 people saw this game at Paul Brown Stadium. The Bengals are bad….not that that is breaking news.
Dolphins 21 Bills 31
Very unimpressive win by the Buffalo Bills. Yes they won, but they had to really work for this one against a terrible Miami Dolphins team. Give the Dolphins credit. They played and fought hard. Ryan Fitzpatrick did a pretty good job, but there is a reason they are the worst team in the NFL. They just did too many things in the second half that got in the way of getting their first win of the season. Bills quarterback Josh Allen helped lead the team back to victory, but the offense overall needs to play better if the Bills want to be serious contenders.
Rams 37 Falcons 10
It can't get much uglier for the Atlanta Falcons. Another dismal performance defensively and quarterback Matt Ryan took a beating, leaving the game in a protective boot. Cornerback Jalen Ramsey was pretty good in his first game as a Ram, but this was about the Rams offense getting back on track. Jared Goff played really well and the Rams ended their three game skid.
Chargers 20 Titans 23
This was a back and forth game throughout, but the Chargers had the ball with under a minute to go and looked like they were going to win. Philip Rivers found running back Austin Ekeler who ran and looked like he got in the endzone. Overturned. Handoff to Melvin Gordon. Touchdown. Overturned. On the third play, Gordon, instead of jumping over the pile from one yard out and extending the ball, tried to run in the middle and fumbled. The Titans recovered and would win the game. So to recap, two touchdowns that were overturned and then Gordon fumbled. Yup, typical Chargers way to lose a game. Overshadows Titans quarterback Ryan Tannehill's decent game.
Ravens 30 Seahawks 16
Apparently, during the week in preparation of the game, Seattle Seahawks head coach Pete Carroll said they worked on trying to stop Baltimore Ravens quarterback Lamar Jackson from running all over them. It didn't work. Jackson ran for over 100 yards, his third such performance of the year and the Ravens scored two defensive touchdowns including a pick-six from newly acquired cornerback Marcus Peters. Not a good loss for the Seahawks.
Saints 36 Bears 25
No Drew Brees or Alvin Kamara? No problem for the New Orleans Saints and their offense. Teddy Bridgewater was fantastic and Saints head coach Sean Payton had the perfect game plan against the Chicago Bears defense. The Bears offense, with two weeks to prepare, was an absolute joke. Things aren't looking so good in Chicago for Trubisky and that offense. They need to get things turned around and fast. In case you didn't know, this Saints team is awfully good. Imagine what will happen when Drew Brees comes back.
Eagles 10 Cowboys 37
So much for that guarantee on Monday, Doug Pederson. Pederson all but guaranteed a win against the Cowboys last Monday and suckers like me bought it, because I thought they would be better in all phases of the game, but it is very clear that Carson Wentz just cannot get it done, at least at the start of the game, and the defense continues to miss several starters. Fortunately, they are only one game back in the division. Still half a season left to go.
6-0 New England Patriots @ 1-4 New York Jets 8:15 PM ET ESPN MNF
There are a few people out there that think the Jets will upset the Patriots tonight. I am not one of those people. Yes, Sam Darnold was great coming back at quarterback for the Jets last week, but these are the New England Patriots. Despite the issues with the depth at wide receiver, the Patriots will find a way to beat the Jets.
Prediction: Patriots 27 Jets 13
Coming up Tuesday: 2019-20 NBA season preview