"The Stack" 10-24-19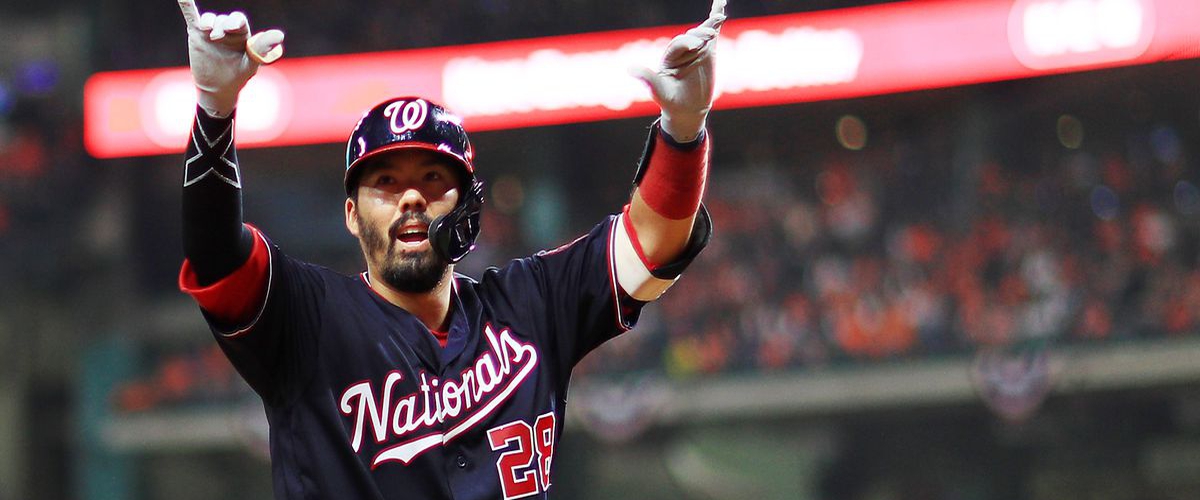 Kurt Suzuki's solo homerun in the seventh inning broke a 2-2 tie and was part of a six-run seventh inning for the Washington Nationals in their 12-3 win over the Houston Astros in the World Series. The Nationals lead the World Series 2-0.
The Stack is back on this Thursday and the World Series is underway, we have Thursday Night Football featuring the Minnesota Vikings tonight and College Gameday is coming to Brookings, South Dakota. Wait a second!! Hold the phone!! College Gameday, college football's premier pregame show is coming to SDSU for the Dakota Marker game between SDSU and NDSU? Yes they are. We'll talk more about that and the rest of the week of college football so let's get right to "the stack" for today, Thursday, October 24th:
Washington Nationals up 2-0 in World Series
In what has to be a shocking outcome to some (okay, most), the Washington Nationals are up 2-0 in the World Series over the Houston Astros, winning both games 1 & 2 in Houston. Gerrit Cole lost for the first time since May 22nd in game one. And Justin Verlander threw perhaps one pitch too many in game two with his 100th pitch getting taken out of the park by Kurt Suzuki. That started a six-run barrage in the seventh inning and the Nationals beat the Astros 12-3. Maybe the karma surrounding the Astros has something to do with regarding Assistant GM Brandon Taubman and what he yelled to a group of female reporters after the Astros beat the New York Yankees in game six of the ALCS on Saturday regarding Roberto Osuna. Now, he's been fired. The Astros need their bats to wake up and they need their starting pitching to come through. I think it may just be that the Nationals are a team of destiny. They have won eight games in a row now. Everyone is contributing. This is incredible to watch. Game three is tomorrow night.
College Football weekend forecast
If you've read this blog any of the decade plus that I have been writing (I think it has been a decade), you know that I am a South Dakota State grad and cheer hard for the Jackrabbits. I take a lot of pride in the university and I have been beaming all week with the fact that College Gameday is broadcasting from Brookings on Saturday. This is going to do so much for South Dakota State and for the city of Brookings both in the short term and also the long term. So cool for them to come do a show in a town of just over 20,000 people, where one of the FCS' best teams takes on seven-time national champion North Dakota State (3:30 PM ET Midco Sports Net (for those in the cornfields)). The Bison are number one for a reason. They are very, very good, but so too is SDSU. Both teams have freshman quarterbacks that have played well and both teams have good defenses. I hope and pray like crazy the Jackrabbits can find a way to get the win. I hope the crowd is jazzed up on Saturday and that it is a minimum 70/30 split in favor of the Jacks. Can't have more Bison fans in attendance that the Jackrabbits. Same goes for the game. The weather is going to be great. The city is jacked up for this event. It's going to be so cool to see this and welcome in the College Gameday crew for this game. Bring the Blue Jackrabbit faithful!
The Jackrabbits can certainly thank Illinois for Gameday coming to Brookings after the Illini knocked off #6 Wisconsin 24-23 last week. What an unbelievable outcome. Wisconsin had given up just 29 points all year and they give up 24 in this one to average at best Illinois team. As a result #13 Wisconsin's game this week against #3 Ohio State carries major playoff implications. Wisconsin absolutely needs to win to keep their hopes alive, but the Buckeyes look like the best team in the country. I think they get the job done.
#9 Auburn visits Death Valley and #2 LSU (3:30 PM ET CBS). Do you sense an upset? I don't either. The wind isn't blowing in that direction. LSU is just too good. They need to go into their matchup with #1 Alabama undefeated. No Tua this week for Bama, but they should have no issues dismantling Arkansas (7 PM ET ESPN).
Will #6 Penn State slip up at Michigan State (3:30 PM ET ABC)? They better not, because #17 Minnesota needs Penn State undefeated for when they meet in Minneapolis in two weeks. Maybe College Gameday will be there too. Minnesota hosts Maryland (3:30 PM ET ESPN). Gophers, don't even think about losing this one. Can #19 Michigan pick up a big win over a good, highly ranked team, this one being #8 Notre Dame (7:30 PM ET ABC)? I don't think so. Notre Dame wins and more pressure falls on Jim Harbaugh.
Should be a great week of college football. Enjoy it everyone!
1-6 Washington @ 5-2 Minnesota Vikings 8:20 PM ET FOX & NFL Network
Is this a revenge game? Well it certainly has plenty of intrigue with Vikings quarterback Kirk Cousins playing Washington for the first time since leaving the for the three-year, $84 million contract he signed with the Vikings last year. On the other sideline, quarterback Case Keenum and Adrian Peterson are both former Vikings. Keenum is back at U.S. Bank Stadium for the first time since the Minneapolis Miracle. No doubt he should get a warm reception, I would hope. His team though doesn't have much of a chance to beat the Vikings even without wide receiver Adam Thielen. Kirk Cousins is on fire right now and the Vikings offense is clicking. They won't be quite as good without Thielen, but Bisi Johnson will do just fine. The tight ends will be involved and running back Dalvin Cook will do his thing. No worries about them in this one. Maybe that's a problem.
Prediction: Vikings 34 Washington 13
Coming up Friday: Week 8 NFL previews & predictions
---