"The Stack" 10-22-19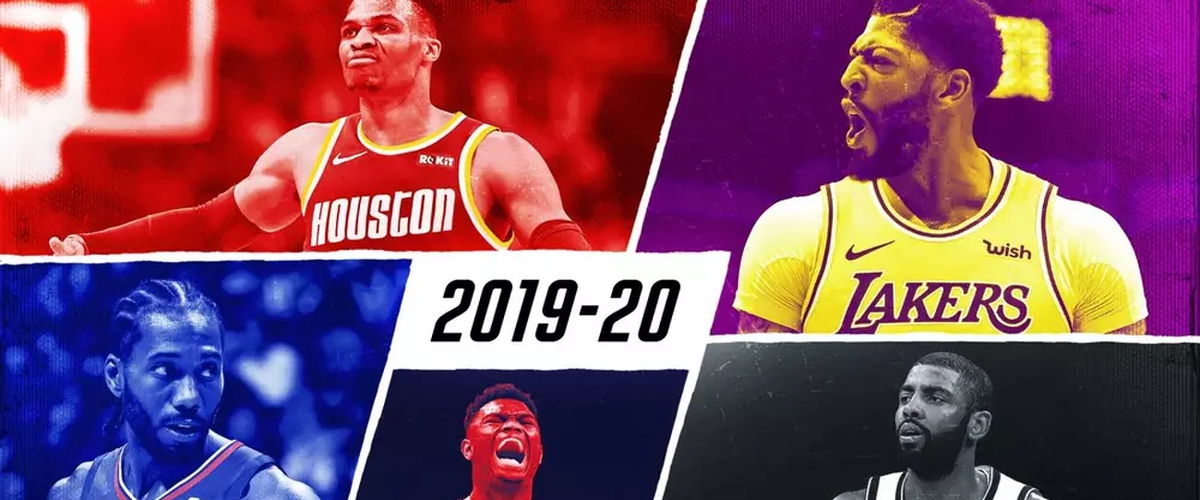 The NBA season tips off tonight. All eyes are on L.A. with LeBron James and Anthony Davis taking on Kawhi Leonard, Paul George and the Clippers.
The Stack is back on this Tuesday and the NBA season tips offs today. This NBA season promises to be a wide open, unpredictable ride. The west is loaded, but the Golden State Warriors are not the favorites. The east has their top two or three, but after that, try picking teams four through eight. Let's make some predictions and preview the 2019-20 NBA season in "the stack" for today, Tuesday, October 22nd:
2019-20 NBA season preview
In case you didn't know, Kawhi Leonard left the defending NBA champion Toronto Raptors for sunny southern California. No, he did not join the Los Angeles Lakers, but rather L.A.'s other team, the Clippers. Joining him is Paul George who was traded by the Oklahoma City Thunder for a bunch of first round picks and some players. That's a fantastic one-two punch. The other L.A. team has Anthony Davis and LeBron James. That too is a good one-two punch.
Not to be outdone, the Houston Rockets traded for Russell Westbrook from the Oklahoma City Thunder (yes the Thunder had a fire sale where just about everything must go). He joins James Harden to form a nasty one-two punch for the Rockets. That's really what the NBA is now. Duos. Not the super teams. Duos. Kevin Durant, who won't play most likely the whole year with an Achilles injury has teamed up with Kyrie Irving in Brooklyn. To a far lesser extent, you have Karl Anthony-Towns and Andrew Wiggins in Minnesota. Damian Lillard and C.J. McCollum in Portland. You get where I'm going with this. What duo will be lifting the Larry O'Brien Trophy at season's end? Let's preview the divisions and make some predictions:
Eastern Conference
Atlantic
The defending NBA champions reside in the Atlantic Division, the Toronto Raptors. But the Raptors don't have the key piece returning that helped lead them to the championship. As previously mentioned, Kawhi Leonard is now in L.A. with the Clippers. Most of the rest of the key components from last year have returned. Kyle Lowry, Marc Gasol, Pascal Siakam, Fred VanVleet. This team can compete. They just aren't the team to beat in the division.
That belongs to the Philadelphia 76ers. Their size is unbelievable. Ben Simmons, Tobias Harris and Al Horford help lead the way on this team. They are very tall. They may not score a ton of points (remember that Jimmy Butler and J.J. Reddick are no longer on the team), but they won't give up a lot either. It's just going to be difficult watching this team shoot. I would have taken Brooklyn to win the division if Kevin Durant were healthy. They'll be good too, but Kyrie Irving and DeAndre Jordan won't be able to get by Philly.
Don't forget about Boston. Getting Kemba Walker was a huge get, but losing Horford and Irving will hurt. The Celtics may have gotten an upgrade with Walker, but I'll be curious how he fits in with the rest of that young nucleus. As for the Knicks, sweet you whiffed on free agency, but did land Julius Randle. That will help. The rest of the team though is not that good.
Predicted Atlantic Standings
1. Philadelphia 76ers
2. Brooklyn Nets
3. Boston Celtics
4. Toronto Raptors
5. New York Knicks
Central
The Greek Freak is in this division. End of story. No one is coming close to them in this division. Khris Middleton returns. I don't know how much they added around Giannis, but with his talent, the Bucks are second to none in this division. Indiana chipped away at them by getting Malcolm Brogdon. The Pacers are going to be good defensively. They may not score more than 90 points a game, but they won't be giving up more than that most nights I imagine.
I'm not sure what to make of the Detroit Pistons. Yes they have Blake Griffin and they may end up being decent, but overall, I'm just not seeing the Pistons being much of a threat. The Chicago Bulls will be better led by rookie Coby White. The Cleveland Cavaliers wish LeBron was back with them.
Predicted Central Standings
1. Milwaukee Bucks
2. Indiana Pacers
3. Detroit Pistons
4. Chicago Bulls
5. Cleveland Cavaliers
Southeast
This is, without question, the worst division in the NBA. The fact that Jimmy Butler going to Miami seems to make them the runaway favorites to win the division tells you everything you need to know about this division. Now that Charlotte doesn't have Kemba Walker, what do the Hornets have to offer? Nothing, that's what. How about Washington? What's the health status of John Wall? He's out isn't he? Bradley Beal is there though which is nice.
I really like the young nucleus that the Atlanta Hawks have put together. They did a great job in the draft landing DeAndre Hunter and Cam Reddish. They got some other pieces like Evan Turner from Portland who I think can contribute. And of course, they have Trae Young so this team is a team on the rise. Orlando has the length as well and they could make some noise and certainly be back in the playoff discussion as well.
Predicted Southeast Standings
1. Miami Heat
2. Atlanta Hawks
3. Orlando Magic
4. Washington Wizards
5. Charlotte Hornets
Predicted Eastern Conference Playoffs Seeding
1. Milwaukee Bucks
2. Philadelphia 76ers
3. Brooklyn Nets
4. Boston Celtics
5. Indiana Pacers
6. Miami Heat
7. Toronto Raptors
8. Atlanta Hawks
Orlando and Detroit just miss out on the playoffs. I kind of hope I'm wrong about Orlando. I have a soft spot in my heart for the Magic.
Western Conference
The depth and the number of good teams in the western conference is ridiculous. This is a juggernaut of a conference. Good luck. Each game has to be played with maximum intensity because you are going to need every win you can possible get in this conference.
Northwest
The Denver Nuggets were fantastic last year, kind of coming out of nowhere, but a few people were high on them coming into the season. I know one person in particular. That hasn't changed this year. With Nikola Jokic, this team is legit. Denver is the class of this division, but Utah isn't far behind them. Pairing Donovan Mitchell up with Mike Conley who the Jazz traded for from the Memphis Grizzlies makes the Jazz all that more dangerous. They are a great defensive team. That's not going to change this year.
Portland's duo of Damian Lillard and C.J. McCollum are enough to keep them in the conversation all year long. Minnesota really needs Andrew Wiggins to step up and elevate his game along with Karl Anthony-Towns and it would be really nice to see them actually play some defense. At least they won't be the worst team in the division. That belongs to the Oklahoma City Thunder have just stocked up on first round picks after trading all of their best players in the offseason. It's going to be a long year in the OKC.
Predicted Northwest Division Standings
1. Denver Nuggets
2. Utah Jazz
3. Portland Trailblazers
4. Minnesota Timberwolves
5. Oklahoma City Thunder
Pacific Division
The Battle for L.A. commences tonight (10:30 PM ET TNT) and throughout the season it's going to be Kawhi versus LeBron. PG-13 (Paul George) versus AD (Anthony Davis). It is going to be a fascinating year watching these two teams go back and forth.
Could the Golden State Warriors actually miss the playoffs this year? Believe it. Klay Thompson is recovering from an ACL injury. He won't be back until early 2020 at the earliest. No more Kevin Durant. Are Steph Curry and Draymond Green really enough to keep the Warriors in the playoffs in the ultra-competitive western conference? I have my reservations (table for two), but it's hard not to give them the benefit of the doubt.
I really like what the Sacramento Kings have put together. They are like the Atlanta Hawks of the western conference. A lot of good young talent. They are a little older than Atlanta and they knocked on the playoff door last year. This year, I'll risk it and say they get in. The Phoenix Suns? Please. Next!
Predicted Pacific Division Standings
1. Los Angeles Clippers
2. Los Angeles Lakers
3. Golden State Warriors
4. Sacramento Kings
5. Phoenix Suns
Southwest Division
The Houston Rockets have had a lot of controversy surrounding them the last few weeks with the whole Daryl Morey China and Free Hong Kong situation. That aside, the Rockets are poised to be a really good team this year. James Harden and Russell Westbrook were teammates back in OKC with the Thunder. How will they fare together now? There may not be enough shots to go around, but we'll give them the benefit of the doubt.
Devastating news surrounding Zion Williamson and the New Orleans Pelicans. He is out 6-8 weeks after undergoing surgery on his knee. Huge blow to the NBA and to the Pelicans. If Zion were healthy for the start of the season, I have no doubt in my mind they would be a playoff team considering the additions of Brandon Ingram, Lonzo Ball and J.J. Reddick. If Zion can come back healthy in a couple of months and stay healthy, they have a chance, but it may be too late.
Dallas and Memphis will both be interesting. Memphis has some good young players and Dallas has Luka Doncic and Kristaps Porzingis. Ultimately though, in the competitive western conference, I think they will be just a little short. Don't forget the San Antonio Spurs, but they just don't have the roster talent I don't believe to make a legitimate playoff run.
Predicted Southwest Division Standings
1. Houston Rockets
2. New Orleans Pelicans
3. San Antonio Spurs
4. Dallas Mavericks
5. Memphis Grizzlies
Predicted Western Conference Playoff teams
1. Los Angeles Clippers
2. Los Angeles Lakers
3. Houston Rockets
4. Denver Nuggets
5. Utah Jazz
6. Portland Trailblazers
7. Golden State Warriors
8. Sacramento Kings
I did have New Orleans in, but with the uncertainty surrounding Zion, I had to take them out. I hope I'm really hoping they prove me wrong.
Eastern Conference Finals
Milwaukee Bucks VS Philadelphia 76ers
Western Conference Finals
Los Angeles Clippers VS Los Angeles Lakers
NBA Finals
Los Angeles Clippers VS Milwaukee Bucks
NBA Champions: Los Angeles Clippers
I am probably way off on this, but I will trust Kawhi Leonard and company to bring a title to L.A. and make Lakers fans incredibly angry.
NBA MVP: Giannis Antetokounmpo
The China thing no doubt will hover over the NBA season, at least for a little bit. Eventually though it will die down...maybe. Unless the financial is too strong for the NBA to ignore. It will be interesting to see where it goes.
Enjoy the NBA season everyone!
Coming up Thursday: TNF preview, World Series thoughts, College football weekend forecast and more.
---