"The Stack" 10-29-19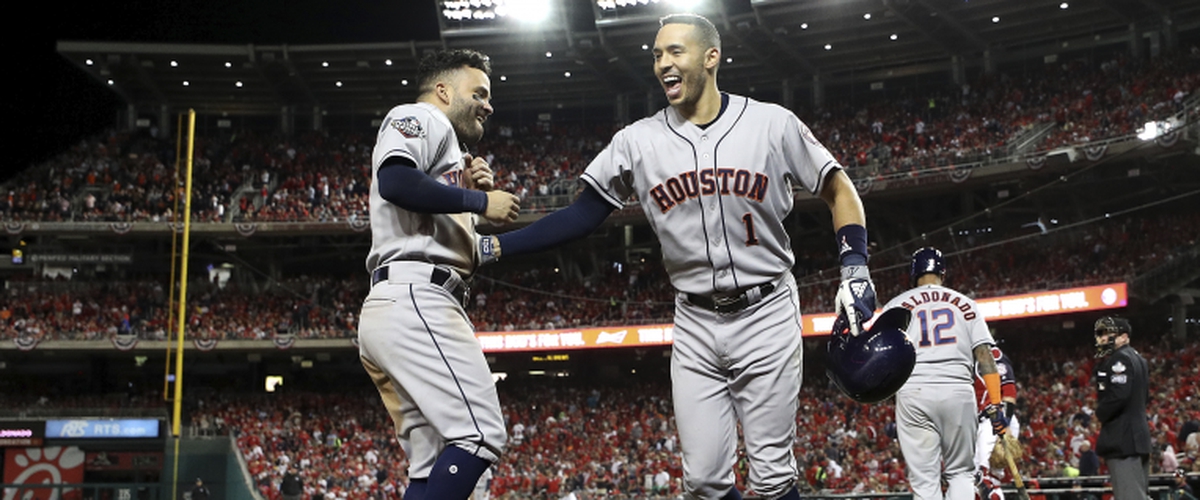 George Springer hit a homerun to help lead the Astros to a game five win over the Nationals. The Astros hold a 3-2 series lead and can win the World Series tonight back home in Houston.
The Stack is back on this Tuesday and we have some football talk about and a little baseball. Not too much in the blog today (you never know what might happen during the NFL Trade Deadline day today), but let's find out in "the stack" for today, Tuesday, October 29th:
Steelers start slow, come back to beat Dolphins on MNF
It wasn't the best of starts for the Pittsburgh Steelers Monday night against Miami. Quarterback Mason Rudolph's first pass of the game was intercepted and the Dolphins had a 14-0 lead. But the game turned on a 3rd and 20 play late in the first half. The Dolphins blitzed eight and played zero coverage. The Steelers scored a touchdown with Rudolph throwing to Diontae Johnson. 14-10 at the half. The Steelers would roll in the second half and safety Minkah Fitzpatrick picked off his former team twice. The Steelers won 27-14, but they could have suffered a potentially devastating loss with running back James Conner leaving the game late in the fourth quarter with what coach Mike Tomlin is saying right now is a potential AC Joint issue in his shoulder. More to come later, but if he is out, that would be a huge blow to the Steelers.
World Series update
The home team has yet to win a game in this series. I believe 1996 (Braves vs Yankees) was the last time that ever happened. When the Houston Astros aren't royally botching a story and ruining the credibility of journalists, they are actually winning games thanks to some great pitching and timely hitting. They are finally hitting with runners in scoring position. The Washington Nationals have certainly helped with that because the timely hitting they had in Houston was non-existent in our nation's capital. Terrible umpiring has also been a major storyline. Inconsistent strike zones and just overall poor umpiring has really left a black eye on the World Series. With game six tonight (8 PM ET FOX), it's hard to see the Nationals all of a sudden turning it around. I hope the Nationals win so we can get a game seven, but I fear that that will not happen. I think the Astros win tonight.
College football weekend recap
Another week, another top ten team gets upset. This time it was #5 Oklahoma who lost to Kansas State 48-41. The final score doesn't indicate just how well Kansas State played. They were up 48-23 in the fourth quarter before Oklahoma mounted a rally, but ultimately fell short. The Sooners tried an onside kick and it looked like it worked and they recovered, but after review they touched the ball a half yard before the ball went ten yards. Heartbreaking. Oklahoma's playoff hopes certainly aren't over. But they just got a heck of a lot more difficult and they will need a lot to go their way for it to happen.
The Big 12 the conference for upsets on Saturday. #15 Texas lost at TCU 37-27. Feels like Texas really wasn't the 15th best team in the country coming into last week. Oklahoma State went on the road to Ames, Iowa, and beat #23 Iowa State 34-27. Just when you think you have both of these teams figured out, this result happens. Outside of Oklahoma and Baylor, who truly is the third best team in the Big 12? This is one reason why I had a whole bunch of Big 12 teams at 6-6. That's still in play.
Elsewhere, in the rain in Columbus, #3 Ohio State laid a beatdown on #13 Wisconsin 38-7. It was 10-7 in the third quarter and then Ohio State put the pedal to the metal and that was all she wrote. #2 LSU survived a hard fought game with #9 Auburn 23-20. Joe Burrow was once again tremendous throwing for 321 yards and passing for one touchdown and running for another.
#8 Notre Dame failed to show up in the rain against #19 Michigan. Michigan won easily 45-14. Finally, Jim Harbaugh gets a win against a highly ranked team. Michigan looked really good. Finally, it was quite an entertaining game between Washington State and #11 Oregon. Washington State nearly beat Oregon for a fifth straight time?? but Oregon kicked a game-winning field goal to survive the upset bid.
Great weekend of college football. Looking forward to what next week has in store.
Coming up Thursday: TNF pick, World Series final thoughts, any big NFL trade deadline big deals and a college football weekend forecast
---