"The Stack" 10-31-19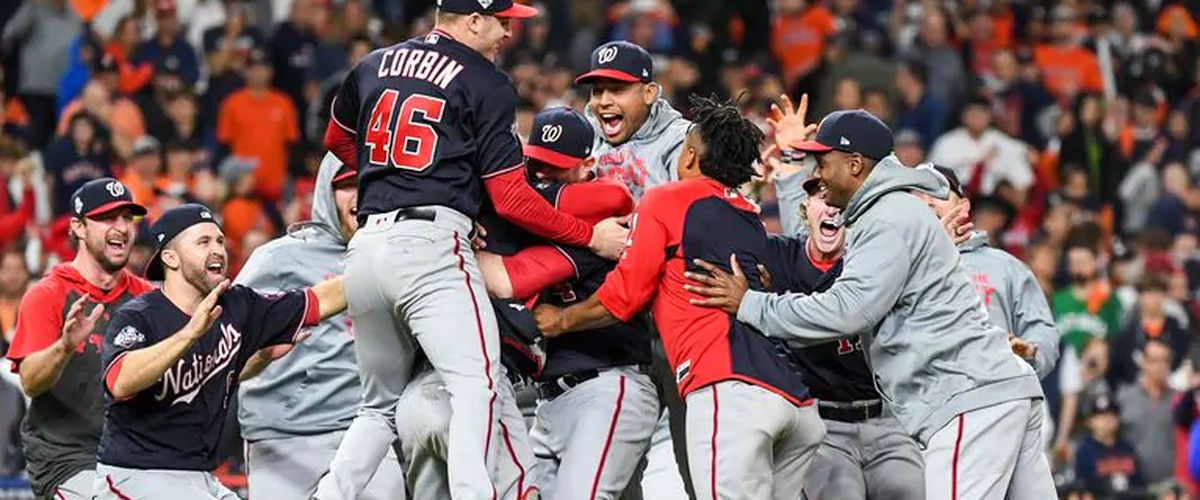 The Washington Nationals stunned the Houston Astros 6-2 in game 7 of the World Series to win their first World Series championship in franchise history.
The Stack is back on this Halloween Thursday and we have a scary good blog for you today. It's okay if you see ghosts tonight, Sam Darnold. It's just trick-or-treaters looking to get some good stuff. Let's get right to it and see what is in "the stack" for today, Thursday, Halloween, October 31st:
Nationals stun Astros, win World Series
For the first time ever in a seven game series (MLB, NBA and NHL) the road team won every game in the series. That, by deduction, means that the Washington Nationals have won D.C.'s first World Series since the Senators won back in 1924. Stunned is the first word that comes to mind. Improbable, also. This team was 19-31 in May. And they turned things around and are now World Series champions.
They trailed 2-0 entering the top of the seventh. Houston Astros pitcher Zack Greinke was dealing. And then he gave up a solo homerun. And a walk. The Astros had the quick hook. Greinke was done. Into the game came Will Harris. Wait, not Gerrit Cole? Apparently, Astros manager A.J. Hinch wanted Cole to come for a full inning at the beginning of the inning. I get that starters need to be in a groove, especially if they are coming in relief out of the bullpen, but this was game seven of the World freaking Series! Why wouldn't you trot out your best pitcher? It proved to be costly as Howie Kendrick hit a two-run homerun off of the foul pole to take a 3-2 lead for the Nationals. They would never look back. They tacked on three more runs to 6-2 and win the World Series. Stunning. Disbelief. Anything else you can imagine, the Astros and their fans had to be thinking about it especially Mattress Mack who bet eleven million dollars on the Astros. That's a big whoops! I'm guessing there won't be any mattress sales in Houston for a while at his stores.
I don't know if I would quite call this a Cinderella story, but it's awfully close. The Nationals were trailing 3-1 against the Milwaukee Brewers in the wild card game and came back to win thanks to an error in the eighth inning that brought in three runs. They stunned the Dodgers in game five on a grand slam in the tenth inning. This coming only after they hit back-to-back homeruns on back-to-back pitches earlier in the game against Clayton Kershaw. The St. Louis Cardinals were no match for them, but the Astros, this team, the best team in baseball, very few thought the Nationals would win. The Astros were heavy favorites. And they lost. Four home games. Lost. As stated earlier, the home team never won a game in this series. No road team had ever won six consecutive games in a series before in baseball, basketball or hockey. And now we have seen it all. The Nationals are World Series Champions. Unbelievable.
College Football weekend forecast
This is not a great week for college football. There just aren't that many compelling games this week. Those come next week. That's why College Gameday is in Memphis for what should be a good battle between #15 SMU and #24 Memphis (7:30 PM ET ABC). For the story, I want SMU to win so they can represent in the New Year's Six Bowl Game. Memphis will be rocking!
The Great American Cocktail Party (they don't like that name)….okay, the World's Largest Cocktail Party (no, you can't say that either)…fine, # 8 Georgia and #6 Florida square off in Jacksonville (3:30 PM ET CBS). The winner has the inside track at the SEC East title. A loss will end any hopes of a playoff spot. This should be a good game. I'll take Georgia, but not with much confidence.
Who would have ever thought the Sunflower State battle would actually be interesting between #22 Kansas State and Kansas (3:30 PM ET FS1). I think Kansas can take K-State, especially after that big upset win the Wildcats had last week against Oklahoma.
A couple of great games in the Pac-12 this weekend that have major playoff implications for the conference. #9 Utah travels to Washington to take on the Huskies (4 PM ET FOX). Washington's playoff hopes are done, but Utah still has a shot. They need to win. So to the #7 Oregon Ducks. It won't be easy for them though traveling to SoCal (provided they can with the wildfires going on in the state…if you can help in anyway, please do) to take on USC (8 PM ET FOX), but I think Oregon is just too talented to lose to USC. The Trojans will make them work for it though.
So yeah, I guess there are some games with playoff implications this week which should make for some good viewing. Enjoy the weekend of college football, everyone!
NFL Trade Deadline comes and goes
The NFL Trade Deadline was Tuesday and nothing happened. Literally nothing outside of the L.A. Rams trading cornerback Aqib Talib and a 2021 fifth round pick to the Miami Dolphins for an undisclosed pick. Everything else happened in the days leading up to the deadline, including defensive lineman Michael Bennett going from New England to Dallas for a bag of peanuts (okay a 7th round pick, but the point still stands). Apparently Cincinnati Bengals quarterback Andy Dalton's agent was exploring a trade and New York Jets safety Jamal Adams is all bent out of shape because the New York Jets received calls from teams like the Dallas Cowboys asking what it would take to get Adams. Adams said he was told the team wouldn't trade him. The team said it was miscommunication. Dang, the Jets are giving Washington a run for their money as most dysfunctional team in the NFL. Anyway, the trade deadline is over. Now back to football.
7-0 San Francisco 49ers @ 3-4-1 Arizona Cardinals 8:20 PM ET FOX & NFL Network
Wasn't 49ers defensive end Nick Bosa just amazing last week with three sacks and an interception? I wouldn't put it past him to do it again tonight. The Cardinals have their vulnerabilities. How will quarterback Kyler Murray do against this fantastic defense with little to no running game if David Johnson can't go? He'll struggle and the 49ers will improve to 8-0.
Prediction: 49ers 27 Cardinals 10
Have a BOOtiful night and watch out for the kiddos out there. They just want candy.
Coming up Friday: Previews & predictions for week 9 in the NFL.
---