"The Stack" 11-5-19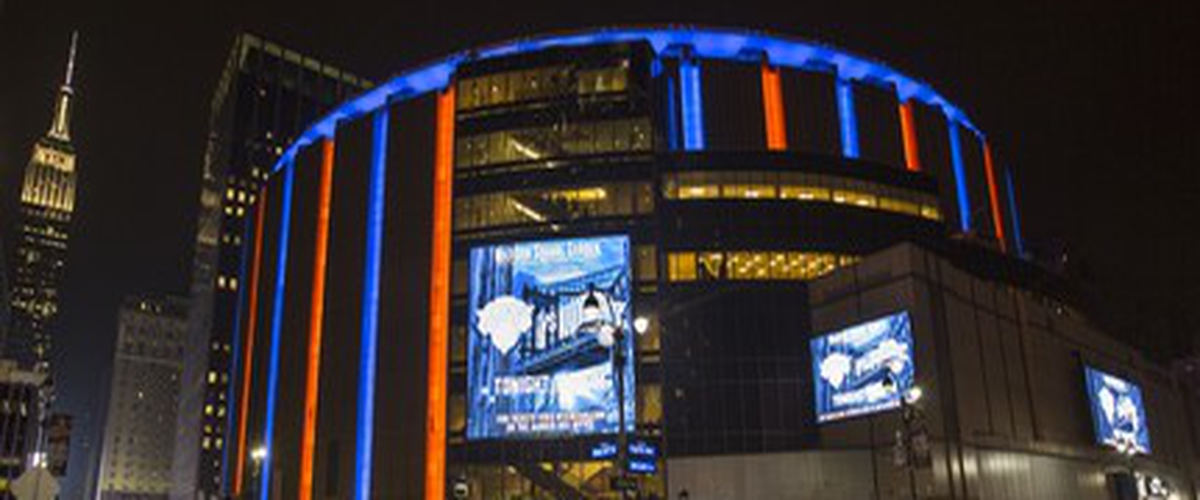 The World's Most Famous Arena is home to a monster college basketball doubleheader tonight with Duke against Kansas and Michigan State against Kentucky. The top four teams in the country on ESPN. College basketball is here everyone! Get excited.
The Stack is back on this Tuesday and college basketball is back! The road to Atlanta and the Final Four begins. In case you didn't know, I am very excited for college basketball to tip off again. I love this sport. Who is going to be cutting down the nets in Atlanta? We'll make conference picks and predict which 68 teams will be hearing their name on Selection Sunday in "the stack" for today, Tuesday, November 5th:
2019-20 College basketball season preview
American Athletic Conference
Wichita State used to be good. Last year, they were not. That is okay, because all of the buzz this year is with Penny Hardaway and Memphis. James Wiseman will be a name that you will get to know fairly early. They have nine freshman and they are good, but that makes them a young team.
Cincinnati has a new coach so we will see a drop off with them. Don't be surprised if they don't make the NCAA Tournament. Houston will be good and I will be curious to see how good UCF is without Tacko Fall. I think they are a fringe tournament team as well. At the end of the day though, this conference is all about Memphis and just how good they can be.
Teams in…3: Memphis, Cincinnati, Houston
ACC
Once again the ACC figures to be one of the deepest and most competitive conferences in the country. Duke has reloaded, but so too has UNC. They have one of the best freshman in the country in Cole Anthony, son of Greg Anthony. They have a transfer from William & Mary I believe. This UNC team is very, very talented.
Virginia has lost most of their star players, but they still have holdovers like Mamadi Diakite and Kihei Clark. They will be good, but not as good as last year. Will Blackshear is at Florida so Virginia won't have to deal with Virginia Tech. Head coach Buzz Williams also jumped ship to Texas A&M so it will be a rebuilding year for the Hokies. You can always figure on Syracuse being good as well as Florida State.
The true wild card in the ACC is Louisville. Head coach Chris Mack in his second season has already done a masterful job recruiting some great players and they are poised to be a Final Four contender this year. Are they Duke and UNC good? I don't think so, but they are in that next tier for sure.
Notre Dame could very well be a tournament team this year, but I'm going to hold off on them for now. Boston College, Georgia Tech, Clemson and Wake Forest…no thank you. North Carolina State may get in and Miami (FL) and Pittsburgh will be a contender as well. The ACC will be good.
Teams in…7: Duke, UNC, Louisville, Syracuse, Virginia, NC State, Florida State
Big 12
Kansas is head and shoulders the best team in the conference this year and it's not even close. Their talent is unmatched. Silvio De Sousa is eligible, correct? Udoka Azubuike is back, right? Plus they are angry. Well at least, head coach Bill Self is angry. There will be a chip on Kansas' shoulder all year long.
Don't forget that Texas Tech was in the National Championship game last year, losing to Virginia in overtime. They are going to be strong once again even without everyone returning. Baylor may be this year's Texas Tech. They are a really strong team that could be a fringe Final Four contender.
Shaka Smart has to get Texas back to the NCAA Tournament, right? Jaime Dixon is hoping to do that at TCU, but I think he comes up a little short. Last year was rough in West Virginia, but Bob Huggins will have his team competing and they will be a fringe tournament team this year just like Oklahoma and even Oklahoma State. Really, every team has a chance in the Big 12 this year including Kansas State and Iowa State.
Teams in…5: Kansas, Texas Tech, Baylor, Texas, Iowa State
Big East
This could be the deepest conference in college basketball this year, because outside of DePaul and St. John's, every has a chance to make the tournament. Villanova will be great. Providence will bounce back this year. Marquette still has Markus Howard. He's going to put up a bunch of points this year. Creighton should be good. Seton Hall has had a bit of an issue with their head coach who has been suspended for a couple of games, but they still have Miles Powell, arguably the player of the year in the conference. Patrick Ewing's bunch should be good too. Back to the NCAA Tournament for Georgetown. Xavier should make a return as well. Butler will be a bubble team.
Teams in…7: Villanova, Seton Hall, Marquette, Georgetown, Providence, Creighton, Xavier
Big Ten
The best team in the country resides in the Big Ten, the Michigan State Spartans. Cassius Winston is the player of the year favorite. They're deep. They have a great coach in Tom Izzo. They are the cream of the crop in the conference.
Ohio State is going to be good this year. Purdue should be just fine even though Carson Edwards isn't with them. I want to take a cautious approach with Michigan this year under new head coach Juwan Howard is new to this head coaching thing at the college level. It takes time. Just ask Patrick Ewing at Georgetown. They very well may make it, but they will be a bubble team at best. Maryland is going to be very good.
Minnesota is talented, but they are very young. They have the potential though. Not sure of Wisconsin. I know what to make of Rutgers. They aren't very good. Neither is Northwestern. Iowa joins Minnesota and Wisconsin on the bubble as do Indiana and Illinois, but I have a little more confidence in at least Illinois making it. Penn State could make it too. Fred Hoiberg will get Nebraska to the NCAA Tournament…I just don't think it's going to be this year. Soon though.
Teams in…6: Michigan State, Ohio State, Maryland, Penn State, Illinois, Purdue
Pac-12
Oregon has really retooled this offseason. Payton Pritchard is a senior and he is really good. They have a lot of other talent on that roster as well. Washington is also going to be good. Utah and Colorado should be on the fringe of bubble status and Arizona is going to have a big bounce back season. Arizona State will be good. Mic Cronin will get UCLA back on track, but I'm not thinking they are going to make it this season. USC is going to be interesting this year too. A bubble team for sure. Stanford, Cal & Washington State are going to be bad. Oregon State has a chance, but that's because the coach's son is still on the team.
Teams in…5: Oregon, Washington, Arizona, Arizona State, Colorado
SEC
I think the SEC is going to be a very deep conference this year. Kentucky has reloaded, because of course they did and would. Florida with Blackshear is going to be very, very good. That is arguably the best transfer portal get out of anyone in the country.
Tennessee and Auburn have lost some pieces, but I think they will still be able to make the NCAA Tournament. I think both Mississippi schools (Mississippi State and Ole Miss) make the NCAA Tournament. LSU is going to be really good again this year. Alabama with new head coach Nate
Oats is going to be interesting as well.
Vanderbilt will be interesting because of head coach Jerry Stackhouse. They can't be any worse than they were in conference play last year where they didn't win a game. We'll see how this experiment pans out. South Carolina and Vanderbilt won't be very good.
The intriguing team to be me is Georgia. Tom Cream went through growing pains last year, but he has established the team and has a five star recruit to boot. Georgia is a definite bubble team.
Teams in…8: Florida, Kentucky, LSU, Tennessee, Auburn, Ole Miss, Mississippi State, Georgia
Rest of the conference winners
American East: Vermont
Atlantic 10: VCU (Total teams in: 3…VCU, Davidson, Dayton)
Atlantic Sun: Liberty
Big Sky: Northern Colorado
Big South: Radford
Big West: UC-Irvine
CAA: Charleston
Conference USA: Western Kentucky
Horizon League: Wright State
Ivy League: Harvard
MAAC: Iona
MAC: Bowling Green (Maybe Ball State bests them?)
MEAC: N.C. Central
Missouri Valley: Loyola-Chicago (Watch out for Missouri State)
Mountain West: Utah State (Boise State could get in as an at-large)
NEC: St. Francis (PA)
Ohio Valley: Belmont
Southern Conference (SoCon): East Tennessee State University
Southland: Sam Houston State
SWAC: Grambling (Inevitably, Texas Southern will probably win)
Summit League: North Dakota State
Sun Belt: Georgia Southern
WCC: Gonzaga (Totals teams in: 2…Gonzaga and St. Mary's)
WAC: New Mexico State
Final Four: Michigan State, Florida, Kentucky, North Carolina
Kansas is great, but I think they are going to trip up at some point. Plus the NCAA investigation may affect this team. Kansas is immensely talented, but I think they will come up just short. The one team I am most intrigued by is Memphis. Penny Hardaway has done a fantastic job loading up on the recruits. Don't be surprised if he leads Memphis to the Final Four. With a young team though, I think they ultimately fall short.
National champion: Michigan State
Too much talent and I love Cassius Winston. Being the number one overall team in the country though, that is a lot of pressure on them. Can they do it? I'll go out on a limb and say they can.
Wooden Player of the Year winner: Cassius Winston
Don't let the FBI and NCAA investigations get you down. This should be a great college basketball season. Enjoy it everyone.
Coming up Wednesday (perhaps): Week 9 NFL recap & reaction
---