"The Stack" 11-1-19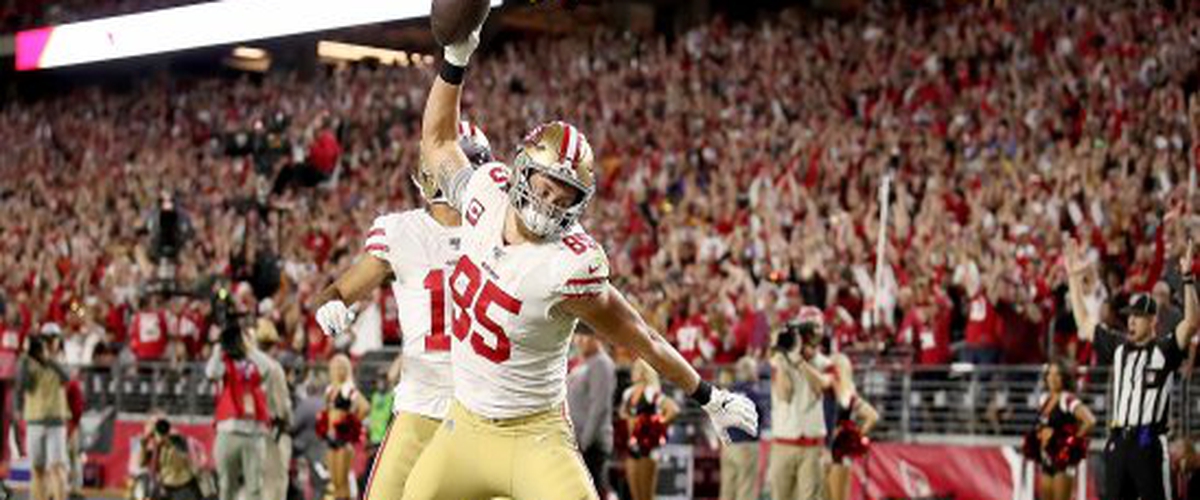 San Francisco 49ers tight end George Kittle hurt his knee early in Thursday night's game, but came back to catch six passes for 79 yards and a touchdown as the 49ers topped the Arizona Cardinals 28-25.
The Stack is back on this football Friday and hopefully everyone had a fun Halloween last night. The San Francisco 49ers had fun last night. Jimmy Garoppolo threw for 317 yards and four touchdowns and the 49ers hung on to beat the Arizona Cardinals 28-25. Garoppolo was fantastic. Kyler Murray wasn't bad himself, but the Cardinals defense couldn't stop the 49ers on third down all night. So we're off to a 1-0 start. How will the rest of the week fare? Let's find out in "the stack" for today, Friday, November 1st:
5-3 Houston Texans @ 4-4 Jacksonville Jaguars 8:30 PM ET NFL Network (London)
London's final game of the year should be a good one. Deshaun Watson is a fantastic quarterback and is playing really good football right now. That Jaguars defense is pretty good themselves though. Whenever I make these picks, they tend to go wrong, but I'm going with the Jaguars in this one in part because without J.J. Watt and with this being their first game in London, I think the Texans are going to struggle a little bit.
Prediction: Jaguars 23 Texans 20
5-2 Indianapolis Colts @ 3-4 Pittsburgh Steelers 1 PM ET CBS
I don't think the Colts are as good as their 5-2 record indicates, but I also don't think that the Steelers are a good 3-4 team. Something has to give here. The Colts didn't play great last week. Running back James Conner may not play for the Steelers. That would be a big blow for them. Give me the Colts.
Prediction: Colts 23 Steelers 16
3-4 Chicago Bears @ 4-4 Philadelphia Eagles 1 PM ET FOX
Bears head coach Matt Nagy is trying to quiet the waters regarding quarterback Mitchell Trubisky. He apparently showed the team the Washington Nationals winning the World Series or something like that on Thursday. I don't care. The Eagles aren't fantastic, but playing their first home game in a month, they'll find a way to win.
Prediction: Eagles 27 Bears 17
1-6 New York Jets @ 0-7 Miami Dolphins 1 PM ET CBS
I don't like this game. I wanted the Jets to be winless entering the game. I don't know who to take. The Dolphins have been playing better the last two weeks and it would be so Jets-like for them to lose this game. I don't care to pick this game, but I have to.
Prediction: Dolphins 16 Jets 13
6-2 Minnesota Vikings @ 5-3 Kansas City Chiefs 1 PM ET FOX
I will give Chiefs quarterback Matt Moore credit. He played really well last week against the Packers. Better than a lot of people expected I would presume. Hall-of-famer Patrick Mahomes remains limited in practice. I can't see him playing. The Vikings have been on a tear, but Arrowhead is a very, very difficult place to play. So I'll put it this way. If Mahomes plays, the Chiefs win. If he doesn't, the Vikings win. I'll go with him not playing.
Prediction: Vikings 27 Chiefs 23
4-4 Tennessee Titans @ 4-3 Carolina Panthers 1 PM ET CBS
This is another ugly game to pick. If this game were in Tennessee, I would take the Titans. But the game is in Charlotte and the Panthers have Christian McCaffrey and the Titans don't. That's enough to persuade me.
Prediction: Panthers 23 Titans 17
1-7 Washington @ 5-2 Buffalo Bills 1 PM ET FOX
This is a rematch of Super Bowl XXVI. Washington won. Washington looks like they are going to start rookie Dwayne Haskins. Given that the Bills defense was just embarrassed by the Eagles at home last week, they're going to be angry. That doesn't bode well for Washington.
Prediction: Bills 23 Washington 10
2-5 Tampa Bay Buccaneers @ 6-2 Seattle Seahawks 4:05 PM ET FOX
I do believe that the Bucs are better than their 2-5 record shows and Seattle is worse than their 6-2 record. The Bucs are ticked after they had a win stolen from them last week by the refs. It would not shock me if Jameis Winston and company score a whole bunch of points and come away with a victory. Then again, Winston could throw four interceptions. That feels more likely.
Prediction: Seahawks 27 Bucs 24
3-3-1 Detroit Lions @ 3-4 Oakland Raiders 4:05 PM ET FOX
This is Oakland's first home game in Oakland since week 2. That is ridiculous! The Black Hole will be ready. Hope the Lions are. I just can't think that the Lions prevail.
Prediction: Raiders 27 Lions 23
7-1 Green Bay Packers @ 3-5 Los Angeles Chargers 4:25 PM ET CBS
This is a de facto home game for the Packers. The crowd is going to 75/25 Packers fans at a minimum. Probably closer to 80/20 or more. It's going to make things pretty easy for Aaron Rodgers and company. Chargers are playing their first game with a new offensive coordinator. Let's see what you got.
Prediction: Packers 27 Chargers 20
2-5 Cleveland Browns @ 2-6 Denver Broncos 4:25 PM ET CBS
The sky is falling in Cleveland. Baker Mayfield is fighting with reporters and acting immature. Know what cures all for a team that has talent, but is failing to win games? A game against a Broncos team starting some guy named Brandon Allen. Who? Exactly.
Prediction: Browns 30 Broncos 16
8-0 New England Patriots @ 5-2 Baltimore Ravens 8:20 PM ET NBC
Baltimore Ravens quarterback Lamar Jackson definitely presents a problem for Bill Belichick and the Patriots defense. I think the Ravens can beat the Patriots with their style of play, but the Patriots are undefeated for a reason. Belichick is very good against young quarterbacks. Until someone finds a way to beat them, I have to go with the Patriots.
Prediction: Patriots 24 Ravens 23
Coming up Monday (perhaps): Sunday week 9 NFL reaction…we are in Kansas City for the Vikings-Chiefs game so we'll see if we have time.
---