"The Stack" 10-8-18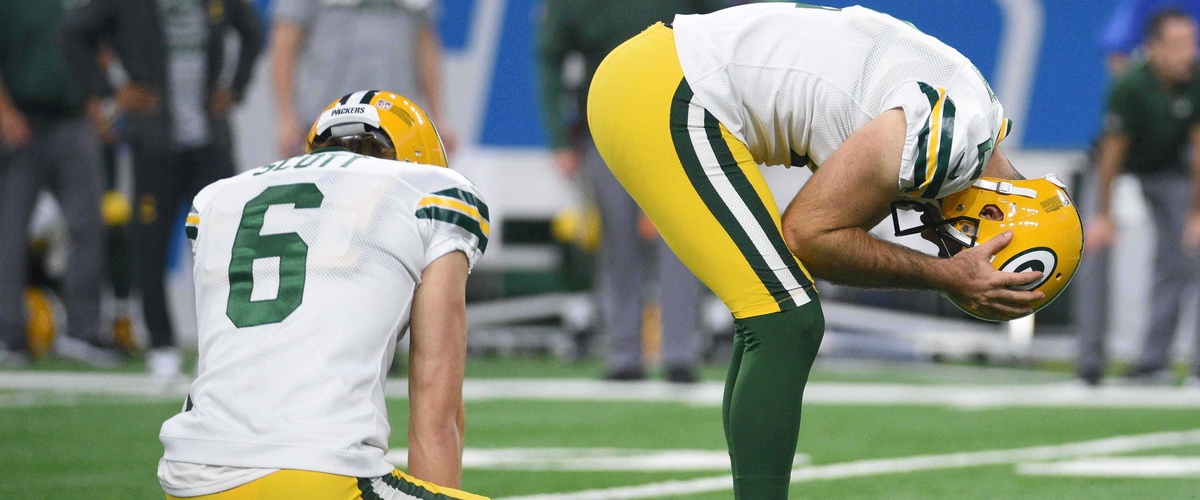 Packers kicker Mason Crosby had a game to forget, but he won't soon be forgetting it. He missed four field goals and an extra point as the Packers lost to the Lions 31-23. Ouch!
The Stack is back on this Monday and we were treated to some good football games yesterday as well as some blowouts. Some teams saved their seasons potentially (Steelers and Vikings) other teams are kicking their season away (Packers) and some teams avoided their second tie of the season (Browns). Reaction to all of Sunday's games plus a MNF preview so let's get right to "the stack" for today, Monday, October 8th:
Titans 12 Bills 13
I said on Friday if I was the Titans I would be weary of an upset. It ended up being accurate. Marcus Mariota did not play well though he would have had a touchdown had his wide receiver not dropped a pass in the endzone in the fourth quarter. The Bills would kick a game-winning field goal with no time remaining and they did that thanks to running the football since Josh Allen did not have a great game. They need him to play better. Bad loss for the Titans.
Giants 31 Panthers 33
What a crazy game. Odell Beckham Jr., after some comments made earlier this week that raised some eyebrows had himself a game including a 57-yard touchdown pass to Saquon Barkley and 131 yards receiving and a touchdown. The Giants proved me wrong by scoring over 30 points thanks to Barkley's tremendous catch and run late in the game. He appeared to be injured on the play. Alas though, it was Graham Gano's 63-yard field goal with no time remaining to win the game for the Panthers. What a kick! The Giants have now lost games in back-to-back seasons on field goals that were 60 plus yards away. Unbelievable. They played better, but not good enough to win the game. Questionable officiating may have hurt the Giants in this one too. Short week coming up so they better be ready.
Dolphins 17 Bengals 27
Apparently Miami Dolphins offensive tackle Laremy Tunsel is an incredibly important member of the team, because after he left the Dolphins fell apart. The Bengals scored two defensive touchdowns by lineman who recovered fumbles and ran them in (Michael Johnson and Sam Hubbard) and that helped push them past the Dolphins to improve to 4-1.
Ravens 9 Browns 12
The Browns nearly had their second tie of the season and it would have been thanks to their kicker, Greg Joseph, who missed an extra point and a field goal at the end of the fourth quarter. Joseph would come through though with a knuckle ball kick at the end of overtime to lift the Browns to their second win of the season. Baker Mayfield played well overall and the Browns defense rose up to the challenge too to help keep the Browns in the AFC North discussion through five weeks.
Packers 23 Lions 31
Mason Crosby had a no good, absolutely terrible, awful, very bad day. He missed four field goals and an extra point. Those missed points ended up being the difference. Aaron Rodgers can only do so much. Matthew Stafford was fine and the running game was decent for the Lions, but they lost rookie running Kerryon Johnson to an injury that they hope won't be too severe. Crazy. Absolutely crazy.
Jaguars 14 Chiefs 30
Jaguars cornerback Jalen Ramsey may just want to stick to playing football, because his analysis of the game's better players is hurting his team. Okay, so maybe he did a decent job on Tyreek Hill, but that really doesn't matter when you get spanked like the Jaguars did. The Chiefs defense stole the show. They made Blake Bortles look like the Blake Bortles of old as he threw four interceptions. The Jaguars offense couldn't get anything going. No touchdown passes for Patrick Mahomes, but he did have a rushing touchdown and played just fine to keep the Chiefs undefeated.
Broncos 16 Jets 34
What happened to the Broncos defense? They gave up big plays all day on Sunday. Robbie Anderson had three catches for 123 yards and two touchdowns and Isaiah Crowell ran for over 200 yards. You're not going to win many games doing that. Nothing Case Keenum could really do. Jets first win since week one.
Falcons 17 Steelers 41
The Atlanta Falcons defense is not very good. Okay, that is too kind. They're awful. Antonio Brown and James Conner tore them apart. Matty Ice was pedestrian for the Falcons when they need him to be terrific. Feels like a lost season for the Falcons and a season saving win (for now) for the Steelers.
Raiders 10 Chargers 26
The Raiders are not a good football team. Though it felt like they were playing at home with all of that silver and black in the stands the Raiders were thoroughly outplayed in this one. Philip Rivers and Melvin Gordon were just too much. How much the Chargers can sustain this, I don't know. But at least for now, they're the second best team in the AFC West.
Vikings 23 Eagles 21
The Vikings exacted revenge from their NFC Championship blowout loss from last year thanks in large part to Kirk Cousins once again playing like the $84 million man he is with 301 passing yards and a touchdown. The defense played better too. Linval Joseph is still needing oxygen after he recovered a fumble and rumbled down the field 64 yards. Dan Bailey missed two kicks (28 and 45 yards), but was clutch with his 52-yard field goal that was right down the window. A potential season changing win for the Vikings. The Eagles are off, but I think they will get it back and maybe back on track this week at the Giants.
Cardinals 28 49ers 18
Um…so much for C.J. Beathard being able to play well. A week after he nearly led the 49ers to an upset win at the Chargers, the 49ers looked pretty bad against the winless the Cardinals. Winless no more, however. Rookie to rookie connection with Josh Rosen hooking up with Christian Kirk for a touchdown. David Johnson added two rushing touchdowns and the Cardinals picked up their first win of the season.
Rams 33 Seahawks 31
The Rams very may well be the best team in the league and if they had lost on Sunday who could have faulted them? They lost wide receivers Brandin Cooks and Cooper Kupp to concussions and relied on Todd Gurley who responded with three rushing touchdowns. The defense wasn't great as Russell Wilson threw three touchdowns and the Seahawks looked like they were going to win, but alas, head coach Pete Carrol called a timeout with the Rams facing a fourth and win with under two minutes to go and instead of punting the Rams went for it, made it and won the game to remain undefeated.
Cowboys 16 Texans 19
What an insane game. The Texans should have put this game away multiple times, but the Cowboys redzone defense was up to the challenge stopping Texans quarterback Deshaun Watson on a fourth down play in the first half and forcing the Texans to kick multiple field goals. Both quarterbacks, Watson and Cowboys quarterback Dak Prescott, were under constant pressure and duress. Watson took many hits and he had to receive medical treatment a couple of different times, but in the end, the Texans got the win and that is all that matters.
Washington @ New Orleans Saints 8:15 PM ET ESPN MNF
Drew Brees is only a couple of hundred yards away from NFL history. He will be the NFL's all-time leading passer by the time this game ends. I don't know how Washington's defense is going to be able to stop him, Alvin Kamara and Mark Ingram who is coming off of suspension. It is going to take a minor miracle.
Prediction: Saints 34 Washington 20
Coming up Tuesday: MNF reaction, baseball playoffs, college football weekend reaction and Conor-Khabib thoughts
---