"The Stack" 11-5-18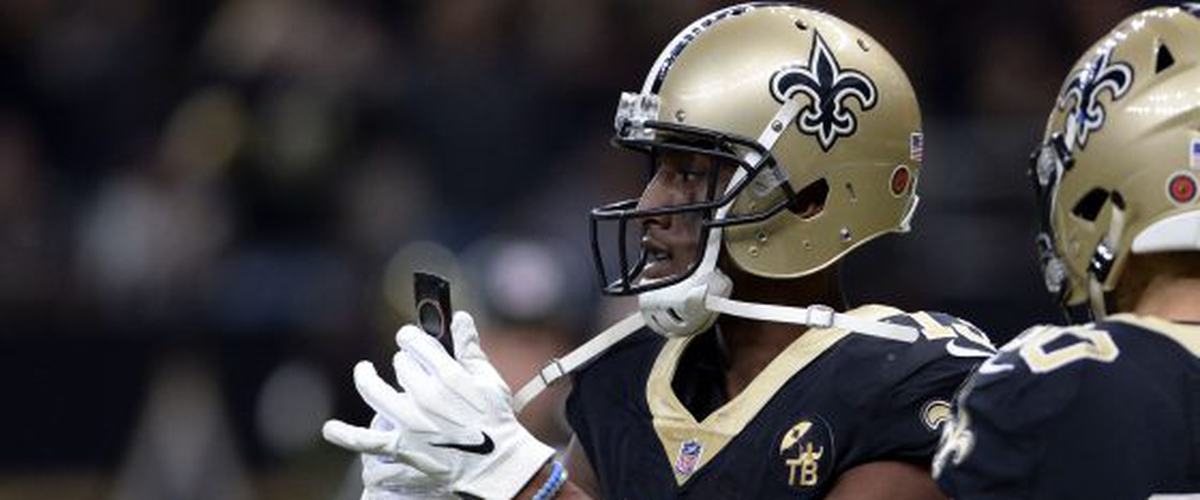 New Orleans Saints wide receiver Joe Horn channeled his inner Joe Horn, pulling a flip cell phone out from under the goalpost following his big touchdown to help lift the Saints to a 45-35 win over the previously undefeated Los Angeles Rams.
The Stack is back on this Monday and there are no longer any undefeated teams remaining in the NFL. Pop the champagne members of the undefeated Miami Dolphins team of 1972. The Los Angeles Rams lost to the New Orleans Saints in a highly entertaining game. There were many other good games as well so let's get right to some recaps and reaction for week nine in the NFL for today, Monday, November 5th:
Steelers 23 Ravens 16
Pittsburgh Steelers running back James Conner is phenomenal. He has done a great job replacing Le'Veon Bell. He had another multi-touchdown game (one rushing and one receiving) and had over 100 yards rushing overall. The Steelers appear to have righted the ship. The Baltimore Ravens have fallen on some tough times and there is chatter that head coach John Harbaugh could be fired. That would not be a great move.
Bears 41 Bills 9
Nathan Peterman started at quarterback for the Buffalo Bills. He threw three interceptions (though they weren't all his fault), but he did rush for one score. Still, he is awful and the Chicago Bears had two defensive touchdowns. They didn't need their offense to do anything. And they really didn't. Peterman is awful. Just awful.
Buccaneers 28 Panthers 42
Once again, the Tampa Bay Buccaneers got into an early hole thanks to their defense and also a Ryan Fitzpatrick interception. Carolina ran the ball really well with Christian McCaffrey. They built up a 35-7 lead only to see the Bucs get within a touchdown in the fourth quarter. Cam Newton would respond with a touchdown pass to Curtis Samuel and that would be all they needed to hold on and win. This Panthers team is really good.
Chiefs 37 Browns 21
Cleveland's offense looked better in this game. They were more aggressive, but going for two three times is probably not the way to go. In the end, they were unable to go toe to toe with Patrick Mahomes and company. Running back Kareem Hunt had three touchdowns (two rushing, one receiving) and the Chiefs would once again win going away. Their offense is so much fun to watch.
Jets 6 Dolphins 13
What an awful game. The field was in rough shape after Saturday night's Duke-Miami (FL) game that occurred during a rainstorm and it showed. The offenses stunk. The only touchdown was a pick-six for the Dolphins. Jets rookie quarterback Sam Darnold threw four interceptions. Yikes. That's who everyone felt watching the game too.
Lions 9 Vikings 24
The Minnesota Vikings recorded more sacks (10) than points allowed (9). Danielle Hunter had 3.5 sacks and a fumble recovery that he ran back for a touchdown. The passing game wasn't crisp and Adam Thielen had only 22 receiving yards, but it didn't matter. It was great to have Dalvin Cook back in the backfield. He busted off a big run in the second quarter and the Vikings running game overall was huge. They head into the bye on a good note.
Falcons 38 Washington 14
There have been plenty of people who aren't sold on Washington and Sunday was a good reason why. The offense was terrible and the defense couldn't stop Matt Ryan and company. Ryan had four touchdown passes including one to Julio Jones on a screen pass, his first touchdown of the year. The defense played pretty well too. The Falcons may be starting to come around.
Texans 19 Broncos 17
Houston Texans wide receiver Demaryius Thomas came back to Denver and received a hero's welcome. The fans were super nice. He had 61 yards receiving in the first half and he will fit in nicely with the Texans offense. The Texans have now won six games in a row following their 0-3 start though they had to hold their breath as Broncos kicker Brandon McManus missed a 51-yard field goal at the end of the game. Watch out for the Texans.
Chargers 25 Seahawks 17
Chargers running back Melvin Gordon was questionable coming in with a hamstring injury, but he ran really well. Gordon had 113 yards rushing and a touchdown. It was their defense that really helped them with a pick-six in the fourth quarter. Had their kicker been able to make an extra point, they would have put the game away, but the Seahawks stuck around and had a chance to tie it at the end, but Russell Wilson's pass fell incomplete. Watch out for the Chargers, Chiefs.
Rams 35 Saints 45
What an absolute thriller of a game. The Saints, behind three Alvin Kamara touchdowns raced out to a 35-17 halftime lead only to see the Rams rally in the third quarter and tie the game early in the fourth quarter. Drew Brees and the Saints did not panic though and wide receiver Michael Thomas had himself a game. His touchdown catch in the fourth quarter pushed him over 200 yards receiving and to celebrate, he paid homage to former Saints wide receiver Joe Horn with a cell phone celebration. The Rams are no longer undefeated and the NFL no longer has any undefeated teams. This Saints team is tremendous. They are marching!
Packers 17 Patriots 31
In a game billed as the GOAT (Tom Brady) versus the wanna-be GOAT (Aaron Rodgers), neither quarterback played great. The Packers looked like they were going to win this game before running back Aaron Jones fumbled and the Patriots recovered. A trick play ensued on the Patriots drive following the recovery when Julian Edelman threw it to running back James White who had a convoy of lineman in front of him. He got it down inside the five and would later punch it in. A touchdown pass to Josh Gordon a few minutes later would put this game out of reach. Good game even though the quarterback didn't have their best games statistically.
3-4 Tennessee Titans @ 3-4 Dallas Cowboys 8:15 PM ET ESPN MNF
I don't trust the Titans offense. I don't trust the Cowboys in general, but they play better at home. They are at home in this game. Add to that the fact that they have a new toy in wide receiver Amari Cooper and I think the Cowboys are more than capable of beat the offensively challenged Titans.
Prediction: Cowboys 23 Titans 13
Coming up Tuesday or Wednesday: 2018-19 college basketball season preview
---