"The Stack" 11-2-18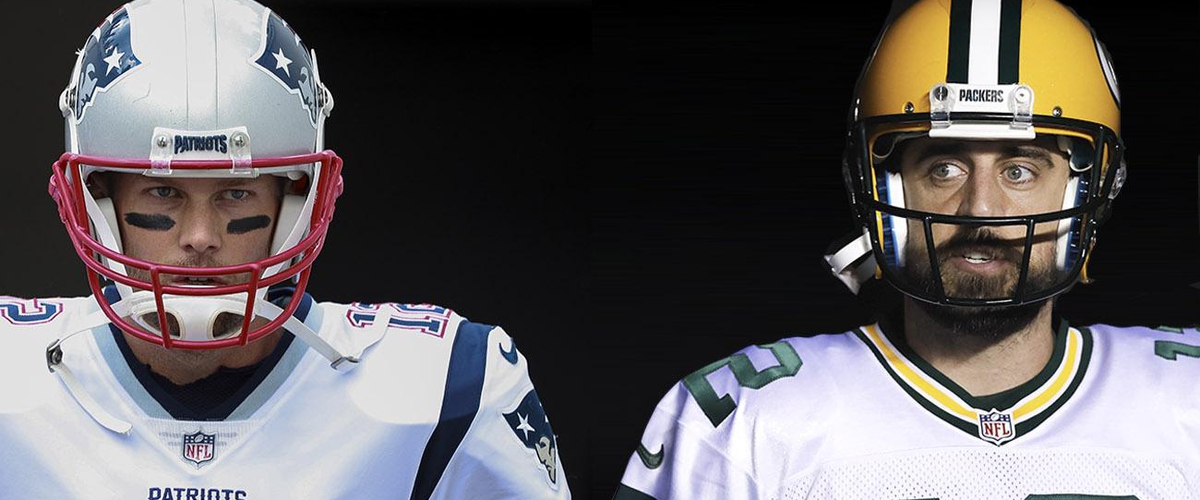 Aaron Rodgers and Tom Brady square off in Foxboro Sunday night, the first game Rodgers will have played in New England in his career. The GOAT versus the guy trying to be the GOAT. Should be fun.
The Stack is back on this first Football Friday of November and our week nine picks are not off to a good start. We went with the Oakland Raiders thinking that maybe Derek Carr and company would be able to best the San Francisco 49ers who were starting an undrafted quarterback in Nick Mullens. That was not the case. Jon Gruden's team absolutely stinks as they lost 34-3 to the 49ers. Mullens threw three touchdowns. He very well may get the start next week against the New York Giants. We can only get better so let's get right to some previews and predictions for week nine in the NFL in "the stack" for today, Friday, November 2nd:
4-2-1 Pittsburgh Steelers @ 4-4 Baltimore Ravens 1 PM ET CBS
Pivotal matchup in the AFC North. The Steelers have been playing really well the last few weeks. Running back James Conner in particular has been outstanding. They are facing a Ravens team though whose defense got embarrassed last week against the Carolina Panthers. They're going to be angry and they want to sweep the season series with the Steelers. I'll take Justin Tucker to kick a field goal late to put the game away.
Prediction: Ravens 29 Steelers 20
4-3 Chicago Bears @ 2-6 Buffalo Bills 1 PM ET FOX
The Buffalo Bills are starting Nathan Peterman at quarterback barring a miracle with Derek Anderson and his concussion. Need I say more? I'm not a believer in Trubisky yet, but he's leaps and bounds better than Peterman.
Prediction: Bears 24 Bills 6
3-4 Tampa Bay Buccaneers @ 5-2 Carolina Panthers 1 PM ET FOX
Ryan Fitzpatrick gets the start at quarterback for the Bucs and that gives them a much better chance than Jameis Winston would give them. The Panthers are a much better team and their defense will slow down the Bucs' offense, but it will be their offense that will be the difference maker here. Cam Newton and company will make some big plays and the Panthers will win.
Prediction: Panthers 34 Bucs 24
7-1 Kansas City Chiefs @ 2-5-1 Cleveland Brown 1 PM ET CBS
The Browns won't have Hue Jackson or Todd Haley on the sidelines for the game since they both got canned for this week. How will Baker Mayfield and the offense look? They'll look fine, but will they score enough points to keep up with Pat Mahomes, Tyreek Hill, Travis Kelce, Kareem Hunt and company? Nope!
Prediction: Chiefs 34 Browns 20
3-5 New York Jets @ 4-4 Miami Dolphins 1 PM ET CBS
Sam Darnold and the Jets have not looked good the last two weeks. The Dolphins likely won't have Ryan Tannehill under center which means Brock Osweiler gets another start. It won't matter who the Dolphins start at quarterback. They are a better team than the Jets. Look for Devante Parker to have another big game.
Prediction: Dolphins 23 Jets 16
3-4 Detroit Lions @ 4-3-1 Minnesota Vikings 1 PM ET FOX
The Vikings are stinging from that loss to the Saints last week. A couple of costly mistakes doomed them. Fortunately, the Lions traded wide receiver Golden Tate this week so how does the team respond to that? Another 100 plus yard receiving day for Adam Thielen and the Vikings get their first win against the Lions at U.S. Bank Stadium.
Prediction: Vikings 31 Lions 16
3-4 Atlanta Falcons @ 5-2 Washington 1 PM ET FOX
I still think there are a lot of people out there who don't yet trust Washington despite what Adrian Peterson is doing rushing the football and what that defense is doing. The Falcons unfortunately have a lot of injuries on the defensive side of the football still. Their offense is great, but I think I give the slight edge to the home team here.
Prediction: Washington 27 Falcons 24
5-3 Houston Texans @ 3-5 Denver Broncos 4:05 PM ET CBS
So wide receiver Demaryius Thomas was traded from the Broncos to the Texans before the NFL Trade Deadline and it just so happens the Texans play at Denver this week. He may as well have not even left for Houston. Or maybe the Texans could have come out to Denver a little earlier. The Texans have won five straight and I think Deshaun Watson and Thomas are going to have quite the first game together. Make it six in a row.
Prediction: Texans 30 Broncos 23
5-2 Los Angeles Chargers @ 4-3 Seattle Seahawks 4:05 PM ET CBS
What a really tough game to pick. The Chargers have had a couple of weeks to get ready for the Seahawks, but Seattle is such a difficult place to play. Add to that the Seahawks playing their first home game since the late Paul Allen died and there will be a lot of emotion. I don't think Joey Bosa is playing which stinks, but the Chargers are the more talented team and I think the Chargers squeak by the Seahawks.
Prediction: Chargers 24 Seahawks 23
8-0 Los Angeles Rams @ 6-1 New Orleans Saints 4:25 PM ET FOX
What a game this is going to be. The undefeated Rams against the second best team in the NFC. The Saints running backs are great and Drew Brees is great, but the Rams are phenomenal. It will be difficult to play in the Mercedes-Benz Superdome, but the Rams fought through adversity last week against Green Bay and I don't think Todd Gurley and company will trip up in what should be a classic.
Prediction: Rams 30 Saints 27
3-3-1 Green Bay Packers @ 6-2 New England Patriots 8:20 PM ET NBC
Remember when the Patriots were 1-2 and people were freaking out? Seems like such a long time ago. It's Aaron Rodgers versus Tom Brady. First time (and most likely last) that Rodgers has played in New England. The Packers played well last week and no doubt will play well again this week, but Bill Belichick will have something in place to slow Rodgers down or force a turnover late and the Patriots will hang on for the W.
Prediction: Patriots 34 Packers 27
Coming up Monday: Week 9 Sunday NFL reaction plus MNF preview and prediction
Listen to this week's "The Sports Block" podcast here.
---