"The Stack" 11-7-18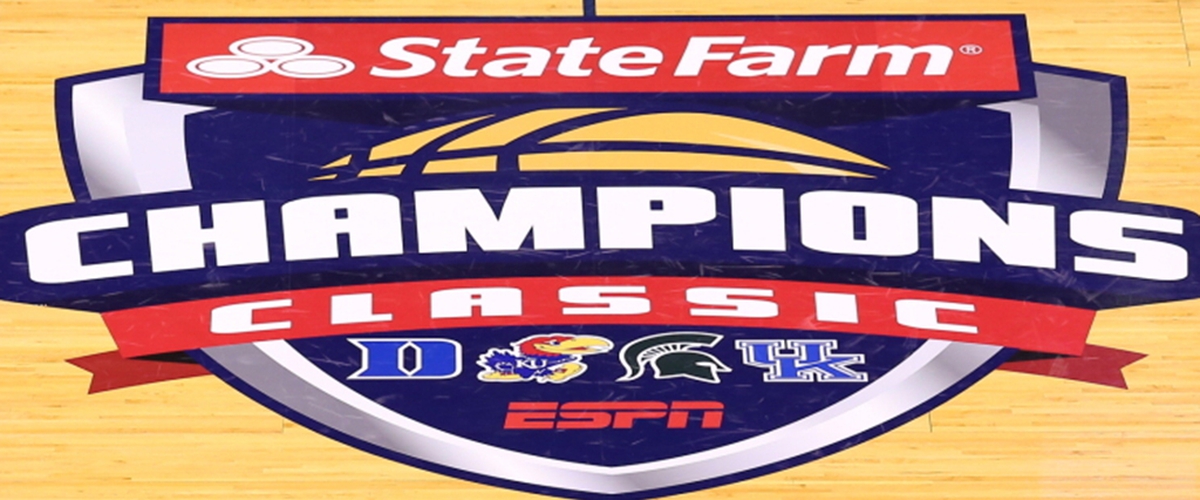 The Champions Classic Tuesday night in Indianapolis tipped off the 2018-19 college basketball season. What a season we are about to see.
The Stack is back on this Wednesday and hopefully everyone voted in your local elections on Tuesday. It is your duty and right as an American citizen after all. The college basketball season is here and we are super excited! Why the NCAA would choose to start the season on election night, I do not know. We are here with conference winner predictions, Final Four and more so let's get right to the college basketball preview I'm hoping you demand in "the stack" for today, Tuesday, November 6th:
2018-19 College basketball season preview
Last we saw, Villanova was cutting down the nets after defeating Michigan in the National Championship. Much has changed since then. The whole Villanova squad left practically. Unfortunately for the NCAA and college basketball, the college basketball pay-for-play scandal that the FBI is involved in is still present. Trials have started and will continue as the season goes on. It stinks, but hopefully we can focus on the players and the games and hopefully college basketball continues to climb out from the huge hole that they dug themselves. We don't have much more than that, at least not right now.
Apparently there are a couple of teams that have changed conferences with little fanfare. North Dakota has joined the Summit League after leaving the Big Sky. Hampton left the MEAC for the Big South. Was Liberty in the Atlantic Sun last year? I feel like they weren't. They were in the Big South. South Carolina Upstate left the Atlantic Sun for the Big South so apparently it was just a swap? Anyway, those teams have moved so we'll see how it all works for them this year. If there is one I missed, let me know.
Holy cow wasn't the Champions Classic fun? Duke looks phenomenal. Kansas looks great. Zion Williamson is a man among boys and R.J. Barrett is tremendous. There's a lot to like about Duke.
A couple of bold predictions for you before we go into the conference previews…
1) Arizona will not make the NCAA Tournament. Now maybe this isn't as bold as I thought it was a few weeks ago, but Arizona head coach Sean Miller doesn't have DeAndre Ayton anymore and he has lost several players due to the potential pay-for-play scandal including Shaq's son. Miller will be sweating the season out and on Selection Sunday. I do not see Arizona getting in.
2) SDSU will make it to the Sweet 16. No not the Aztecs. The Jackrabbits of South Dakota State will make it and they are due. They have one of the best players in the country in Mike Daum and they should make the NCAA Tournament for a fourth straight year. They have never won a game. They have talent to do so with Daum and David Jenkins Jr. This team is legit. I believe. I may also be a tad bit biased, but that's beside the point.
3) There will potentially be two teams from the western United States in the Final Four and neither will come from the Pac-12. Nevada out of the Mountain West Conference is legit with the Martin brothers and some added transfers. Head coach Eric Musselman has the pieces in place for a deep run. Gonzaga out of the West Coast Conference also is poised for a run. Provided that Killian Tillie can come back from his foot/leg injury, Gonzaga is loaded and will be making another appearance in the Final Four.
Maybe those aren't as bold as they sound, but there are a number of things to watch for that could end up being a surprise as we head towards March and that is the beauty of college basketball. Let's get to some previews:
AAC
So apparently very few people think highly of Wichita State this year. The Shockers are picked to finish eighth in the conference. I wasn't high on them a couple of years ago and it burned me. Perhaps I'll get burned again, but I'll take Wichita State to make the NCAA Tournament. They won't win the conference. That distinction belongs to Cincinnati. Head coach Mick Cronin had a great team last year that fell with a thud in the tournament. They will be right back there. UCF is also a team that has a lot of expectations. Memphis and UConn will both be interesting with two new head coaches (Penny Hardaway and Danny Hurley) respectively plus a little bird told me that Memphis has some major recruits coming in next year so watch out for them next year. I think though they are both a year or two away. We'll see what Houston can do, but they shouldn't be counted out.
Teams In: UCF, Cincinnati, Wichita State
ACC
In case you are new to college basketball, Duke is rivaling Kentucky with the whole one-and-done players and you have heard of one of their latest recruits…Zion Williamson. His dunks are absolutely amazing. R.J. Barrett though may be even better than Williamson. He's projected to be the top pick in next year's NBA Draft. This Duke team is outstanding, but will their youth be an issue come March? UNC boasts one of the best freshman in the country in Nassir Little. Look out for this guy. Luke Maye returns as a senior and is one of best returning players in the country. UNC's not as good as Duke, but they're better than anyone else in this conference.
Yet having said all of that, the ACC will once again have the most teams in the NCAA Tournament. Clemson is good. Louisville under new head coach Chris Mack (Xavier) should make it back. NC State I think will be decent. There's even talk that Boston College is going to be good. Florida State is good. You can never count out Jim Boeheim and Syracuse. Maybe the Hurricanes will be back too. This is the best basketball conference in the country and it will play out that way throughout the entire season and into March.
Hey, in case you forgot, the Virginia Cavaliers lost to #16 seed UMBC last year. They will be one of the best teams in the conference yet again this year, but we will not forget. And Virginia Tech may have their best team in seemingly forever under Buzz Williams. Watch out for the Hokies.
Teams In: Duke, Clemson, Florida State, UNC, Virginia, Virginia Tech, Syracuse, Louisville, Boston College, North Carolina State
Big 12
Kansas has won the Big 12 I believe now 14 straight years. They will make it 15. Udoka Azubuike is great. They have some transfers coming in and the biggest ones are brothers Dedric and K.J. Lawson from Kansas. The status of Silvio De Sousa is very much in the air, but I doubt he will be able to play. Still though, this Kansas team is deep and they are going to be very difficult to beat. I really like Kansas State. They showed a lot last year with a younger team and a team that had injuries to guys like Dean Wade. Xavier Sneed is good and I think Kansas State is a sneaky pick to make the Final Four. Shaka Smart, I loved you at VCU, but you've disappointed at Texas thus far. That is going to continue. Matt Mooney is someone I'm very familiar with having seen him at South Dakota the last few years. He is going to be a difference maker for Texas Tech. And Jamie Dixon is making TCU a power. Look for them to make it back to the NCAA Tournament. How can you pick against Bob Huggins and Press (West) Virginia too? Oklahoma State is a bubble as is Texas. Perhaps Baylor is too. In all though, only half of this conference is making it and they are all chasing Kansas.
Teams in: Kansas, Kansas State, TCU, Texas Tech, West Virginia
Big East
Villanova has done a remarkable job the last few years winning a couple of national championships. They would be a national championship contender if the entire team hadn't left including Donte DiVincenzo and Jalen Brunson. They'll still win the Big East though. Marquette has a really good offense or so I've been told. They are the sneaky pick in this conference. You can never pick against Butler. And Chris Mullens has a lot of hype surrounding St. John's. Patrick Ewing and Georgetown is probably a year away. Can Creighton make it back? What about Seton Hall? What will Xavier look like with several players graduating and head coach Chris Mack now at Louisville? The Big East as always will be interesting.
Teams in: Villanova, Xavier, Butler, Seton Hall, St. John's, Marquette
B1G Ten
The Big Ten had a bit of a down year last year. I don't expect it to be much different this year. There are plenty of bubble teams from Minnesota to Illinois to Wisconsin to Maryland, but at the end of the day there are really only three teams that are going to create noise in the conference this year. That would be Michigan State, Purdue and Michigan. They are the cream of the crop and they will run away this conference. Archie Miller will make Indiana competitive this year. And I am a believer in Brad Underwood, the head coach at Illinois. He was great at Stephen F. Austin. He was fine at Oklahoma State. I'll give you another chance at Illinois this year coach. And people love Nebraska this year. Okay, I'm intrigued. I'll buy in. Don't disappoint like your football team this year Cornhuskers. This is a difficult conference to peg how many teams will make it, but here it goes:
Teams in: Michigan State, Michigan, Purdue, Nebraska, Indiana, Illinois, Wisconsin
Pac-12
The Pac-12 wasn't good last year. It won't be much better last year. One thing that will be different is that there will be no Arizona in the NCAA Tournament. I just think with the scandal that has rocked college basketball and with head coach Sean Miller tied so closely to it that it will affect Arizona all year long. They've lost some recruits for this year. I just don't see it happening this year for the Wildcats. Oregon will make a resurgence and will be the team to beat this year. The lateManute Bol, a former good NBA player has a son named Bol Bol. He's with Oregon and he's really good. UCLA and USC will be battling it out in L.A. all year long, but I like UCLA more. And Washington is supposedly good. I'll bite and take the Huskies to make the NCAA Tournament. You can never count out Utah and maybe even Colorado, but I'm thinking this is a four bid league this year.
Teams in: Oregon, UCLA, Washington, USC
SEC
Maybe you haven't heard, but Kentucky is pretty good. They don't just have freshman though this year. They have a grad transfer from Stanford named Reid Travis. Didn't he average a double-double last year? Either way, he's a good and a great addition to the Cats. The SEC as a whole though may be the best they've been in a decade if not more. Tennessee has their best team they've ever assembled arguably. Bruce Pearl at Auburn has the Tigers as a top-15 team. Ben Howland is at Mississippi State. The former UCLA coach is with the Bulldogs. Did you know that? He's built Mississippi State into a team that will make the tournament. LSU is great. Florida should be good. Alabama, Arkansas and Missouri are all bubble teams. I'm intrigued by Georgia because Tom Crean is a good coach, but like UConn and Memphis, they will be a team to look out for next year. In the end though, it's all about Kentucky.
Teams in: SEC: Kentucky, Tennessee, Auburn, LSU, Mississippi State, Florida, Arkansas, Alabama
Rest of the conference winners:
American East: Vermont (Sorry, UMBC :( )
A-10: Davidson (Picking against the grain and favorites, St. Louis)
Atlantic Sun: Lipscomb
Big Sky: Montana
Big South: Campbell (Chris Clemons is the best player in the league…though they probably won't win, I'll still pick them.)
Big West: UC Irvine
CAA: Northeastern
Conference USA: Marshall (Watch out for Western Kentucky. They have a five-star recruit in Charles Bassey (suspicious right?) and they are certainly a threat to win the conference and could be an at-large team).
Horizon League: Northern Kentucky
Ivy League: Harvard
MAAC: Rider
MAC: Buffalo
MEAC: Howard
MVC: Loyola-Chicago (They'll make another big run this year…sorry Illinois State).
MWC: Nevada (This is a legit Final Four team with the Martin brothers. They are destined for big things this year).
NEC: St Francis (PA)
OVC: Belmont
Patriot League: Bucknell
SoCon (Southern Conference): UNC-Greensboro
Southland Conference: Stephen F. Austin
SWAC: Grambling State
Summit League: South Dakota State (Mike Daum is one of, if not the best seniors in the country. He and the Jackrabbits are ready to win a game in the NCAA Tournament).
Sun Belt: Georgia State
WCC: Gonzaga (The Zags are really good. Geno Crandall, a transfer from North Dakota, can put them over the top).
WAC: New Mexico State
Final Four
So admittedly so, I probably am missing on a good chunk of teams that will make the NCAA Tournament. I'm not too confident on some of them like Alabama and Arkansas. Perhaps I should have Western Kentucky in. Either way, the season is going to be great, especially if it is anything like we saw in the Champions Classic Tuesday night. So with all of that being said, the four teams that will be in Minneapolis at U.S. Bank Stadium for the Final Four are:
· Duke
· Kentucky
· Kansas
· Gonzaga
National Championship
Duke vs. Kansas
National Champion: Duke
Listen, how are you supposed to stop Zion Williamson and R.J. Barrett? Duke put up 118 points against Kentucky Tuesday night. That is insane. Having freshman be your stars in the NCAA Tournament isn't easy, but they are by far the most talented team and will win it all.
Wooden Winner: R.J. Barrett
College basketball is here everyone! Enjoy the season. Can't wait to see who will be dancing in March.
Coming up Thursday: College football weekend forecast, TNF preview and more.
---