"The Stack" 11-8-19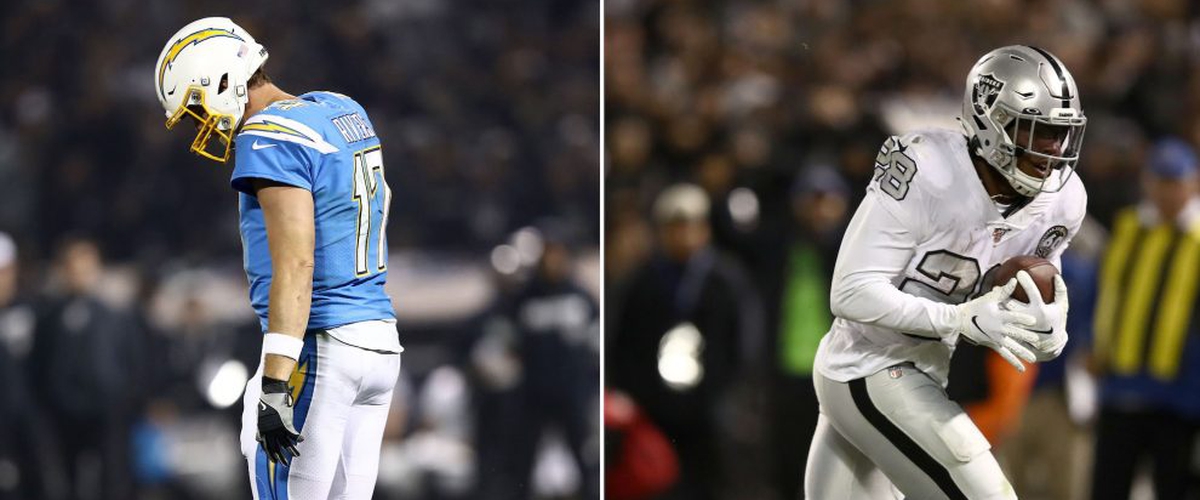 Raiders running back Josh Jacobs was great last night, scoring the game-winning touchdown. Chargers quarterback Philip Rivers was not, throwing the game-sealing interception as the Raiders beat the Chargers 26-24.
The Stack is back on this Football Friday and our week 10 picks are not off to a good start. What a surprise! The Oakland Raiders, in their last scheduled primetime game in the Black Hole, scored a touchdown with under a minute to go and then intercepted Philip Rivers (one of three Rivers interceptions for the game) and beat the Los Angeles Chargers 26-24. The Raiders are in prime position to make a run at the playoffs with a pretty soft schedule including the likes of the Bengals and Jets. The Chargers are likely done. But we will see. What else will we see in week 10 in the NFL? Let's make some picks in "the stack" for today, Friday, November 8th:
6-3 Kansas City Chiefs @ 4-5 Tennessee Titans 1 PM ET CBS
It sounds like Patrick Mahomes is going to play in this game. I hope he's healthy enough and doesn't suffer a more serious injury. With Mahomes or not, the Chiefs are just too talented and should easily beat the Chiefs.
Prediction: Chiefs 27 Titans 17
3-5-1 Arizona Cardinals @ 2-6 Tampa Bay Buccaneers 1 PM ET FOX
Buccaneers head coach Bruce Arians gets to face his former team. Think he'll have a little more motivation to win this game? I do, but it really comes down to Jameis Winston and whether or not he doesn't turn the ball over. Against a Cardinals defense that really isn't all that good, I think the Bucs will be just fine and win a game at home, which will be their first game at home since week 3.
Prediction: Bucs 30 Cardinals 24
2-7 New York Giants @ 1-7 New York Jets 1 PM ET FOX
If two awful teams from the same city get together to play each other in their shared stadium, does the city make a sound or care at all?
Prediction: Giants 27 Jets 17
1-7 Atlanta Falcons @ 7-1 New Orleans Saints 1 PM ET FOX
I believe Falcons head coach Dan Quinn said that these final eight games are a new season for the Falcons. It may be a new season, but I would be shocked if the Falcons, especially on defense, find anything other than the same result they saw in the first half of the season.
Prediction: Saints 41 Falcons 20
6-2 Buffalo Bills @ 2-6 Cleveland Browns 1 PM ET CBS
It's now or never for the Cleveland Browns. Really it should have been now or never last week against a bad Broncos team. They have to win this game if they have any chance at salvaging their season. How many turnovers will the Bills defense force? Baker Mayfield could have three turnovers on his own, but the Browns will find a way to snap their four game skid. They do welcome running back Kareem Hunt after his suspension after all.
Prediction: Browns 20 Bills 13
6-2 Baltimore Ravens @ 0-8 Cincinnati Bengals 1 PM ET CBS
Congratulations, Bengals rookie quarterback Ryan Finley. You get to go against a Ravens team that is rolling right now. Can you match Lamar Jackson and go toe to toe with him? Not a chance. Once again, wide receiver A.J. Green isn't playing.
Prediction: Ravens 34 Bengals 13
3-4-1 Detroit Lions @ 3-5 Chicago Bears 1 PM ET CBS
Bears quarterback Trubisky is an absolute joke right now. Besides his terrible on field play, how can he have the audacity to ask the team to shut off the TVs in Hallas Hall to shut out the outside criticism? They're criticizing you because you are awful!!! YOU! And they'll be saying it again this week after the Lions win, provided that Matthew Stafford plays.
Prediction: Lions 23 Bears 16
1-7 Miami Dolphins @ 5-3 Indianapolis Colts 4:05 PM ET CBS
Even without wide receiver T.Y. Hilton, and even if quarterback Jacoby Brissett doesn't play because of a sprained MCL, the Colts should have no issues beating the Dolphins. Please don't let it come down to a last second field goal.
Prediction: Colts 27 Dolphins 10
5-3 Los Angeles Rams @ 4-4 Pittsburgh Steelers 4:25 PM ET FOX
The Steelers have won three games in a row, but the Rams are the far more talented team and have had two weeks to prepare. No Bradin Cooks for the Rams, but that should not be a problem for the Rams to earn the victory in this one.
Prediction: Rams 27 Steelers 20
5-3 Carolina Panthers @ 7-2 Green Bay Packers 4:25 PM ET FOX
Packers quarterback Aaron Rodgers was awfully critical of the team last week mentioning "rest" a couple of times. Was that calling out the coaching staff or his team? No need to do that this week. Panthers running back Christian McCaffrey will have his, but the Packers are the better team and will get the win.
Prediction: Packers 31 Panthers 17
6-3 Minnesota Vikings @ 5-3 Dallas Cowboys 8:20 PM ET NBC
The Vikings squandered a golden opportunity last week to win a game on the road against the Chiefs. They choked for lack of a better term. Vikings quarterback Kirk Cousins isn't good on the road against winning teams and he isn't good in primetime. Ezekiel Elliott versus Dalvin Cook. A battle of running backs. Vikings, prove me wrong.
Prediction: Cowboys 27 Vikings 20
Coming up Monday: Week 10 NFL reaction plus MNF preview and prediction
---