"The Stack" 11-11-19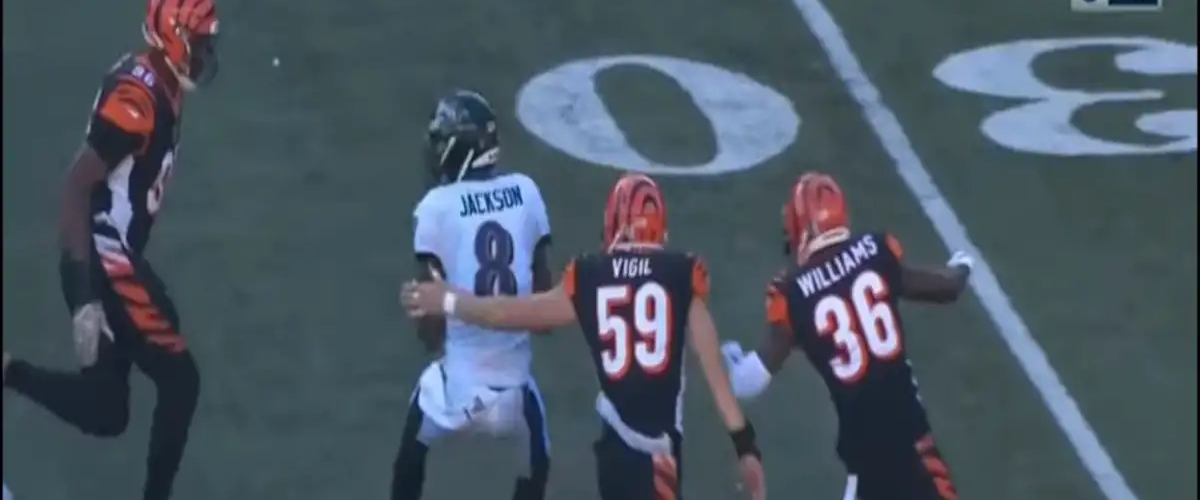 Someone hit the "B" button right about now because Baltimore Ravens quarterback Lamar Jackson put a spin move on and then ran by the rest of the putrid Bengals defense in route to the endzone and a 49-13 blowout win over Cincinnati.
What a Sunday of NFL football we witnessed. Picks sure sucked, but the games and performances were incredible. The Stack is here with reaction to all of Sunday's week 10 NFL action plus we'll make a failed prediction for tonight's MNF game so let's get right to "the stack" for today, Monday, November 11th:
Chiefs 32 Titans 35
What an unbelievable finish in Nashville. It was almost like the Music City Miracle 2.0. Just when it looked like Kansas City had this in the bag, a bumbled hold on a field goal and an intentional grounding penalty on the hold (never seen that before) and the Titans had new life. They marched down the field and scored the go-ahead touchdown and then blocked Harrison Butker's game-tying field goal attempt (why couldn't the Vikings do that last week?). What a win for the Titans. The loss by the Chiefs is troubling given that Patrick Mahomes was back and played tremendous throwing for over 400 yards and three touchdowns. It wasn't enough however.
Cardinals 27 Bucs 30
What a back and forth game this one turned out to be. The Cardinals had the lead thanks to a three touchdown performance by wide receiver Christian Kirk, but it would be wasted as they couldn't keep the Bucs out of the endzone with under two minutes to go. Kyler Murray also threw his first interception in what feels like forever. Nice home win for Tampa Bay.
Giants 27 Jets 34
Well okay, then. The New York Jets actually do have some life and pride after all. Sam Darnold played well, safety Jamal Adams had an absolutely incredible game including a defensive touchdown and the Jets prevailed over Daniel Jones and the Giants. Giants running back Saquon Barkley had a rough outing. 13 carries for one yard. Plus he had to go to x-ray room after the game. Two bad New York teams actually produced a pretty good game.
Falcons 26 Saints 9
Stunner of the day no question about it. The Falcons pulled off the biggest upset (at least betting wise) of the season as 13.5 point underdogs. They had seven sacks all season long entering the game. They had six sacks on Drew Brees alone in this game. Drew Brees! Six sacks! What?! Plus they kept Brees and company out of the endzone. Maybe it is a new season after all for the Falcons.
Bills 16 Browns 19
Holy cow! The Cleveland Browns won a home game! It wasn't pretty, but when they absolutely needed the drive to score a touchdown to take the lead in the fourth quarter, Baker Mayfield helped lead it. A lot needs to be improved and quickly ahead of Thursday night's game against Pittsburgh, but this was a good win for them to at least keep some hope left for their season.
Ravens 49 Bengals 13
Baltimore Ravens quarterback Lamar Jackson against the horrendous Cincinnati Bengals defense is not a fair fight. I think God was playing Madden and toyed with the Bengals by pressing the "B" button, because that spin move on Jackson's touchdown run was just insane. This Ravens team is legit and a lot of fun to watch.
Lions 13 Bears 20
When Detroit Lions quarterback Matthew Stafford was declared inactive for this game, you figured the Lions weren't going to win, but give quarterback Jeff Driskel and the Lions credit. They fought, but they just couldn't get enough offense. Throughout the game. Meanwhile, Trubisky actually threw three touchdowns and the Bears had some resemblance of an offense. Will it last? Unlikely, but at least the Bears snapped their four game losing streak.
Dolphins 16 Colts 12
Speaking of stunning results, the Miami Dolphins have now won two games in a row. I know that Brian Hoyer was filling in for an injured Jacoby Brissett and wide receiver T.Y. Hilton wasn't playing, but for the Indianapolis Colts to sleepwalk through this game is unacceptable. Give the Dolphins credit for winning, but this was not a good look for the Colts. I don't even want to discuss Adam Vinatieri missing another extra point. That's not good either.
Rams 12 Steelers 17
This game was brutal if you wanted to see any offense. Turnovers galore. Lots of incompletions. Just ineffective offense, but that means there was some good defense being played and there was. Each team had a defensive touchdown. The Rams had a safety. In the end though, the Steelers scored the loan offensive touchdown and their defense stifled the L.A. Rams offense which all of a sudden has questions of their own heading into a big Sunday night showdown with the Bears.
Panthers 16 Packers 24
The Carolina Panthers had a chance to put the Green Bay Packers on the ropes early, but fumbled just inside of Packers territory in the second quarter and the game changed. That and a terrible roughing the passer penalty on a third down late in the second quarter as well. Packers running back Aaron Jones was incredible once again with three rushing touchdowns. With the snow falling in the fourth quarter the Panthers had a chance. Give them credit. They played Green Bay tough, but Christian McCaffrey came up inches short of a potential game-tying touchdown. Or did he? He certainly could have been in, but no conclusive look could be found. Tough loss for the Panthers.
Vikings 28 Cowboys 24
Minnesota Vikings quarterback Kirk Cousins won a game in primetime on the road. Huge road win for the Vikings, especially after they choked against the Chiefs last week. Dalvin Cook thoroughly outplayed Ezekiel Elliott thanks in part to the Vikings defense doing a fantastic job bottling Elliott up all night. That meant that Dak Prescott torched the Vikings defense through the air, but the Vikings came up with the stops when they needed to late. What a play by Eric Kendricks to knock that pass away from Elliott on fourth down. They better not have a letdown against the Broncos next week.
7-2 Seattle Seahawks @ 8-0 San Francisco 49ers 8:15 PM ET ESPN MNF
I'm still not sold on the Seahawks. I say that every week. They play in too many close games. I'm becoming a believer in the 49ers and I think Jimmy G outduels Russell Wilson and the Seahawks to keep the 49ers undefeated.
Prediction: 49ers 24 Seahawks 20
Happy Veteran's Day to all former and current members of the armed forces. Thank you for all you have done and what you are doing preserving our freedom.
Coming up Tuesday: MNF reaction plus college football thoughts from the weekend.
---