"The Stack" 11-12-19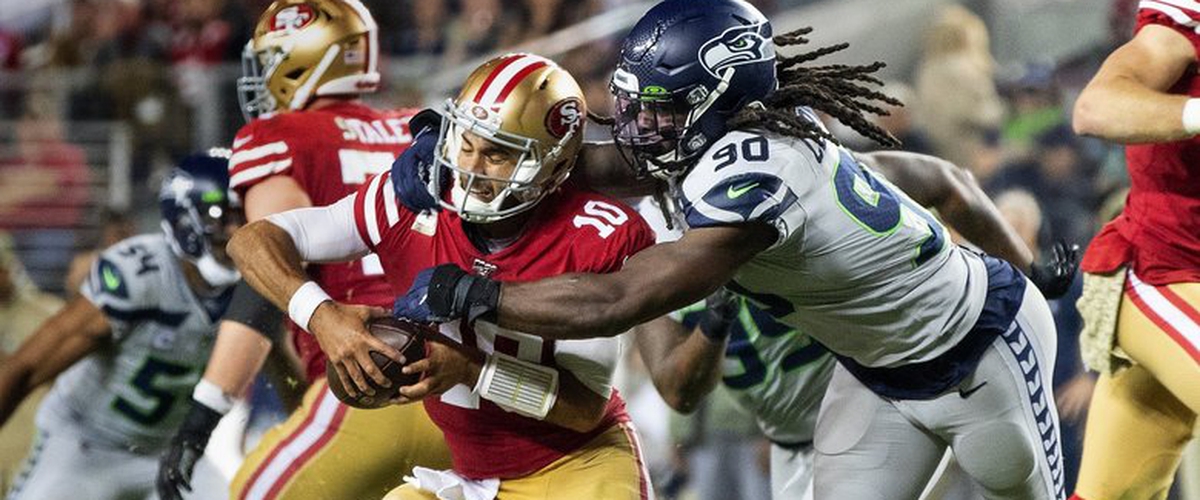 Seattle Seahawks defensive end Jadeveon Clowney wreaked havoc all night applying plenty of pressure on Jimmy Garoppolo and even scoring a defensive touchdown as the Seahawks took down the last unbeaten team, the San Francisco 49ers, 27-24.
The Stack is back on this Tuesday and what a game we saw last night on Monday Night Football. That can go right up there as game of the year in the NFL. Reaction to that and the weekend in college football so Don Cherry, pull up a seat since you have a little extra time to read today and let's get right to "the stack" for today, Tuesday, November 12th:
Seahawks top 49ers in MNF OT thriller
The champagne is popping this morning for the 1972 Miami Dolphins. The only undefeated team went down last night as Seattle kicked a last second field goal in overtime to beat San Francisco 27-24. This was quite the game. Both defenses were flying. The Seahawks didn't have a first down until the beginning of the second quarter after they were trailing 10-0. They got momentum back on their side when Jarran Reed forced a Jimmy Garoppolo fumble and Jadaveon Clowney scooped it up and scored to cut the lead to 10-7.
San Francisco would get their own defensive touchdown in the second half and they also forced a fumble as D.K. Metcalf was carrying 49ers defenders to the goal line. It was an absolutely incredible play however the 49ers were not without their own faults. There were several terrible dropped passes. There was a missed field goal in overtime after they had picked off Russell Wilson. Then the Seahawks went down and kicked the game-winning field goal after that missed field to win 27-24. They did it thanks to Wilson doing Russell Wilson things. He is certainly up there for MVP though I don't believe he is the front runner.
The 49ers were also hit by the injury bug. Already without tight end George Kittle, they saw recently acquired wide receiver Emmanuel Sanders leave with a rib injury. They lost several other players during the game, I believe five in total. Injuries ultimately may be what dooms them this year. Both teams are great and I think it should go without saying that we will likely see both of these teams in the playoffs.
College football weekend review
Oh man. What a weekend for college football. What a weekend for football in general. That scene in Minneapolis with the fans rushing the field after the #17 Golden Gophers beat #4 Penn State 31-26 for the program's biggest win in well over five decades…incredible. The Gophers were the better team all day long. Tanner Morgan had more touchdown passes (3) than two incompletions (2). Rashod Bateman had over 200 yards receiving and a touchdown. Tyler Johnson had over 100 yards and a touchdown. Cornerback Antoine Winfield Jr. had two interceptions. Penn State had a chance late, but an interception sealed their fate. Expect the Gophers to be in the top ten in the
College Football Playoff rankings when they are unveiled tonight.
The only thing that could have possibly topped the huge win by Minnesota was what took place in Tuscaloosa between #2 LSU and #3 Alabama. LSU quarterback Joe Burrow's performance was nothing short of masterful. He is definitely the clubhouse leader for the Heisman Trophy. But he was not the best player on the field or the biggest hero. That would belong to LSU running back Clyde Edwards-Helaire who had four touchdowns in the game (three rushing and one receiving). He broke tackles. He was incredible and the emotions came over him like a wave towards the end of the game. It was incredible. Alabama probably got a little close than they should have and that will help them in the eyes of the committee, but this was one fantastic performance by LSU as they beat the Crimson Tide for the first time in eight years 46-41.
#12 Baylor barely remained unbeaten, beating TCU 29-23 in three overtimes. They needed a 51-yard field goal at the end of the fourth quarter just to get to overtime. And #9 Oklahoma? Had to stop a two-point conversion try by Iowa State in the fourth quarter or they would have lost 43-42. Instead, they won 42-41. Not a lot of confidence left in the Sooners to get things right, especially with a trip to Waco and Baylor lined up for this week.
#5 Clemson won big 55-10 over NC State. It was 28-0 with a few minutes left in the first quarter. Texas and Virginia Tech pulled off upsets over #16 Kansas State & #19 Wake Forest respectively. That about does it.
Coming up Thursday: College football weekend forecast plus CFP thoughts & a TNF preview and prediction.
---