"The Stack" 11-15-19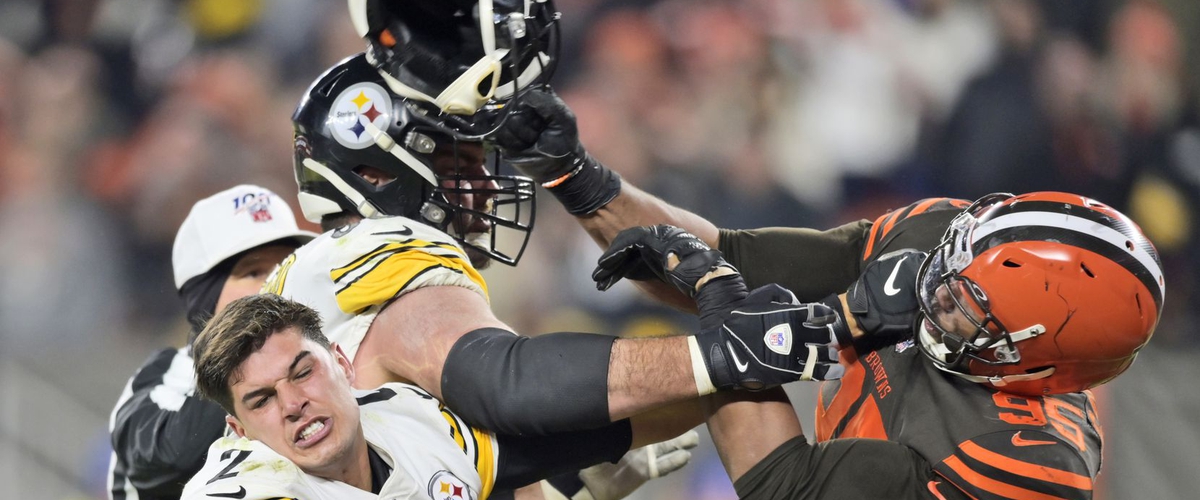 The Cleveland Browns 21-7 win over the PIttsburgh Steelers is marred by the ugly incident with Browns defensive end Myles Garrett ripping off Steelers quarterback Mason Rudolph's helmet and hitting him with it. A stupid act and Garrett will pay the price. The Browns will pay the price. Baker Mayfield absolutely put it best that is indefensible.
The Stack is back on this Football Friday and last week was a great week of football, both on the college level and the professional level. Can we have another great weekend of football? Well, the Thursday Night Football game was certainly not after what Myles Garrett did to Mason Rudolph, ripping the Steelers' quarterback's helmet off and then hitting Rudolph in the head with it. Tghere were 5 seconds left in the game. What in the flying *#&%? Done for the year. He has to be. It's embarrassing. Major props to Browns quarterback Baker Mayfield for saying it's inexcusable and not backing down off of that. You're maturing Baker. Let's hope Sunday's games don't contain any of that nonsense as we preview them and make some predictions for week 11 in the NFL for today, Friday, November 15th:
2-7 New York Jets @ 1-8 Washington 1 PM ET FOX
This game is just awful. Two bad teams. Who knows what we are going to get. I'll just say Sam Darnold and Le'Veon Bell make enough plays and will find a way to get the win. I really don't want to pick this one.
Prediction: Jets 20 Washington 10
7-2 New Orleans Saints @ 3-6 Tampa Bay Buccaneers 1 PM ET FOX
Don't let the records fool you. The Bucs are better than their 3-6 record indicates. Their offense is pretty good. Their defense has some players, but they are getting an angry Saints team determined to show that last week's 9 point outing against the Falcons was just a fluke.
Prediction: Saints 31 Bucs 27
3-6 Denver Broncos @ 7-3 Minnesota Vikings 1 PM ET CBS
This feels like a trap game for the Vikings. The Broncos are coming off of a bye. The Vikings are coming off of a big road win against Dallas. The Vikings will be without wide receiver Adam Thielen most likely and several defensive starters. Beware, Vikings and Vikings fans. Beware.
Prediction: Vikings 27 Broncos 10
6-3 Buffalo Bills @ 2-7 Miami Dolphins 1 PM ET CBS
Don't look now, but the Dolphins are on a two game win streak. The Bills are coming back down to earth. This has the makings of another upset bid, but the Bills defense is too good and will shut down the Dolphins and stop any chance that they have of winning.
Prediction: Bills 24 Dolphins 9
4-5 Jacksonville Jaguars @ 5-4 Indianapolis Colts 1 PM ET CBS
Nick Foles return as quarterback for the Jaguars. That should give the team a boost even though Gardner Minshew II did well in his absence. The Colts should have quarterback Jacoby Brissett back, but not T.Y. Hilton. Plus I feel like there is going to be a hangover effect from their loss to the Dolphins last week and I pray that Adam Vinatieri doesn't miss an extra point or a chip shot field goal.
Prediction: Jaguars 23 Colts 20
5-4 Dallas Cowboys @ 3-5-1 Detroit Lions 1 PM ET FOX
I don't think Matthew Stafford is going to play for the Lions which means Jeff Driskel will start
once again at quarterback. Dak Prescott, Ezekiel Elliott and Amari Cooper will have a field day against that bad Lions defense and the Cowboys will win comfortably.
Prediction: Cowboys 34 Lions 16
2-7 Atlanta Falcons @ 5-4 Carolina Panthers 1 PM ET FOX
The Falcons have the Panthers full attention this week after the Falcons upset the Saints last week and really laid a beatdown on them. Can the Falcons do it two weeks in a row? It would be awesome if they did, but I don't see it happening. Christian McCaffrey has a big day and the Panthers avoid the upset bid.
Prediction: Panthers 26 Falcons 20
6-3 Houston Texans @ 7-2 Baltimore Ravens 1 PM ET CBS
Deshaun Watson versus Lamar Jackson. Oh man, is this going to be fun. Two of my favorite quarterbacks in this game. This game should be in its own timeslot, it's going to be that good. If the Texans were at full strength (including having J.J. Watt), I would take them, but they aren't and they are on the road.
Prediction: Ravens 31 Texans 27
3-6-1 Arizona Cardinals @ 8-1 San Francisco 49ers 4:05 PM ET FOX
The Cardinals are playing close football games. They just can't finish the deal in most of them. That's not going to be the case this week. The 49ers are ticked after their first loss of the season and they are going to take those frustrations out on the Cardinals.
Prediction: 49ers 31 Cardinals 13
8-1 New England Patriots @ 5-4 Philadelphia Eagles 4:25 PM ET CBS
Both teams have had two weeks to prepare for this one. That means the Patriots have had two weeks to stew on that Sunday Night Football loss to the Ravens. I feel sorry for the Eagles. They are going to feel the Patriots wrath the entire 60 minutes.
Prediction: Patriots 34 Eagles 20
0-9 Cincinnati Bengals @ 5-4 Oakland Raiders 4:25 PM ET CBS
The worst team in football against one of the more pleasant surprises. Josh Jacobs is going to run wild and the Raiders will easily crush the Bengals.
Prediction: Raiders 38 Bengals 13
4-5 Chicago Bears @ 5-4 Los Angeles Rams 8:20 PM ET NBC
Plenty of quarterback questions surrounding both of these teams. Trubisky did some nice things last week while Jared Goff did not. The Rams are at home though and the Bears still have plenty of questions surrounding their team. It isn't going to be pretty, but the Rams are going to win this game.
Prediction: Rams 16 Bears 13
Coming up Monday: Week 11 Sunday NFL reaction plus preview & prediction for MNF
---