"The Stack" 11-14-19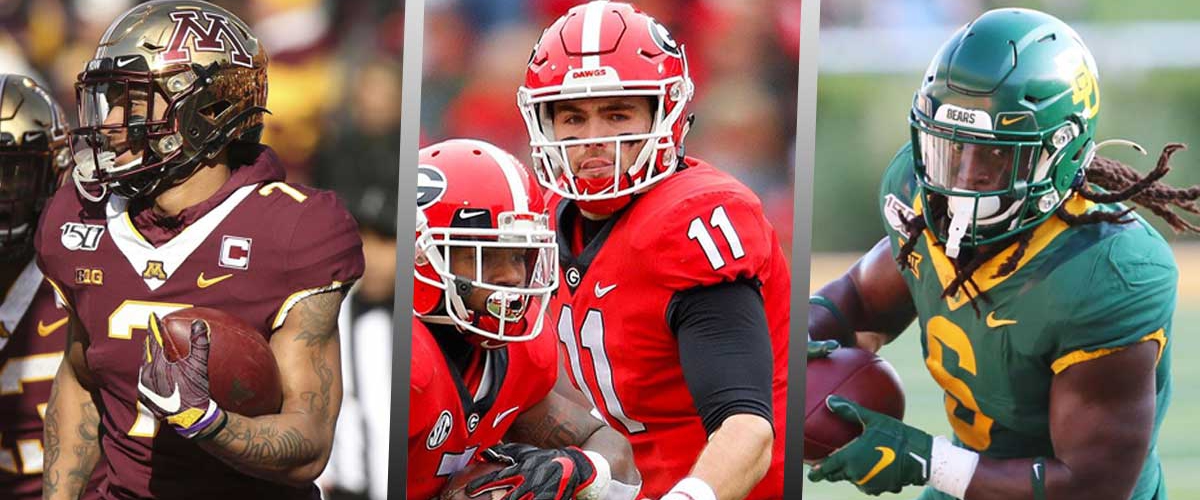 Do Minnesota, Georgia and Baylor survive this weekend and continue to hold their positions in the CFP Rankings? They all face difficult tests against ranked teams this weekend. We'll find out a lot about all of these teams this weekend.
The Stack is back on this Thursday and we have a good weekend of college football lined up for us (though probably not as good as last week…okay, definitely not) and week 11 in the NFL kicks off tonight with Steelers and Browns. Let's get right to it and see what's in "the stack" for today, Thursday, November 14th:
College Football weekend forecast
Before we get to the games this weekend, there really wasn't a whole lot of surprise in the College Football Playoff rankings that were released on Tuesday. LSU is #1 after their big win over Alabama, Ohio State slid to #2, Clemson jumped to #3 and then the spot where some people have issues with is Georgia going to #4 and jumping Alabama which fell to #5. Everything will work itself out. Minnesota made the largest single jump in CFP ranking history by jumping nine spots from #17 to #8. It's well deserved and they could have gone even higher. They'll get there if they keep winning and beating good teams like #20 Iowa this weekend.
That's where we begin the forecast for this week in Iowa where #8 Minnesota takes on #20 Iowa (4 PM ET FOX). After that huge win over Penn State last weekend (which fell to #9 in the CFP this week), will there be a letdown for Minnesota? I hope not. I don't think there will be. Iowa's defense is good, but Minnesota's offense is better. Minnesota's defense isn't as good as Iowa's, but they're pretty good themselves. They haven't won in Iowa City since 1999. I think that changes this weekend. The forecast calls for change to go through Iowa City this weekend.
That is one of four games pitting ranked teams against one another. #4 Georgia takes on #12 Auburn in what will be arguably their most difficult test of the year to date (3:30 PM ET CBS). Hostile environment there in Auburn. Georgia's offense has been questionable for much of the season, but their defense has been great. I think they narrowly escape Auburn with a win.
Underrated matchup that probably should get a little more attention than it's getting between #21 Navy and #16 Notre Dame (2:30 PM ET NBC). Navy is trying to be the representative of the non-power five group in the New Year's Six and their offense is difficult to get ready for. Ball control will be key. I think Notre Dame squeaks by, but it's going to be too close for comfort and speaking of comfort, isn't it being to be fairly cold and brisk in South Bend this weekend? Get comfortable Fighting Irish fans.
College Gameday is heading to Waco, Texas, to take in the Big 12 battled between #10 Oklahoma and undefeated #12 Baylor (7:30 PM ET ABC). This is a big stage for Baylor to prove that they belong much like Minnesota had the stage last week when they beat Penn State. I was thinking Oklahoma for much of the last couple of weeks, but after they were nearly upset by Iowa State at home last week, where is the confidence in Oklahoma's defense? Baylor has a good defense. I don't know if they can contain Jalen Hurts, but they can slow him down. What the heck, I'll go with the upset and take Baylor where a storm will be following the game when fans rush on to the field.
If you hate yourself, 1-9 UMass travels to Evanston, Illinois to take on 1-8 Northwestern (Noon ET Big Ten Network). Northwestern's offense stinks and yet somehow they are favored by 40.5 points. I don't know if it will happen, but let's just stay away from this atrocity of a game.
Michigan State takes on #15 Michigan (Noon ET, FOX). I think Jim Harbaugh finally gets a big win over a rival (I guess he did beat Notre Dame earlier in the season) even though Michigan State is under .500 this year. Penn State wins. Alabama and Florida avoid road upsets. There shouldn't be too much chaos outside of the ranked matchups. Enjoy what should be another good weekend of college football.
5-4 Pittsburgh Steelers @ 3-6 Cleveland Browns 8:20 PM ET FOX & NFL Network
This Browns offense has been thoroughly disappointing this year. Their offensive line has been bad. Their goal line offense has been horrendous, atrocious. Pittsburgh Steelers safety Minkah Fitzpatrick is on an absolute tear right now scoring three defensive touchdowns in his last four or five games. He'll score another one in this game and the Steelers end the Browns playoff hopes.
Prediction: Steelers 23 Browns 17
Congrats are in order to Evansville for upsetting #1 Kentucky 67-64 Tuesday night. What an upset!
Coming up Friday: Week 11 NFL previews and predictions
Listen to this week's "The Sports Block" podcast here.
---