"The Stack" 11-12-18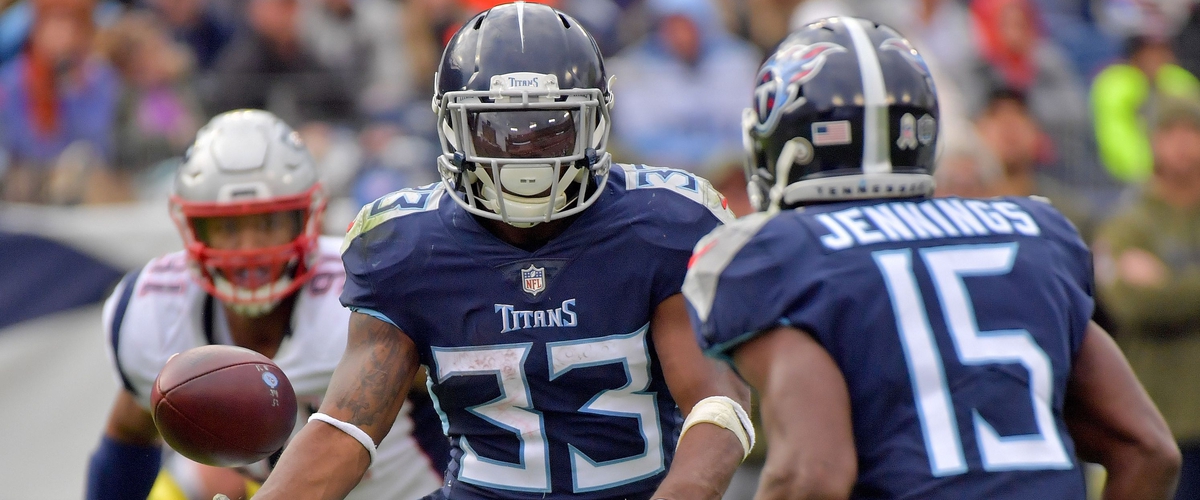 Tennessee Titans running back Dion Lewis played a part in the Tennessee Titans pummeling the New England Patriots 34-10. Lewis had some less than flattering things to say about the Patriots postgame. It was a big win for the Titans.
The Stack is back on this Monday and the NFL never fails to disappoint. While most of the games weren't great yesterday, there were a few surprises. What do we know? Not much, but we'll talk about what happened anyway in the NFL for week 10's Sunday action in "the stack" for today, Monday, November 12th:

Lions 22 Bears 34
That was a pretty bad showing by the Detroit Lions. They fell behind in an early 26-0 hole and could not climb out. They were kept in the game by Chicago Bears kicker Cody Parkey who missed four field goals and extra points, all off of the upright. Trubisky was fantastic for the Bears throwing for three touchdowns and running. If he plays well, with the Bears defense playing as well as they are, good things are in store for the Bears.
Saints 51 Bengals 14
No one can stop the New Orleans Saints right now. Their offense was rolling against the Bengals. Mark Ingram had over 100 yards rushing and added almost 60 receiving yards and a touchdown. Alvin Kamara had over 100 yards from scrimmage and a couple of touchdowns. Drew Brees threw for three touchdowns (two going to Michael Thomas) and ran for another. There was no way the Bengals were going to keep up missing A.J. Green. Rough going for the Bengals. The Saints are marching right now and they aren't missing a beat.
Falcons 16 Browns 28
I mentioned Friday that I would not be surprised to see the Cleveland Browns win this game in part because the Atlanta Falcons defense isn't very good and the Browns played better last. Baker Mayfield was tremendous in this game for the Browns. He was incredibly accurate matching his total incompletions with touchdowns (3 each). And what about running back Nick Chubb who had over 170 yards rushing which included a 92-yard touchdown run. He also caught a touchdown. He was fantastic. The Falcons had chances, but got stopped at the goal line once and just couldn't get in a rhythm. The Browns defense played well too. This is definitely an improved team.
Jaguars 26 Colts 29
The resurgence of the Indianapolis Colts is remarkable, but perhaps it shouldn't be as it is tied in large part to quarterback Andrew Luck. He was at it again on Sunday with three touchdown passes all to tight end Eric Ebron who also has had a renaissance to his career since joining the Colts this year. The Jaguars had a chance and were driving late, but a fumble killed their hopes. Don't blame Blake Bortles though. He played well in this one. The Jaguars have fallen on hard times.
Cardinals 14 Chiefs 26
The two biggest underdogs in the NFL this year have both covered (Buffalo Bills in week 3 and Arizona this week) so don't bet against the favorites. It was a pretty ho-hum day for the Chiefs on offense. Tyreek Hill was their best player with over 100 yards receiving and two touchdowns. The Chiefs defense applied a lot of pressure on Josh Rosen and the Cardinals, but the Cardinals did get a big game from running back David Johnson. He had almost 200 yards from scrimmage and a couple of scores. In case you haven't heard, Chiefs @ Rams next Monday night from Mexico City.
Bills 41 Jets 10
So not playing Nathan Peterman at quarterback appears to have been a good move by the Buffalo Bills. Now, the decision to have Matt Barkley start in his place raised plenty of questions and concerns, but those were answered with Sunday's thrashing of the Jets. LeSean McCoy had over 100 yards rushing and two scores and the Bills defense tore up Josh McCown and the Jets offense. The wheels have fallen off for the Jets and somehow, the Bills have the same never of wins as the Jets.
Washington 16 Buccaneers 3
Not sure how you throw for over 400 yards and put up only 3 points, but that is what Ryan Fitzpatrick and the Tampa Bay Buccaneers did in this game. The main reason why that was the case is because when the Bucs found their way into the redzone they shot themselves in the foot either with turnovers or missed field goals. You can't do that and the Bucs have routinely shot themselves in the foot this year with bad turnovers. Washington didn't play great, but they were better than the Bucs when they needed to be.
Patriots 10 Titans 34
I mentioned on Friday that I was tempted to take the pupil (Tennessee Titans head coach Matt Vrabel) against the teacher (Bill Belichick), but how can you go against the New England Patriots with how well they have played this season? Should have gone with the student. Vrabel's Titans played tremendous on all sides in this one. Marcus Mariota played composed and made some great throws to wide receiver Corey Davis. Derrick Henry played well rushing for two touchdowns and the Titans defense made life difficult for the Patriots all game long. The Titans may be starting to heat up.
Chargers 20 Raiders 6
Normally getting off to a slow start would be bad for most teams hoping to get a win. Fortunately for the Los Angeles Chargers, they were playing the Oakland Raiders who stink. The score was deadlocked 3-3 until Philip Rivers hit Keenan Allen for a touchdown to take a 10-3 lead into half. After Melvin Gordon took a screen pass and ran 66 yards to paydirt, that would be all she wrote. Boy the Raiders and bad and the Chargers are very good.
Dolphins 12 Packers 31
Green Bay Packers running back Aaron Jones made up for his fumble last week against the New England Patriots with a dynamite game. He had over 140 yards rushing and two touchdowns. The Packers didn't need the other Aaron (that would be Rodgers) to be great and he wasn't, but he did throw two touchdowns and the Packers are back on the winning side.
Seahawks 31 Rams 36
This game was probably more difficult than the Los Angeles Rams anticipated. Russell Wilson threw three touchdowns and kept the Seahawks in this game as much as possible, but in the end, the Rams were just too much with Todd Gurley and Jared Goff. However, the wide receiver Cooper Kupp left the game with a knee injury and it did not look good. We'll have to wait to hear more, but I bet he is done for the year.
Cowboys 27 Eagles 20
This was a major surprise. The Cowboys offense didn't look great Monday night and on a short week on the road, how would they fare against the Philadelphia Eagles? Well Ezekiel Elliott had a ball game with 151 yards rushing and a touchdown and he also came through with a receiving touchdown. He was money and Dak Prescott was also great. Carson Wentz and the Eagles offense struggled for much of the game though tight end Zach Ertz had 13 receptions for 122 yards and two touchdowns. Quite the game for him. The Eagles though are in trouble. The NFC East stinks.
1-7 New York Giants @ 2-7 San Francisco 49ers 8:15 PM ET ESPN MNF
Yuck. This primetime game stinks. Nick Mullens gets the start at quarterback for the 49ers for the second straight week. Odell Beckham Jr. thinks the Giants can win eight in a row and make the playoffs. Worry about winning one game there, OBJ. I've gone to the Giants well a few too many times, but I'll try once more, because are the more talented team.
Prediction: Giants 27 49ers 20
A belated Happy Veterans Day to all of the veterans in our armed services. Thank you for all you do to keep us safe in the past, in the present and in the future. We appreciate you!
Coming up Tuesday: MNF reaction plus college football reaction and other headlines
---