"The Stack" 11-18-19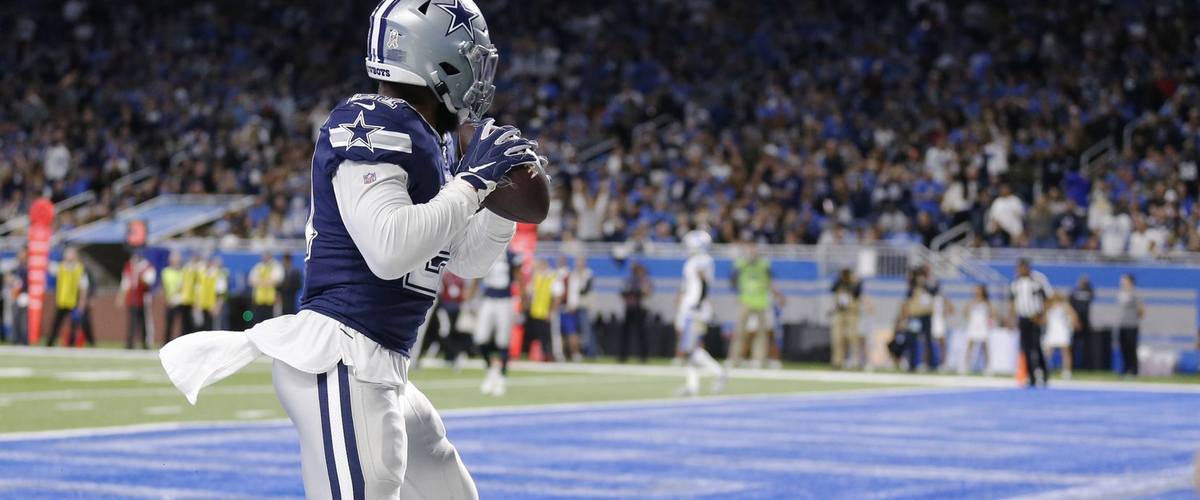 Dallas Cowboys running back Ezekiel Elliott celebrated a fourth quarter touchdown by imitating Dak Prescott's pregame hip stretch moves as the Cowboys beat the Detroit Lions 35-27.
The Stack is back on this Monday and I think we're lucky to even have a blog today. More games and endings like the one on Sunday and the Minnesota Vikings will indeed give me a heart attack. What a finish and comeback there. Reaction to that and the rest of Sunday's games in "the stack" for today, Monday, November 18th:
Jets 34 Washington 17
Man, does Washington look bad. Dewayne Haskins was largely ineffective and when your defense makes Sam Darnold look like the second coming of Joe Namath, that's not a good look. Don't get me wrong, Darnold is good, but Washington made him look really good. Good thing very few people saw it live at the stadium.
Saints 34 Buccaneers 17
Drew Brees and the New Orleans Saints got off to a really fast start opening up a 20-0 lead before the Bucs battled back. Brees had three touchdown passes. A defensive touchdown by the Saints really sealed the deal in this one. They are not without their flaws, but this was a good bounce-back win for them.
Broncos 23 Vikings 27
A tale of two halves. The Minnesota Vikings looked absolutely terrible in all three phases in the first half. They had 47 total yards of offense. They made the Broncos offense look great. They had a fumble on special teams. A big pick by Andrew Sanejo though kept the Broncos off the scoreboard at the end of the first half. Second half was a completely different story. The Vikings had four possessions and scored touchdowns on all of them. Kirk Cousins was masterful with accuracy on nearly all of his passes. The play-calling was better yet the Broncos drove down and had a chance to win at the end of the game, but came up short on the goal line. Pass interference could be have been called, but the Broncos didn't get the call and the Vikings survived. They were maybe looking ahead to their bye week a little early. Either way, they got the win.
Bills 37 Dolphins 20
Buffalo Bills quarterback Josh Allen had a big day throwing for three touchdowns and running for another against a bad Miami Dolphins defense. The Dolphins tried to make it interesting, but this game was never really in doubt. Good win for the Bills after a tough loss last week.
Jaguars 13 Colts 33
So much for a hangover. Nick Foles didn't do much to ignite the Jacksonville Jaguars offense and running back Leonard Fournette didn't do much either. Despite losing running back Marlon Mack to a hand injury (after he had ran for over 100 yards), the Indianapolis Colts still did just fine on offense and came away with a big bounce-back win over a division rival.
Cowboys 35 Lions 27
Jerry Jones, pay the man. Dak Prescott was sensational throwing for 444 yards and three touchdowns as the Cowboys got by a Lions team that fought hard despite being shorthanded. Prescott is absolutely on fire right now. Ezekiel Elliott couldn't run much for the game, but that was no problem for Prescott who torched a bad Lions secondary all game long.
Falcons 29 Panthers 3
Another week of a dominating performance by the Atlanta Falcons defense. I thought the Carolina Panthers would be ready for it. They weren't. The Falcons have been incredible in the two games since their bye week. They have allowed just 9 points. Nine! It seems incredibly unlikely that they can get a wild card spot, but they will have a say in a lot of the NFC playoff positioning.
Texans 7 Ravens 41
This game was supposed to be a quarterback battle between Deshaun Watson and Lamar Jackson. It turned out to just be another game where Jackson showcased his skills, throwing for four touchdowns and running for 85 yards as the Baltimore Ravens absolutely embarrassed The Houston Texans. Watson was not good and the Texans defense had no answer for Jackson or running back Mark Ingram. Another statement game by Jackson and the Ravens.
Cardinals 26 49ers 36
Another week, another tough, close loss for the Arizona Cardinals. Another blown fourth quarter lead. They jumped out to an early 16-0 lead and had a 26-23 in the fourth quarter only to see San Francisco 49ers quarterback Jimmy Garoppolo led the 49ers on a game-winning touchdown drive. The 49ers couldn't run the ball all game long so Jimmy G had to get it done with his arm. Then the 49ers recovered a fumble on the last play of the game and scored a defensive touchdown to win by 10, a crushing blow to Vegas. Bad loss for multiple entities.
Patriots 17 Eagles 10
CBS had a great graphics during this game that during their Super Bowl matchup the teams combined for one punt and at the time they showed the graphic there were 12 punts. It was a defensive struggle and the Patriots beautifully designed play where Tom Brady threw it back to Julian Edelman as a lateral and then Edelman found Phillip Dorsett for the touchdown proved to be the game winner.
Bengals 10 Raiders 17
Oakland Raiders head coach Jon Gruden said the Raiders had to be guarded against an upset. Give the Bengals credit, they played well in this game, but not well enough. The Raiders played good enough to get by the Bengals, but not very good overall. They will need to play better if they want to make playoffs.
Bears 7 Rams 17
A real defensive battle or ineffective offense? I think it was the latter. L.A. Rams wide receiver Robert Woods ended up not playing for some reason and running back Todd Gurley turned back the clock and ran for almost 100 yards and a touchdown as the Rams won this struggle. It helped that the Bears missed two field goals and Trubisky hurt his hip that eventually forced him out of the game.
6-4 Kanas City Chiefs @ 4-6 Los Angeles Chargers 8:15 PM ET MNF (Mexico City)
This game is actually going to happen in Mexico City so unlike last year, NFL fans in Mexico will get to see hall-of-famer Patrick Mahomes. They'll also get to see a terrible Chiefs defense. Melvin Gordon, Austin Ekeler and Philip Rivers should have monster days, but the Chiefs will get the last laugh, because they need to win to stay ahead of the Raiders.
Prediction: Chiefs 37 Chargers 31
Coming up Tuesday: MNF recap, college football weekend reaction & more
---