"The Stack" 11-19-19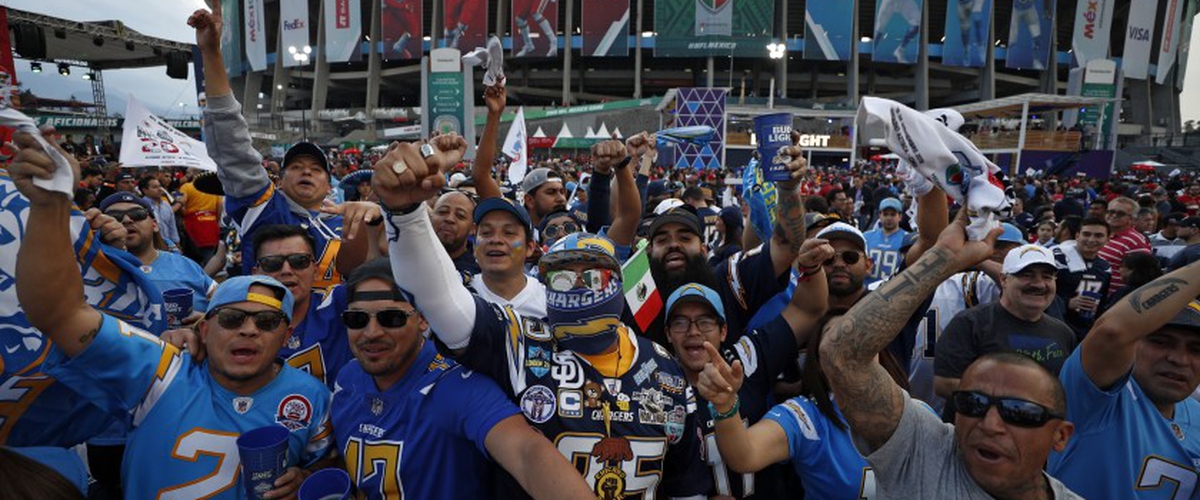 The NFL was in Mexico City for MNF and the fans came out in full force. Apparently, the NFL is pretty popular south of the border.
The Stack is back on this Tuesday and that game in Mexico City was okay last night. Cool scene. Terrible field. Okay game. We'll react to that plus thoughts from the college football weekend so let's get right to "the stack" for today, Tuesday, November 19th:
Chiefs top Chargers in Mexico City
In a game in which hall-of-famer Patrick Mahomes threw for under 200 yards, the Kansas City Chiefs used defense, yes, defense, that was the difference as the Chiefs beat the Los Angeles Chargers 24-17 in Mexico City. I don't think the elevation was a huge factor. Philip Rivers was a factor. I think that the Chargers will have a new quarterback under center next year based on what we have seen the last two weeks from the Chargers quarterback. He has thrown seven interceptions the last two games and the interceptions he threw Monday night were absolutely terrible. He was bated into that last interception in the endzone when the Chargers had a great chance to tie the game. Mahomes had 60 yards rushing. The Chargers were able to run all over the Chiefs, but that is nothing new. The Chiefs forcing the turnovers is the story.
It was a cool scene seeing all of the fans there at Estadio Azteca. The field however was not good. We've seen worse, but the number of players slipping was not good. Chiefs wide receiver Tyreek Hill pulled a hamstring. We'll see how much time, if any, he misses. If the NFL is all about safety, this must do something about the bad field conditions at these international sites. It wasn't good. The Chiefs hold on to their AFC West lead while the Chargers playoff hopes are all but over.
College football weekend reaction
That was an incredible game Saturday night between #10 Oklahoma and #13 Baylor. It was a tale of two halves, much like what we saw between the Denver Broncos and Minnesota Vikings on Sunday. Baylor stormed out to a 28-3 lead over Oklahoma. It was 31-10 at the half and then the tide shifted. Look at the drives that Oklahoma had in the second half:
· 12 plays, 76 yards (TD)
· 11 plays, 56 yards (Fumble)
· 13 plays, 90 yards (TD)
· 13 plays, 77 yards (TD)
· 9 plays, 59 yards (FG)
· 1 play, -2 yards (end of game)
In all, Oklahoma ran 59 plays in the second half to Baylor's 16. Of course Baylor's defense was going to be gassed. What an incredible job by Oklahoma. The Baylor offense was barely on the field for 5 ½ minutes in the second half. That is not going to win you games. Impressive second half by Oklahoma.
Perhaps no story was bigger in the college football world that Alabama quarterback Tua Tagovailoa dislocating his hip with Alabama up 35-7 over Mississippi State in the second quarter. Plenty of people are criticizing Alabama head coach Nick Saban for keeping Tua in that long, but they are playing a decent SEC team on the road and Alabama needs to be sure to earn style points with the College Football Playoff committee. It's a freak accident and hopefully it will not affect Tua's draft status at all. I don't think it will. He has already undergone surgery and is expected to make a full recovery.
Baylor wasn't the only undefeated team to go down over the weekend. #8 Minnesota lost in Iowa City to #20 Iowa 23-19 (what else is new??). They haven't won in Iowa City since 1999, but I don't think this was a deathblow to their hopes. It puts them in a must-win game against Wisconsin for the Big Ten West title in Minneapolis in a couple of weeks. Hope they can do it.
#3 Clemson was dominant in their 52-3 win over Wake Forest. #4 Georgia held off #12 Auburn 21-14. Don't expect much to change in the College Football Playoff rankings later today.
Coming up Thursday: TNF preview plus college football weekend forecast
---