"The Stack" 11-21-19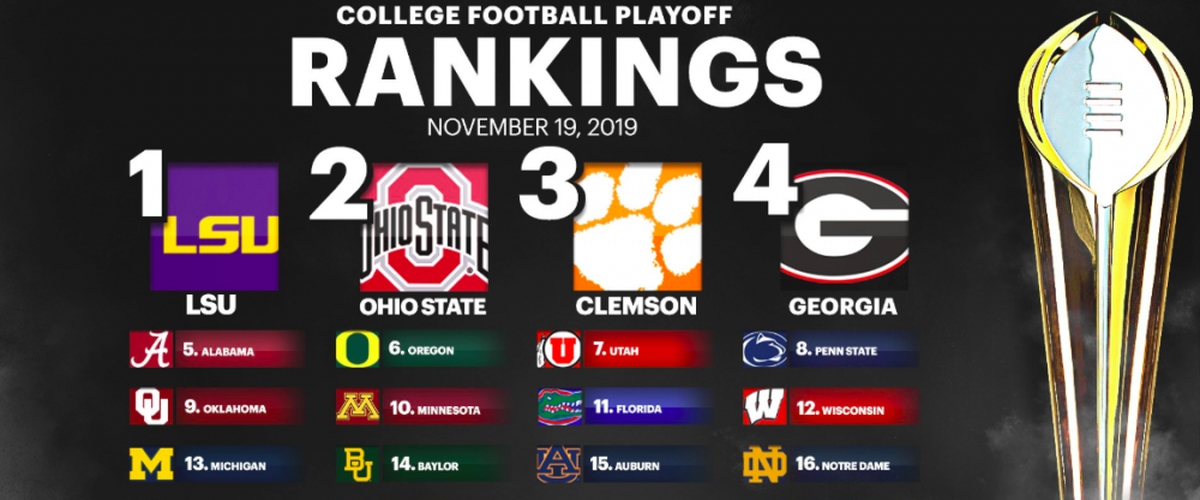 No change to the top of the College Football Playoff rankings for this week, but it will change next week if Penn State knocks off Ohio State. Heck, if Ohio State wins, they will be number one.
The Stack is back on this Thursday and we're all football today like we are most Thursdays during fall. Week 12 of the NFL season kicks off tonight plus we have a college football weekend forecast so let's get on it and see what's in "the stack" for today, Thursday, November 21st:
College Football weekend forecast
There is one game of true significance this weekend on the college football docket. It's #8 Penn State @ #2 Ohio State (Noon ET FOX). It's so big that College Gameday will be there along with FOX's pregame show that very few watch. That's how monstrous of a game this is. The winner of this game will win the Big Ten East barring a slip-up next week. In fact, I believe if Ohio State wins, they clinch the Big Ten East. Try as I may, I don't see how Penn State wins this game. We saw them in a big game at Minnesota just a couple of weeks ago and they lost. They barely got by Indiana last week. They are going to have to play the game of their lives to get by Ohio State and I don't see that happening. It may be raining on Saturday, but the Buckeye faithful will be beaming with pride at the conclusion of this one.
Really, that's about it for this week's big games. #6 Oregon & #7 Utah both travel to the state of Arizona to take on Arizona State (7:30 PM ET ABC) and Arizona (10 PM ET FS1) respectively. The Pac-12 has playoff hopes this year. I don't see either of these two teams getting tripped up.
This is the week of the standard cupcake games for the SEC this year. There are five teams playing FCS opponents (6 if you want to count LSU playing Arkansas (7 PM ET ESPN)). And Texas A&M is not going to beat #4 Georgia (3:30 PM ET CBS) so let's just stop there.
These are the weeks where you don't expect much to happen yet we may see complete chaos and tons of great games. Hope the latter is true. Enjoy the weekend of college football everyone.
6-4 Indianapolis Colts @ 6-4 Houston Texans 8:20 PM ET FOX & NFL Network
Huge AFC South battle tonight. If the Colts win, they will in effect be up two games on the Texans for the division title since they would have swept the season series. I don't see it happening. The Texans are coming off of a butt whooping at the hands of the Baltimore Ravens. Fortunately, they aren't playing Lamar Jackson. Jacoby Brissett is good, but he is no Lamar Jackson. Deshaun Watson rebounds and the Texans take sole possession of first place.
Prediction: Texans 27 Colts 17
Coming up Friday: Week 12 NFL preview and predictions
---