"The Stack" 11-22-19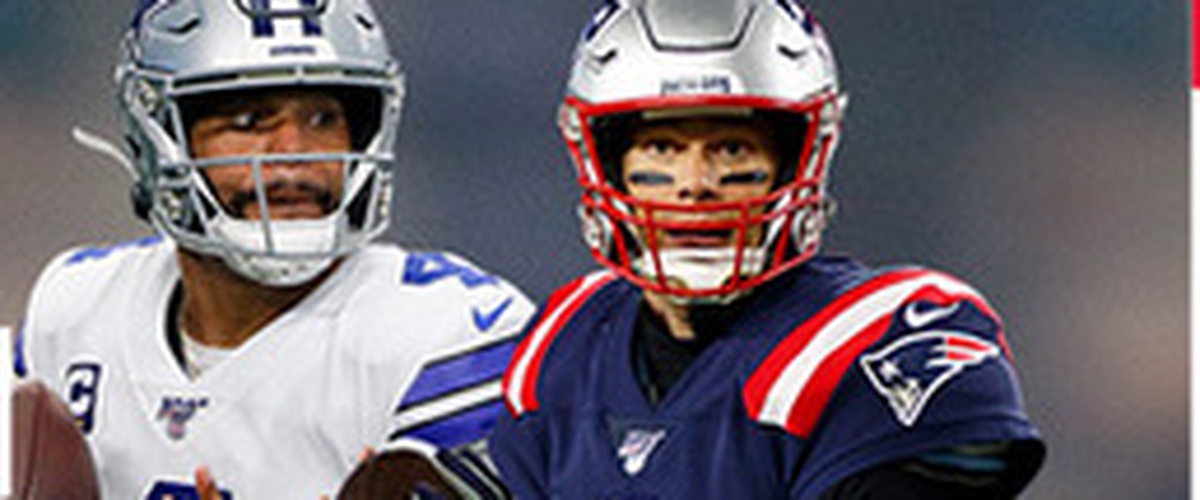 It's Dak Prescott against Tom Brady. More importantly, it's Dallas versus New England in an important game for both teams. One of several big games on the week 12 schedule.
The Stack is back on this Friday and we finally picked a Thursday Night Football right. They have been few and far between this year. A number of intriguing matchups this week so let's get right to the previews and predictions for week 12 in the NFL for today, Friday, November 22nd:
8-2 Seattle Seahawks @ 5-5 Philadelphia Eagles 1 PM ET FOX
The Eagles absolutely need to win this game. It has been an up and down year for them. The Seahawks have had two weeks to prepare and Russell Wilson is incredibly dangerous, but the Eagles will find a way to score more points than they did last week and prevail.
Prediction: Eagles 27 Seahawks 24
3-6-1 Detroit Lions @ 1-9 Washington 1 PM ET FOX
The Lions defense has really struggled this year. Good thing they get to go against a struggling quarterback in Dwayne Haskins. Something has to give. How about Washington giving away another game??
Prediction: Lions 23 Washington 10
6-4 Oakland Raiders @ 3-7 New York Jets 1 PM ET CBS
Oakland is playing really well right and the schedule really favors them towards making a run to the playoffs and making the playoffs. The Jets though have won two in a row and Sam Darnold has been playing great. It's an early kickoff and the Raiders are flying all of the way across the country. I'm sensing an upset. We'll see if my senses are correct.
Prediction: Jets 24 Raiders 20
5-5 Carolina Panthers @ 8-2 New Orleans Saints 1 PM ET CBS
Despite running back Christian McCaffrey doing all he can, the Panthers are beginning their second half swoon. What was that last week against Atlanta? Going to New Orleans to take on a really good Saints team, I don't like Carolina's chances of snapping their current two game losing streak.
Prediction: Saints 34 Panthers 17
2-8 Miami Dolphins @ 4-6 Cleveland Browns 1 PM ET CBS
It's been a bad week and all for the Cleveland Browns with the Myles Garrett saga (his indefinite suspension was upheld on Thursday). Lost in the shuffle is the fact that they have lost safety Morgan Burnett for the year with an Achilles injury. It may affect them later on in the season. It won't Sunday against a bad Dolphins team.
Prediction: Browns 31 Dolphins 16
5-5 Pittsburgh Steelers @ 0-10 Cincinnati Bengals 1 PM ET CBS
This one I don't think will be as easy as it looks. The Steelers defense is great, but their offense is struggling and they likely won't have JuJu Smith-Schuster or James Conner. I smell a potential upset on the horizon, but the Bengals are so bad I just can't do it.
Prediction: Steelers 23 Bengals 13
2-8 New York Giants @ 4-6 Chicago Bears 1 PM ET FOX
Assuming Trubisky plays with his hip injury, going against a bad Giants defense will help cure the offensive issues for the Bears, at least for one week. Plus the Bears defense gets to go against turnover prone Daniel Jones so that should be great fun for them.
Prediction: Bears 34 Giants 10
3-7 Denver Broncos @ 7-3 Buffalo Bills 1 PM ET CBS
The Broncos lost a heartbreaker last week to the Minnesota Vikings after giving up a 20-0 halftime lead. They won't have that big of a lead in this one and they won't lose the game on the very last play. They are just going to lose pretty easily against that good Bills defense.
Prediction: Bills 17 Broncos 13
3-7 Tampa Bay Buccaneers @ 3-7 Atlanta Falcons 1 PM ET FOX
The Falcons defense has played outstanding the last couple of weeks since their bye week. Bucs quarterback Jameis Winston tends to be a little turnover prone. Plus the Buccaneers defense isn't very good so Matt Ryan and Julio Jones should have a field day. That's good enough for me.
Prediction: Falcons 34 Bucs 17
4-6 Jacksonville Jaguars @ 5-5 Tennessee Titans 4:05 PM ET CBS
It was a disappointing game last week for Nick Foles and the Jaguars. They didn't run Leonard Fournette enough. These are the games that the Jaguars can ill-afford to lose. I think Derrick Henry is going to have something to say about that.
Prediction: Titans 20 Jaguars 17
6-4 Dallas Cowboys @ 9-1 New England Patriots 4:25 PM ET FOX
Try as I may, I just don't see Dak Prescott, Ezekiel Elliott and the Cowboys offense having much success against the Patriots top ranked defense. New England knows how to take away your best player. They will do that in this one and the offense for the Patriots will do something as well.
Prediction: Patriots 24 Cowboys 13
8-2 Green Bay Packers @ 8-2 San Francisco 49ers 8:20 PM ET NBC
What a game this should be. The Packers have had two weeks to prepare for the 49ers who have shown that they maybe aren't as good as their record shows. Aaron Rodgers returns to the Bay Area. That spells trouble for San Francisco. Yet, I think the 49ers get back some of their better players and it will be enough to top the 49ers in a thriller.
Prediction: 49ers 27 Packers 24
Coming up Monday: Week 12 NFL Sunday reaction plus MNF preview and prediction