"The Stack" 11-25-19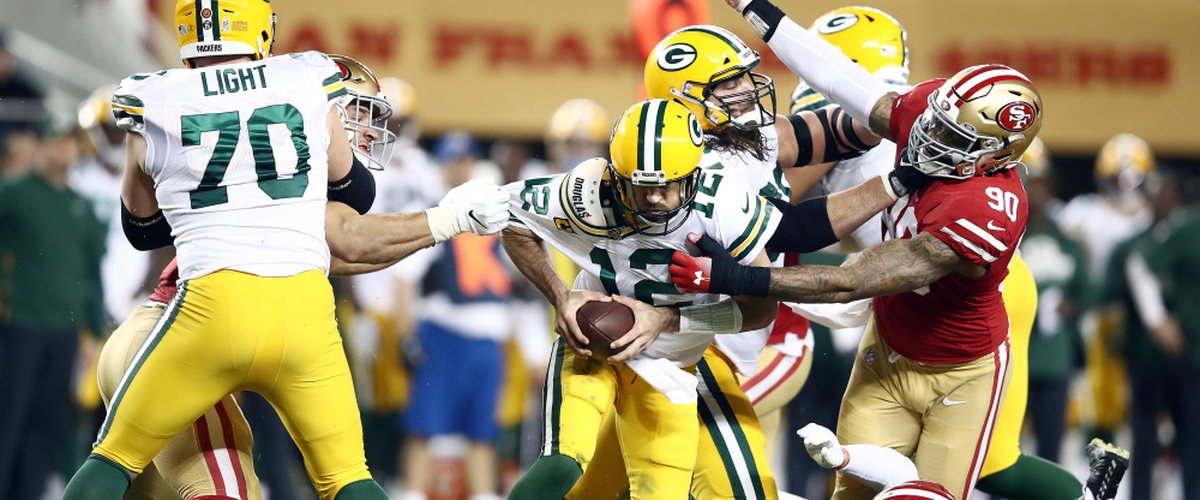 The San Francisco 49ers defense swarmed Aaron Rodgers all night long helping produce one of the worst statistical games Rodgers has ever had as the 49ers beat the Green Bay Packers 37-8.
The Stack is back on this Monday and the San Francisco 49ers sure made a statement last night with their thorough beatdown of the Green Bay Packers. Other teams also made a statement yesterday, both good and bad. Reaction to it all plus a MNF preview and prediction so let's get right to "the stack" for today, Monday, November 25th:
Seahawks 17 Eagles 9
Playing without wide receivers Alshon Jeffrey and Nelson Agholor, the Philadelphia Eagles were facing an uphill battle. Combine that with windy conditions and throwing the ball was difficult for Carson Wentz and the Eagles. Wentz was not very good and he briefly left the game with an injury. Also, Seattle is a very good team playing some great football right now.
Lions 16 Washington 19
Ford Field South (okay, FedEx Field) was flooded with Detroit Lions fans so it should have felt like a home game. Washington didn't score an offensive touchdown and yet somehow Dwayne Haskins and company were able to win this game. There are a lot of Lions fans upset with this game and they should be. Matt Patricia may be on the way out after this loss. It wasn't good.
Raiders 3 Jets 34
The upset senses turned out to correct. The butt whooping that the New York Jets gave the Oakland Raiders though was still stunning. Sam Darnold was tremendous for the Jets, throwing for two scores and rushing for another one. The defense added a score too. All those who said that the Raiders were ready to take over…you're going to have to wait.
Panthers 31 Saints 34
What a crazy game. Absolutely bananas. The New Orleans Saints jumped out early and you thought that it was going to be a big blowout win. The Panthers responded though and kept chipping away at the lead. Wide receiver D.J. Moore was solid with over 100 yards receiving yards and two touchdowns. Saints quarterback Drew Brees threw a bad interception and the Panthers had a chance to win the game late or at least take the lead, but kicker Joey Slye missed a 28-yard field goal wide right. The Saints took over and drove down and kicked their own game-winning field goal to escape with a win. Absolutely crazy. Another tough loss for the Panthers.
Dolphins 24 Browns 41
Baker Mayfield and the Cleveland Browns jumped out to an early 28-0 lead with Mayfield throwing three touchdowns, one to OBJ and two to Jarvis Landry who was playing his former team so you knew he wanted to have a big game. The Dolphins made it interesting and cut the lead to 28-17, but the Browns responded and got the win. Now they can focus their attention to their next opponent. Who is that? Oh yeah, Pittsburgh.
Steelers 16 Bengals 10
Speaking of the Steelers, they really struggled to beat the Cincinnati Bengals, but the more I thought about it, the more I think this is an embarrassing loss for the Bengals, perhaps one of their two or three worst losses of the season. The Steelers were without wide receiver JuJu Smith-Schuster and running back James Conner. Offensive lineman Maurkice Pouncey was suspended. Steelers quarterback Mason Rudolph was benched. Backup (but really third string) quarterback Devlin Hodges came in and threw a 79-yard touchdown pass that gave the Steelers the lead and then when Bengals wide receiver Tyler Boyd caught a pass that would have set up first and goal for the Bengals when they were trailing 13-10, he fumbled it and Minkah Fitzpatrick recovered. Ugh, what a bad, disappointing loss for the Bengals.
Giants 14 Bears 19
The Giants jumped out to an early 7-0 lead and could have extended it, but missed a couple of field goals. Trubisky wasn't great for the Bears, but he did throw one touchdown to wide receiver Allen Robinson and ran for one more and at least for one week, will fend off the constant criticism of him.
Broncos 3 Bills 20
In the battle of QB Allens (Brandon versus Josh), it was Josh Allen and the Buffalo Bills that put forth the dominating effort and earned their eighth victory of the year. Since the beginning of the second half last week against the Minnesota Vikings, the Denver Broncos have been outscored 47-6. Yikes!
Buccaneers 35 Falcons 22
So much for the Atlanta Falcons being a force to be reckoned with since their bye week. The defense wasn't great and the offense couldn't deliver in their loss and a largely empty Mercedes-Benz Stadium. There isn't a whole lot to digest and break down here apart from Bucs defensive lineman Vita Vea catching a touchdown pass. The Bucs were better than the Falcons.
Jaguars 20 Titans 42
So the halftime score of this game was 7-3 Titans. Not even five minutes into the third quarter, Tennessee increased their lead to 28-3 and the rout was on. It's beginning to look like Nick Foles isn't the answer at quarterback for the Jaguars. Meanwhile, Ryan Tannehill is doing a nice job at QB for Tennessee. At least the Jaguars used Leonard Fournette a lot yesterday, even when they were trailing by a lot.
Cowboys 9 Patriots 13
This game was marred by a couple of terrible tripping penalties called against the Dallas Cowboys. It's inexcusable and it shouldn't happen. Al Riveron and New York need to figure something out. This was a defensive struggle in rainy and sloppy weather conditions. The New England Patriots offense is not clicking right now, but they scored the only touchdown of the game and it was enough to get the win.
Packers 8 49ers 37
Wow! The San Francisco 49ers defense dismantled the Green Bay Packers offensive line and made Aaron Rodgers look average at best. 33 pass attempts for 104 yards. Plus Rodgers fumbled it. That defense was great and the 49ers were happy to have tight end George Kittle back as well. He caught a long touchdown pass and had over 100 yards as the 49ers cruised to the victory. The first of their gauntlet of games against teams with an .800 winning percentage or better. So far so good.
8-2 Baltimore Ravens @ 6-4 Los Angeles Rams 8:15 PM ET ESPN
Lamar Jackson versus Aaron Donald. Can Donald and the Rams defense contain Jackson and the Ravens offensive attack? I'm not so sure they can and I don't think the Rams offense is going to be all that successful themselves. Ravens cornerback Marcus Peters is facing his former team and if you don't think he isn't going to come through with a few big plays, well he will.
Prediction: Ravens 27 Rams 17
Coming up Tuesday: MNF reaction plus college football weekend reaction
---