"The Stack" 11-9-18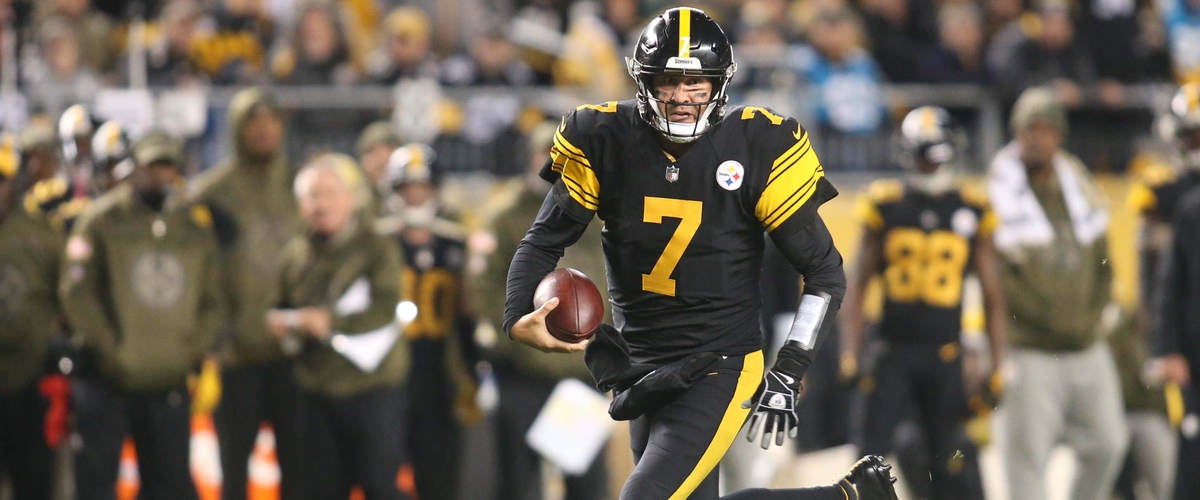 Pittsburgh Steelers quarterback Ben Roethlisberger threw five touchdowns, throwing more touchdowns than he had incompletions and had a perfect passer rating as the Steelers pummeled the Carolina Panthers 52-21.
The Stack is back on this Football Friday and boy that was an impressive showing by the Pittsburgh Steelers last night. The offense was great and the defense forced some turnovers and had a pick-six as the Steelers pummeled the Carolina Panthers 52-21. Again, awfully, impressive. Let's make sure the picks are good this week so we'll get right to it with some previews and predictions for week 10 in the NFL in "the stack" for today, Friday, November 9th:
3-5 Detroit Lions @ 5-3 Chicago Bears 1 PM ET FOX
Last week, the Lions gave up ten sacks in a loss to the Minnesota Vikings. Now they get to face Khalil Mack and the Bears. I don't think much will have changed with the offensive line. Mack is licking his chops.
Prediction: Bears 24 Lions 13
7-1 New Orleans Saints @ 5-3 Cincinnati Bengals 1 PM ET FOX
This may be the best game of the day. The Saints are rolling right now and they got better with the addition of wide receiver Dez Bryant this week. Don't know if he'll play this week. They may start out a little slow after that big win against the Rams last week, but I don't see the Saints losing to the Bengals. It is the Bengals after all.
Prediction: Saints 30 Bengals 24
4-4 Atlanta Falcons @ 2-6-1 Cleveland Browns 1 PM ET FOX
The Falcons are starting to play some really good football right now. The Browns looked better last week on offense. Their defense is going to have to have a much better game to stop Matt Ryan, Julio Jones and company. I would not be surprised to see the Browns win this game, but I will go with the team playing the better football right now.
Prediction: Falcons 31 Browns 23
3-5 Jacksonville Jaguars @ 3-5 Indianapolis Colts 1 PM ET CBS
These two teams are trending in completely different directions. The Jaguars are lost right now on both sides of the ball, but maybe Leonard Fournette will play for them this week. The Colts offense is looking fantastic right now both on the ground and through the air. Andrew Luck has never been better you could argue and the Colts will win their third straight game.
Prediction: Colts 27 Jaguars 16
2-6 Arizona Cardinals @ 8-1 Kansas City Chiefs 1 PM ET CBS
The Chiefs are only 16.5 point favorites against the Cardinals. That's not quite as big of a spread as the Bills-Vikings game from earlier this year. Needless to say, that sort of result is not going to happen. The Chiefs will blow by the Cardinals and this game will no longer be a game by halftime…at the latest.
Prediction: Chiefs 45 Cardinals 17
2-7 Buffalo Bills @ 3-6 New York Jets 1 PM ET CBS
Is Nathan Peterman really going to get the start at quarterback for the Bills this week? The Jets won't have Sam Darnold, but Josh McCown is perfectly capable of beat the beaten and downtrodden Peterman.
Prediction: Jets 23 Bills 9
5-3 Washington @ 3-5 Tampa Bay Buccaneers 1 PM ET FOX
Can't figure out either of these two teams. Washington really laid an egg last weekend. You just can't trust them. Plus they lost two of their offensive lineman for the year. That doesn't bode well for them going forward. Ryan Fitzpatrick should have a pretty good day and the Bucs will pick up the win at home.
Prediction: Bucs 31 Washington 20
7-2 New England Patriots @ 4-4 Tennessee Titans 1 PM ET CBS
Bill Belichick (teacher) already lost one game to a student (Matt Patricia) earlier this season. Against another student (Mike Vrabel) and against former Patriot cornerback Malcolm Butler, the teacher should come out on top. I don't foresee the Patriots losing this game, but the Titans do some crazy things and the game is at home, but I'll go with the teacher.
Prediction: Patriots 27 Titans 19
6-2 Los Angeles Chargers @ 1-7 Oakland Raiders 4:05 PM ET FOX
Why would you have any faith that the Raiders can win a game against the Chargers who are playing incredibly well right now. Expect the Chargers to put up a ton of points. Melvin Gordon should have a great day rushing the football and will we finally see the season debut of defensive end Joey Bosa? With or without him, the Chargers win this one easily.
Prediction: Chargers 38 Raiders 13
5-4 Miami Dolphins @ 3-4-1 Green Bay Packers 4:25 PM ET CBS
Not sure why this game got flexed to the late afternoon time slot. I guess it is the Packers and it is Aaron Rodgers. They're kind of a draw. I don't trust the Dolphins and given all of the issues the Packers have, I think they are still much better than the Dolphins and will win.
Prediction: Packers 34 Dolphins 17
4-4 Seattle Seahawks @ 8-1 Los Angeles Rams 4:25 PM ET CBS
I feel bad for Seattle. The Rams are salty after their first loss of the year last week in New Orleans. Russell Wilson and company will not be able to keep up with Todd Gurley, Jared Goff and the rest of the Rams offense. The Rams defense needs to come to play too. They have been struggling recently. They must rebound.
Prediction: Rams 34 Seahawks 20
3-5 Dallas Cowboys @ 4-4 Philadelphia Eagles 8:20 PM ET NBC
First chance to see wide receiver Golden Tate in an Eagles uniform. I bet he has a better debut than Amari Cooper had in his first game as a Cowboy last week. More importantly, the Eagles are playing better football right now and Tate's new team will pick up a pretty easy win over their rivals.
Prediction: Eagles 30 Cowboys 20
Coming up Monday: Week 10 NFL recap & reaction plus a MNF preview
Listen to this week's "The Sports Block" podcast here.