"The Stack" 11-10-17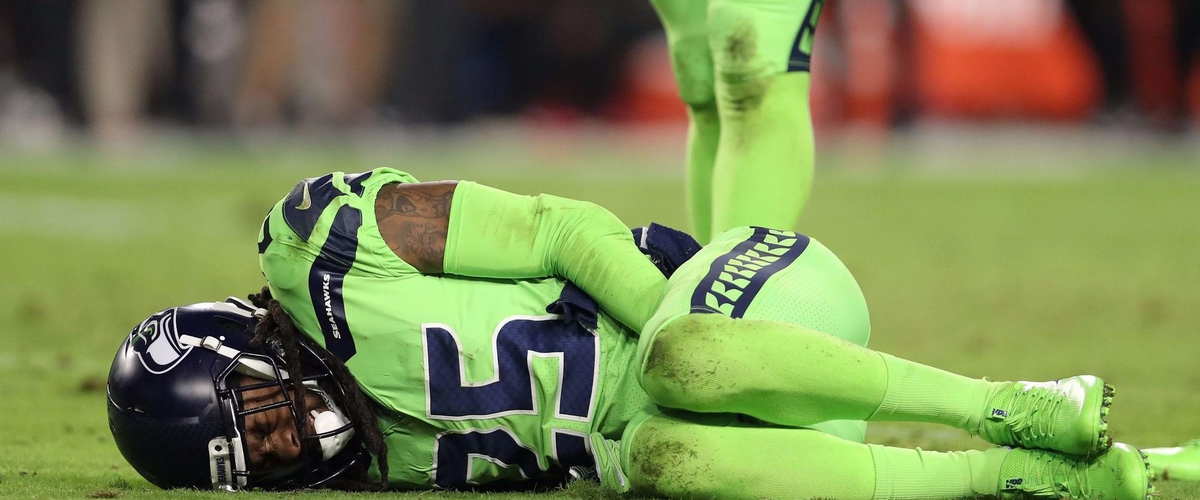 Seattle Seahawks cornerback Richard Sherman's season is done. Sherman ruptured his Achilles in last night's 22-16 win over the Arizona Cardinals. It's a big blow to the Seahawks defense.
The Stack is back on this Friday and unlike Jerry Jones we're not looking to sue anyone for any asinine reason. I will likely have thoughts on this next week, but this whole thing is just so high schoolish that it just isn't worth talking about at this point other than saying that I hope the other owners stand strong and don't let the bully take things over. Thursday Night Football games have not been kind to The Stack so far this year, but we did pick up a win with the Seattle Seahawks taking down the Arizona Cardinals last night 22-16, but the big news in this one is that Richard Sherman, one of many Seahawks to go down with an injury, may be done for the season with a torn Achilles. We will wait to see what the official diagnosis is. Now let's get to the rest of the picks in "the stack" for today, Friday, November 10th:
New Orleans Saints @ Buffalo Bills 1 PM ET FOX
I don't think very many people saw this game as being a game between two teams with above .500 records at this juncture of the season. The Saints defense has been awfully impressive as of late. The Bills were a big disappointment last week. I think the Saints and their running game and new found defense gets the job done again this week.
Prediction: Saints 27 Bills 17
Green Bay Packers @ Chicago Bears 1 PM ET FOX
It seemed inconceivable at the beginning of the season that the Chicago Bears would be able to beat the Green Bay Packers this season yet here we are with Aaron Rodgers out with a broken collarbone and Brett Hundley looking a little out of sorts. His defense hasn't helped him like the Bears defense has for Trubisky. Packers prove me wrong. I can't believe I'm saying this, but I'm taking the Bears in what feels like an elimination game. Whatever team loses, their playoff hopes are done.
Prediction: Bears 20 Packers 17
Cleveland Browns @ Detroit Lions 1 PM ET CBS
The Lions can ill-afford a letdown after their big win over the Packers on Monday night. At least they're playing a bad Browns team though the Browns have had two weeks to prepare. Matthew Stafford should have a big day and the Lions are going to pick up the win.
Prediction: Lions 34 Browns 20
Pittsburgh Steelers @ Indianapolis Colts 1 PM ET CBS
Good for the Colts getting that win last week in Houston. Jacoby Brissett and T.Y. Hilton will not enjoy that same sort of success this week against Pittsburgh who has had two weeks to prepare. Ben Roethlisberger and Antonio Brown will destroy that Vontae Davis-less Colts defense. Wasn't that a weird week for Davis?
Prediction: Steelers 37 Colts 13
Los Angeles Chargers @ Jacksonville Jaguars 1 PM ET CBS
The Jaguars defense should make life miserable for Philip Rivers and the Chargers offensive line. However, the Jaguars have yet to win on an even week this NFL season. It is week 10. At least they welcome back Leonard Fournette back. I think they pick up the win.
Prediction: Jaguars 23 Chargers 13
New York Jets @ Tampa Bay Buccaneers 1 PM ET CBS
The Jets have far exceeded my expectations for them this season. Heck, they've exceeded everyone's expectations. I thought they would have two wins all year. Against a Buccaneers defense without their starting quarterback (Jameis Winston) and wide receiver (Mike Evans), they pick up win number five.
Prediction: Jets 24 Bucs 17
Cincinnati Bengals @ Tennessee Titans 1 PM ET FOX
Another one of these weird crossover games. Hopefully A.J. Green will keep his head on straight for the Bengals. They need him on offense if they want to put up points on the Titans. The ground and pound Titans will ground and pound their way to another win.
Prediction: Titans 26 Bengals 17
Minnesota Vikings @ Washington 1 PM ET FOX
The Vikings have been terrible coming off of the bye in recent years. Washington may have saved their season with Kirk Cousins heroics last week in Seattle. Though their offensive line is still a concern, the Vikings may not have defensive end Everson Griffin or at least not a very healthy Griffin. I think Washington's defense makes it difficult for Case Keenum and Washington pulls out the win.
Prediction: Washington 20 Vikings 16
Houston Texans @ Los Angeles Rams 4:05 PM ET CBS
If Deshaun Watson were still playing, this would be a tremendous game between the Texans and Rams. However, Tom Savage is the Texans quarterback. He stinks. The Rams offense will do plenty of damage and Savage will not be able to lead the Texans to many points.
Prediction: Rams 30 Texans 14
Dallas Cowboys @ Atlanta Falcons 4:25 PM ET FOX
Jerry Jones and his antics aside, the big news is that Ezekiel Elliott has his suspension reinstated. That means it will be Alfred Morris and Darren McFadden carrying the load. The Falcons are a lost team. Will they find their way against the Cowboys? I don't think so. Prove me wrong Matt Ryan, Julio Jones and company. Prove me wrong.
Prediction: Cowboys 27 Falcons 20
New York Giants @ San Francisco 49ers 4:25 PM ET FOX
Does this game really have to be played? The teams are a combined 1-16. I mean really. Does it have to? Both teams are awful. Nothing else needs to be said. I hope this game ends in a tie…or that both teams lose.
Prediction: Giants 20 49ers 17
New England Patriots @ Denver Broncos 8:30 PM ET NBC
Tom Brady has not had much success in Denver in his career. Didn't Tim Tebow even beat him once? This Broncos offense is terrible, but I do recall Brock Osweiler beating the Patriots a couple of years ago right? Osweiler will not be beating Brady this time around.
Prediction: Patriots 27 Broncos 16
Listen to this week's "The Sports Block" podcast here.
Coming up Monday: Week 10 NFL reaction plus MNF preview
---