"The Stack" 11-9-17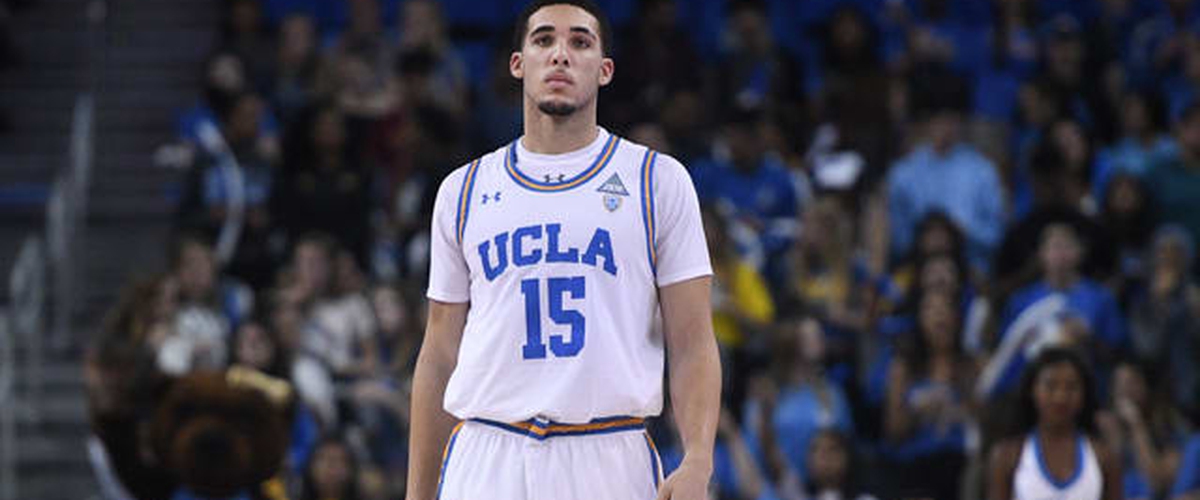 LiAngelo Ball and two other UCLA men's basketball players were arrested in China and released on bail for stealing sunglasses from a store near their team hotel. When they will be able to return to the U.S. is unknown.
The Stack is back on this Thursday with football talk and some other things. Don't know what they are (it won't be Jerry Jones...not yet anyway), but we'll find out so let's get right to it and see what's in "the stack" for today, Thursday, November 9th:
College football weekend forecast
Before we get to the forecast, a couple of quick thoughts on the College Football Playoff rankings for this week. First, I have no issues with the four teams (Georgia, Alabama, Notre Dame and Clemson) remaining the same. Oklahoma at five comes as no surprise. The only minor surprise may be that TCU is at six and Miami (FL) is at seven. Undefeated Wisconsin comes in at eight and despite what Athletic Director Barry Alvarez says, Wisconsin is going to have a difficult time getting in without some serious help.
He may get it this week. Oklahoma and TCU play one another at 8 PM ET on FOX. This is an elimination game. The winner still has a chance, the loser is not going to be making the College Football Playoff. Likewise with the latest edition of Catholics versus Convicts aka Notre Dame versus Miami (FL) (8 PM ET ABC). If Adams (running back) and Winbush (quarterback) play, I like Notre Dame to win. If one of them don't play, I'll take the Hurricanes.
Those are just two of what is a pretty incredible slate for this weekend. Alabama visits #16 Mississippi State (7 PM ET ESPN). Mississippi State quarterback Nick Fitzgerald is a very difficult matchup, but I think Alabama is just too strong and will come away with the win. Jalen Hurts will have a big game.
I mentioned Wisconsin a few moments ago. If they want to impress the committee, they need to put #20 Iowa away early (3:30 PM ET ABC). Iowa is coming off of a huge win at home against Ohio State. I think they come out flat and Wisconsin will take care of business. Elsewhere in the Big Ten, #12 Michigan State and # 13 Ohio State (Noon ET, FOX) battle in a game that will have ramifications as to who will win the Big Ten East. Michigan State has played pretty well this year and losing a triple overtime game against Northwestern is their only blemish.
#1 Georgia and #10 Auburn square off in what will be a huge game. Auburn, if they win it, I believe will make it to the College Football Playoff. They will have beaten Georgia, Alabama and then Georgia again in the SEC Championship game. Having said all that, I do not believe they will take down Georgia. That dual threat at running back and their defense will be too much and they will win a close one against Auburn. Now watch, Georgia will lose.
There are many other good games this weekend. It should be another excellent Saturday slate. Enjoy it everyone.
Roy Halladay dies
Terribly sad news from the world of baseball on Tuesday when it was reported that former Toronto Blue Jays and Philadelphia Phillies pitcher Roy Halladay passed away after his plane crashed into the Gulf of Mexico just off of the Florida coast. Witnesses say he was flying his plane too low which helped lead to the crash. Halladay was one of the best pitchers of the 21st century to this point bar none. He pitched a lot of innings and struck a lot of guys out. He threw a perfect game. He threw a no-hitter in the postseason as a member of the Phillies against the Cincinnati Reds in the Wild Card game. He was truly a great pitcher and he will be missed. He leaves behind a wife and two sons. My thoughts and prayers go out to his family, his former teammates and to the baseball world in general. Halladay left us and this world far too soon. Roy Halladay, dead at the age of 40.
LiAngelo Ball among three UCLA Bruins charged with shoplifting
Half a world away in China, Georgia Tech and UCLA are set to square off in the first game of the year for both men's basketball teams. For three UCLA players, the most notable among them being LiAngelo Ball, they will not be playing in this game. They may not be playing for a while. Ball, Cody Riley and Jalen Hill (freshman) allegedly stole sunglasses from a Louis Vuitton store near the team's hotel. They have been released on bail and are currently staying at a hotel where they may be staying days if not weeks until the legal process plays out. China of course does things differently than in the U.S. which is not a bad thing. It is a bad thing though for the three players and UCLA. Head coach Steve Alford has a major problem on his hands. UCLA and the Pac-12 or the NCAA needs to come down hard on these players. Surprisingly (or not), LiAngelo's dad, LaVar, doesn't think it's a big deal. No (he says dripping with sarcasm), stealing isn't a big deal. It's only a crime that may deter your son's basketball career and may have legal ramifications down the road. We don't know all of what is going to happen, but it is a terrible look for Ball and UCLA. More on this story to come as it develops I'm sure.
Seattle Seahawks @ Arizona Cardinals 8:25 PM ET NBC & NFL Network (Streaming on Amazon)
This may be a better one out in the desert than you may think. The Seahawks offense needs to get going faster than waiting to do anything in the fourth quarter of a game. The Cardinals defense isn't going to make that easy. Can Adrian Peterson continue his renaissance? Perhaps, but it isn't going to be easy against that Seahawks defense eager to forget what happened on that final drive last week against Washington. Even if Earl Thomas and Richard Sherman don't play, I think the Seahawks defense has enough to make life difficult for Drew Stanton and company and will come away with a win.
Prediction: Seahawks 23 Cardinals 17
Coming up Friday: Week 10 preview and predictions
---