"The Stack" 11-6-20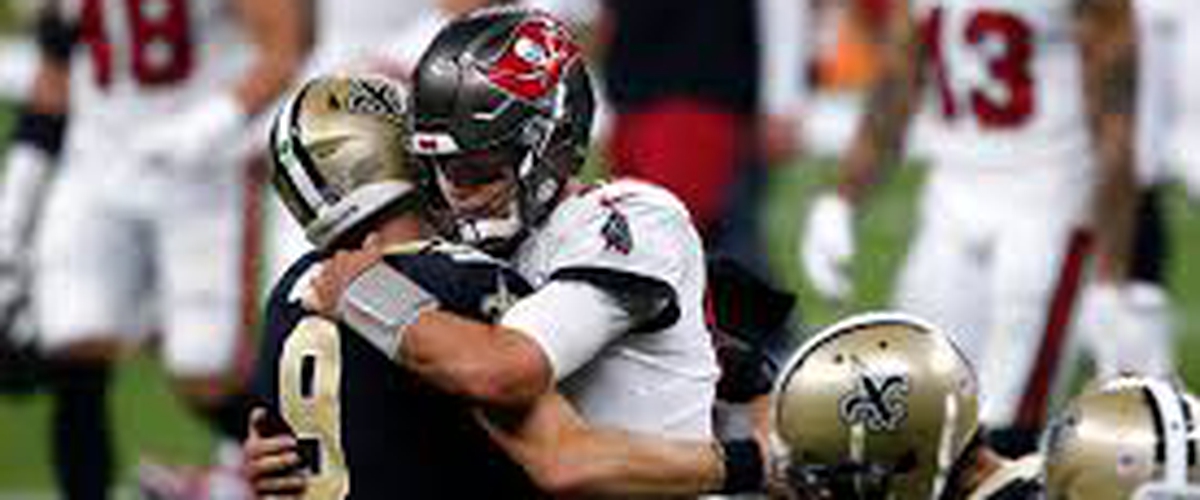 Will Brees or Brady prevail Sunday night? Will their touchdown battle see-saw back and forth as well? Saints at Buccaneers is the game of the week!
The Stack is back on this first Friday of November and boy Thursday Night Football was a real dud…as expected. The very shorthanded San Francisco 49ers got thumped by Aaron Rodgers (who threw four touchdowns) and the Green Bay Packers 34-17. It was 34-3 before the 49ers scored two garbage touchdowns. Yikes! Hopefully the rest of this week is better. Let's get right to the week 9 NFL previews and predictions in "the stack" for today, Friday, November 6th:
5-3 Chicago Bears @ 5-2 Tennessee Titans 1 PM ET FOX
Both teams have fallen back to earth after fast starts. The Titans have lost two in a row and looked bad last week in a loss to Joe Burrow and the Cincinnati Bengals. The Bears offense isn't very good. The Bears defense is though. In the end, I have to go with Derrick Henry and the Titans to get back on track.
Prediction: Titans 27 Bears 17
3-4 Detroit Lions @ 2-5 Minnesota Vikings 1 PM ET CBS
I love it when the Vikings get a cross over game to CBS. They have the best announcers. Can the Vikings carry over that impressive performance from last week in Green Bay against a Lions team that is probably better than their 3-4 record indicates? I think they can, in part because they are the Lions and because the Vikings have won five games in a row. Another big game for Dalvin Cook and the Vikings get into a tie with maybe, just maybe a little momentum for a playoff spot.
Prediction: Vikings 31 Lions 20
3-5 Carolina Panthers @ 7-1 Kansas City Chiefs 1 PM ET FOX
Christian McCaffrey may be back for the Panthers which would be big news. Their offense isn't the same without him, but they did pretty good in his absence. Stopping the hall-of-famer Patrick Mahomes and those wide receivers and CEH and Le'Veon Bell, that is a whole other story. It's not going to happen. Chiefs roll.
Prediction: Chiefs 41 Panthers 23
1-6 Houston Texans @ 1-6 Jacksonville Jaguars 1 PM ET CBS
The Texans aren't as bad as their 1-6 record indicates, right? The Jaguars are starting Jake Luton (who?). College football fans, specifically Pac-12 fans know him for how well he did at Oregon State. I'm really just taking here. This is going to be a terrible game.
Prediction: Texans 27 Jaguars 13
5-2 Baltimore Ravens @ 5-2 Indianapolis Colts 1 PM ET CBS
The Ravens have had to deal with some COVID-19 issues this week especially on the defensive side of the ball. Lamar Jackson is coming under some heat and probably rightfully so with his turnovers last week and with how ineffective the passing game has been. The Colts are trending in the right direction. Their defense is great. Their offense is improving, but this is a statement game for the Ravens. Silence the doubters. Ravens flock to a W.
Prediction: Ravens 26 Colts 20
6-1 Seattle Seahawks @ 6-2 Buffalo Bills 1 PM ET FOX
This is one of the best games of the week. Can the Seahawks defense contain Josh Allen and the Bills offense? I think there is a pretty good chance of that happening. Allen and the Bills have not looked very good lately. The Seahawks are starting to get healthier. I think that bodes well for them even flying all the way across the country for an early kickoff.
Seahawks 31 Bills 23
3-4 Denver Broncos @ 2-6 Atlanta Falcons 1 PM ET CBS
Drew Lock was awfully impressive in the comeback win last week against the LA Chargers. This Broncos offense may be starting to click, but the Falcons are a better team in the three games under interim head coach Raheem Morris. I think the Falcons win a close one against the Broncos, but this game is truly a toss up.
Prediction: Falcons 27 Broncos 23
4-3 Las Vegas Raiders @ 2-5 Los Angeles Chargers 4:05 PM ET FOX
The Chargers lost a heartbreaker last week to the Broncos losing on the last play of the game and it is not easy to come around and play the next week at a high level (just ask the Vikings after they lost to the Seahawks and then got blown out the following week by the Falcons at home). For that reason, I think the Raiders are the stronger team and going to get another win.
Prediction: Raiders 27 Chargers 19
7-0 Pittsburgh Steelers @ 2-6 Dallas Cowboys 4:25 PM ET CBS
A letdown game for the Steelers? Maybe. But we still don't know who the Cowboys starting quarterback is going to be and quite frankly, it doesn't matter. Steelers roll!
Prediction: Steelers 38 Cowboys 10
4-3 Miami Dolphins @ 5-2 Arizona Cardinals 4:25 PM ET CBS
This game has gotten a lot more intriguing with Tua starting at quarterback for the Dolphins. It doesn't look good that running back Kenyon Drake is going to play for the Cardinals. That may not matter. Kyler Murray is so good and Chase Edmunds will be serviceable replacement for Drake and even against an improving Dolphins team, the Cardinals will prevail.
Prediction: Cardinals 31 Dolphins 19
5-2 New Orleans Saints @ 6-2 Tampa Bay Buccaneers 8:20 PM ET NBC
Game of the week without question. Antonio Brown is making his Buccaneers debut giving us all one more reason to hate the Bucs and root against them. The Saints may get Michael Thomas back which would be big. The way Tampa Bay is playing as of late though, despite both teams being extremely good, I don't know that the Saints can take them down.
Prediction: Bucs 27 Saints 23
Coming up Monday: Week 9 Sunday NFL recap and reaction plus MNF preview and prediction
---