"The Stack" 11-9-20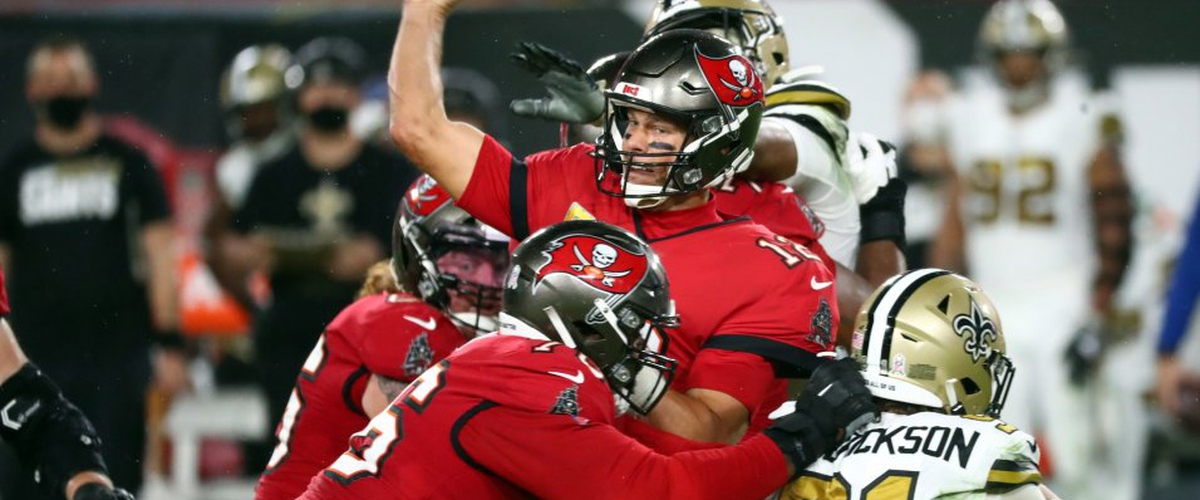 The New Orleans Saints defense was in Tom Brady's face all night long and the Saints teed off on the Bucs, trouncing them, embarrassing them 38-3 to take the inside track on the NFC South division crown.
The Stack is back on this Monday and there were a number of surprising games in the NFL on Sunday. Might we see a surprising result tonight? Perhaps. We'll react and recap it all in "the stack" for today, Monday, November 9th:
Giants 23 Washington 20
The New York Giants had to cling on for dear life and picked off Alex Smith three times to help thwart off multiple chances for Washington to tie or take the lead. Smith came in for an injured Kyle Allen who suffered a pretty grotesque ankle injury. It's great to see Smith back and playing and he will be the rest of the way unless Dwayne Haskins gets another look. Everyone is still in it in the NFC East.
Bears 17 Titans 24
The Bears are a joke on offense. Apart from the last couple of drives when they were out of the game, they couldn't get anything going all game long. Tennessee had some issues themselves, but got a defensive touchdown and a nice game from wide receiver A.J. Brown. Watch the Bears snap out of their offensive funk next week against Minnesota.
Lions 20 Vikings 34
Dalvin was Cooking once again on Sunday, slicing and dicing the Detroit defense to the tune of 206 yards and two touchdowns. He's unstoppable right now. It wasn't all great for the Vikings as they had two punts blocked so special teams needs to get better, but they played very well overall on Sunday. They're starting to gain some traction.
Panthers 31 Chiefs 33
Was Kansas City overlooking the Carolina Panthers as they headed into their bye week? Maybe. Maybe it was head coach Matt Rhule's gameplan on trying to keep the Chiefs offense off of the field and just matriculating the ball down the field. It wasn't enough though to stop Patrick Mahomes though. He threw four touchdowns and helped will the Chiefs to the victory. The hall-of-famer is so good!
Texans 27 Jaguars 25
Congrats, Houston! You are 2-0 against Jacksonville and 0-6 against everyone else. Congrats Jacksonville! You've lost seven in a row and look to be in good position for the Trevor Lawrence sweepstakes. Having said that, rookie quarterback Jake Luton looked pretty good in his first career start last week for the Jaguars. Maybe they have something in him.
Ravens 24 Colts 10
Big time defensive struggle. The Ravens got their first touchdown of the game on a fumble return for a touchdown that saw old man Philip Rivers get turned around and tripped by the turf monster. He could not make the tackle. The Ravens had another touchdown set up by a turnover. Lamar Jackson did pretty good in the passing game, but this was more of a statement game from their defense. Awfully impressive.
Seahawks 34 Bills 44
Seattle Seahawks quarterback Russell Wilson had four turnovers (two picks and two fumbles) and it was Buffalo quarterback Josh Allen that had the MVP-like performance throwing for over 400 yards and three touchdowns and running for one more. He was sensational! The Bills offense torched the Seahawks defense to point that Seahawks head coach Pete Carroll said he didn't even recognize the defense on the field. The Bills had struggled the previous few weeks. On Sunday, the flipped the switch on and showed just what kind of team they can be…and that's a dangerous team.
Broncos 27 Falcons 34
They nearly gave up a big lead, but Matt Ryan and the Atlanta Falcons have now won three out of four games. They were up 27-6 and Ryan, despite not having Calvin Ridley, torched the Denver secondary down two of their top cornerbacks. This is a new Falcons team. But the road gets far more difficult now.
Raiders 31 Chargers 26
Another week, another heartbreaking loss for the L.A. Chargers. They had a couple of chances at the goal line and couldn't hang onto either pass from Justin Herbert. They called a touchdown on the last play, but the call was overturned. The Chargers will overcome this at some point, but it is extremely painful right now.
Steelers 24 Cowboys 19
Garrett Gilbert (who?) got the start at quarterback for Dallas and the Cowboys looked really good for much of the first half. They had a 13-0 lead before Pittsburgh woke up and scored a touchdown and then forced a turnover and kicked a field goal. Big Ben suffered a knee injury, but came back and the Steelers would rally in the second half in route to the comeback win. They need to play a complete game here at some point, but there is little doubt just how good this team is.
Dolphins 34 Cardinals 31
Game of the week without question. Two young quarterbacks dueling back and forth with one another. Kyler Murray had himself a double-triple, throwing for almost 300 yards and rushing for 100 yards along with a score. He did have a costly fumble that Miami returned for a touchdown. Ultimately the fourth quarter would be the Cardinals' demise. They got stopped on a fourth and one and missed a 49-yard field goal. Tua Tagovailoa was superb in his second start and the Dolphins have now won four games in a row. They are starting to look like the real deal.
Saints 38 Buccaneers 3
Okay, we all had the New Orleans Saints winning this game and winning by 35 points right? No? None of us? What an absolute statement the Saints made Sunday night scoring with ease on a good Bucs defense and frustrating Tom Brady and the Bucs offense with all of those weapons. This is the first time Brady has ever been swept by a division opponent and now the Saints have the inside track to the NFC South title. What an absolutely fantastic performance!
2-5 New England Patriots @ 0-8 New York Jets 8:15 PM ET ESPN MNF
What a crappy game this has now become. The Patriots have lost four games in a row and their offense has looked terrible. Cam Newtown can't throw any touchdowns. The Jets have looked terrible all year long, especially on offense and yet, I would not be surprised if the Jets find a way to win tonight. But they won't have Sam Darnold, instead Joe Flacco will start at quarterback. And I just can't pick them because they are, well, the Jets.
Prediction: Patriots 17 Jets 13
Coming up Tuesday: MNF recap & reaction plus college football weekend reaction
---