"The Stack" 12-6-19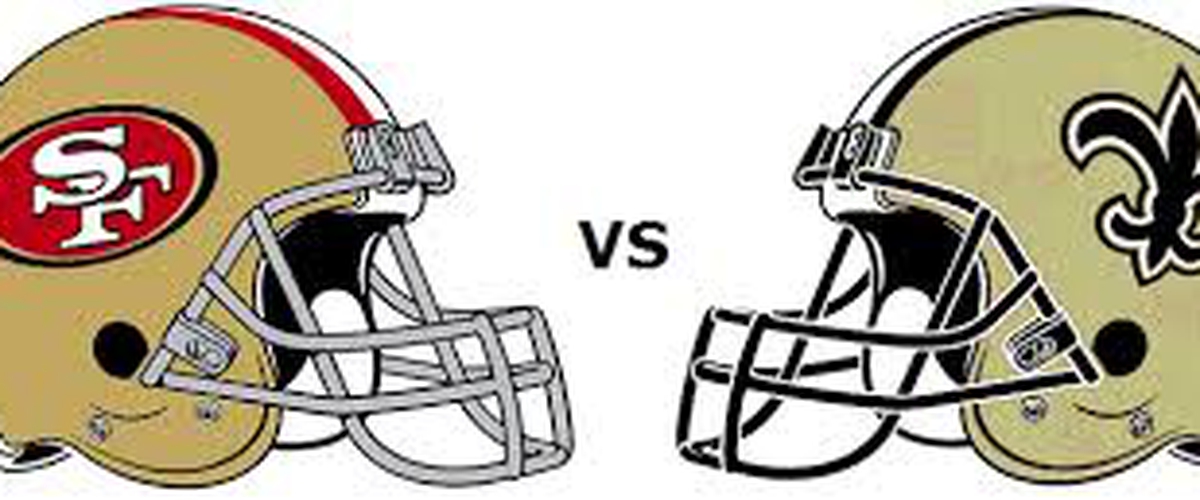 San Francisco heads to the Big Easy to take on New Orleans in a battle of 10-2 teams. Massive NFC showdown this weekend and the game of the week!
The Stack is back on this Football Friday and don't look now, but Mitchell Trubisky and the Chicago Bears are back. Trubisky threw for three touchdowns and ran for another as the Bears beat the Dallas Cowboys 31-24. The Cowboys offense was great on the first drive of the game and sucked until it was too late. What is wrong with this team? What is wrong with you, Jerry Jones? The Bears are coming. So our picks for week 14 are so far 0-1. We'll do better the rest of the week hopefully so let's get right to some previews and predictions for week 14 in the NFL in "the stack" for today, Friday, December 6th:
6-6 Indianapolis Colts @ 5-7 Tampa Bay Buccaneers 1 PM ET CBS
It may be the end of an era as Colts kicker Adam Vinatieri may miss the game win a knee injury which may in effect end his season. Not that it will matter much in this game. Jameis Winston and the Bucs have been playing some pretty good football lately. It continues against a Colts team that is starting to struggle.
Prediction: Bucs 27 Colts 19
3-9 Miami Dolphins @ 4-8 New York Jets 1 PM ET CBS
It's hard to have faith in the Jets after they lost to the Cincinnati Bengals last week. They don't have safety Jamal Adams for this game by the sounds of it. The Dolphins have been playing much better as of late, but the Jets aren't going to be swept by the Dolphins this year, right? Right?!
Prediction: Jets 24 Dolphins 16
10-2 San Francisco 49ers @ 10-2 New Orleans Saints 1 PM ET FOX
Game of the week no doubt about it. The 49ers stayed on the east coast after their loss to Baltimore last weekend. I think that will prove to be wise. The Saints aren't invincible and the 49ers showed us a lot in that loss in the rain to Lamar Jackson and the Ravens. On the fast track in New Orleans, the 49ers defense and ground game will come up big.
Prediction: 49ers 31 Saints 23
3-8-1 Detroit Lions @ 8-4 Minnesota Vikings 1 PM ET FOX
Short week for the Vikings who are eager to get that bad taste of the loss on MNF out of their mouths. The Lions have had extra time to prepare for the Vikings, but it won't matter. This will be a get well game for the Vikings defense and even if running back Dalvin Cook doesn't carry a full load, the Vikings will emerge with a victory.
Prediction: Vikings 34 Lions 16
4-8 Denver Broncos @ 8-4 Houston Texans 1 PM ET CBS
The Texans better be guarded against a letdown after their big win over the Patriots last week. The Broncos defense is good, but rookie Drew Lock may not have as good of a game as he did last week at home since he is playing on the road. The Texans continue their march toward a division title.
Prediction: Texans 27 Broncos 13
3-9 Washington @ 9-3 Green Bay Packers 1 PM ET FOX
Washington has surprisingly won two games in a row. A third win a row is not happening. Aaron Rodgers, Aaron Jones and company are going to be too much. Packers roll.
Prediction: Packers 38 Washington 10
1-11 Cincinnati Bengals @ 5-7 Cleveland Browns 1 PM ET CBS
Must win game for the Browns. Their playoff hopes are hanging by a thread and wide receiver Odell Beckham Jr. chooses this week to discuss his future. What?! They win this first act in the Battle of Ohio.
Prediction: Browns 31 Bengals 13
10-2 Baltimore Ravens @ 9-3 Buffalo Bills 1 PM ET CBS
Buffalo Bills, you're up. Can you stop Lamar Jackson? The 49ers did a decent job of it last week. I think the Bills can do it too. Bills quarterback Josh Allen is going to show folks that he can run too. He won't run for as many yards as Jackson. Will he get the most important thing though? A win? I'm not so sure. Until someone does it, I have to go with the Ravens.
Prediction: Ravens 23 Bills 17
5-7 Carolina Panthers @ 3-9 Atlanta Falcons 1 PM ET FOX
Not sure how much the Panthers will have this week after head coach Ron Rivera was fired on Wednesday. Atlanta has to win one of their three home division games this year, right? Right?!
Prediction: Falcons 26 Panthers 23
4-8 Los Angeles Chargers @ 4-8 Jacksonville Jaguars 4:05 PM ET FOX
I think the question we are all asking ourselves in this game is, "How are the Chargers going to find a way to lose this one?" Minshew Magic Mania is back. Yet, for some reason, this dope is going to pick Philip Rivers and the Chargers to find a way to win. Why am I doing this? Because I hate myself.
Prediction: Chargers 24 Jaguars 20
7-5 Tennessee Titans @ 6-6 Oakland Raiders 4:25 PM ET CBS
I said last week that I couldn't quite take the Titans seriously until they won on the road in the division. They did. I want to see how they can do on the west coast against a Raiders team who has been embarrassed each of the last two weeks. Prove me wrong Titans. Prove me wrong!
Prediction: Raiders 24 Titans 23
8-4 Kansas City Chiefs @ 10-2 New England Patriots 4:25 PM ET CBS
The Patriots seem vulnerable…especially on offense. The Chiefs defense isn't all that good though. The Chiefs offense is though. It will be strength on strength against the great Patriots defense. The Patriots haven't lost a home game in a long time. Isn't the streak at 21 or something like that? All streaks must come to an end. Patrick Mahomes, I'm waiting on you, sir.
Prediction: Chiefs 27 Patriots 20
7-5 Pittsburgh Steelers @ 3-8-1 Arizona Cardinals 4:25 PM ET CBS
The Cardinals can't play any worse than they did last week against the Rams, right? No. But Minkah Fitzpatrick and the Steelers defense are ready to wreak havoc on them. Devlin "Duck" Hodges is getting the start again and while I still don't think the Steelers are all that good, I think they will do just enough to get the win over Kyler Murray and company.
Prediction: Steelers 23 Cardinals 19
10-2 Seattle Seahawks @ 7-5 Los Angeles Rams 8:20 PM ET NBC
Seattle is 9-1 in one possession games this year. They are a good team, but I don't think they are a fantastic team. Jared Goff and the Rams offense had a get well game against the Arizona Cardinals last week. Is that going to happen again this week? I don't think so. Seattle will find a way to escape and improve to 11-2, 10-1 in one possession games.
Prediction: Seahawks 27 Rams 23
Coming up Monday: Week 14 NFL Sunday recap & reaction plus a MNF preview & prediction