"The Stack" 2-24-20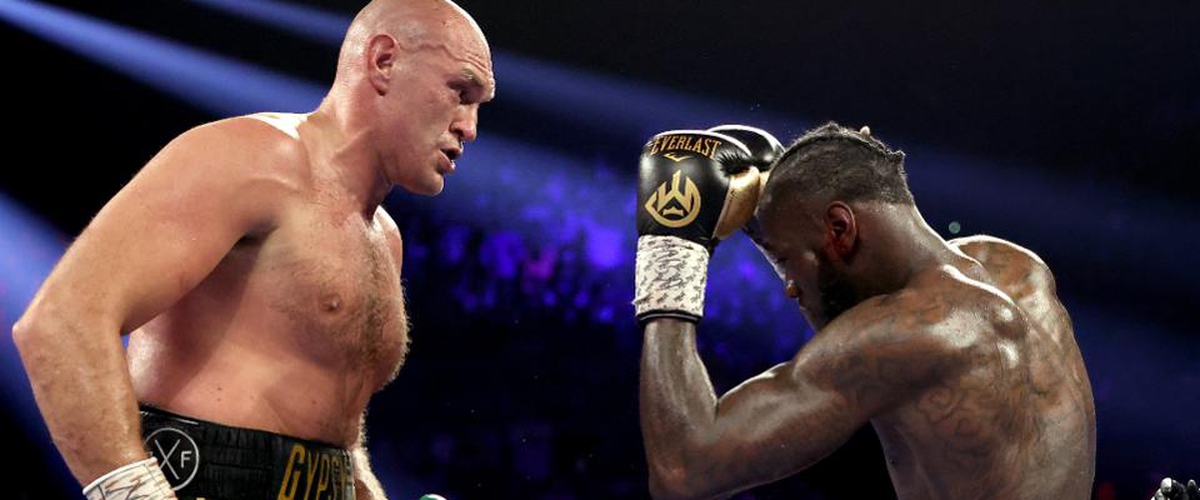 Tyson Fury took down Deontay Wilder by 7th round TKO to win the heavyweight belt in boxing's biggest fight of the year on Saturday in Vegas. Do I hear a third fight coming? I hope so.
The Stack is back on this Monday, the Monday that the Kobe Bryant memorial is happening at the Staples Center. There will be a lot of players there as well as fans to celebrate the life of Kobe Bryant. There will be tears shed, but it will hopefully help all of those who are still feeling the pain of Kobe being gone, at least a little bit anyway. The Stack is here with the other big headlines from the weekend so let's get right to "the stack" for today, Monday, February 24th:
Massive upsets in college basketball
The weekend was not kind to the top ranked teams in college basketball. We'll get to Kansas-Baylor in a moment, but that outcome was not nearly as shocking as what else happened in the sport. #4 San Diego State lost their first game of the year to UNLV 66-63 at home no less. So much for going into the tournament undefeated. Maybe this loss will be a blessing in disguise, but there are some alarm bells that are ringing with this loss. It's rather inexplicable. Unexplainable. Shortly after that game, #2 Gonzaga lost to #23 BYU 91-79. It was rocking in BYU. Gonzaga should still be a threat to make it to the Final Four, but right when you think that you have things figured out, losses like San Diego State and Gonzaga give you pause.
There will be a new number team in college basketball this week because #3 Kansas went down to Waco and beat #1 Baylor 64-61. Udoka Azubuke was fantastic. He could not be stopped and was a large reason why the Jayhawks won this game. I'm starting to buy into Kansas being that team that wins it all this year and I don't like it.
Elsewhere, #9 Penn State lost their second game of the week, losing 68-60 to Indiana. The win puts Indiana on the right side of the bubble for now. #7 Maryland lost to #25 Ohio State 79-72. Maryland could have gotten to the one seed line had they won and they still could. But Ohio State is playing well right now and this was a good win for them and once again shows the depth of the Big Ten conference this year.
#17 West Virginia lost to TCU on Saturday 67-60 in OT. West Virginia is struggling right now. Memphis beat #22 Houston 60-59. Might this be the win that gets Memphis going? We'll see. It's been a wild ride in college basketball this season. Can't wait for the final weeks of the regular season, the conference tournaments and then March Madness, the greatest sporting event known to mankind. Don't @ me. March can't come fast enough.
Fury takes down Wilder
It was being called the fight of the year. While it may not have lived up to all of the hype, we hopefully will see a third installment to the trilogy. Tyson Fury took down Deontay Wilder by TKO in the 7th round Saturday night in Las Vegas. Fury was the better boxer nearly the entire way, if not for the entire fight. By the time the seventh round came, Wilder's team knew he had enough and couldn't keep taking the beating. There was plenty of bad blood between these two throughout the week. I'm guessing there still is today. Here's hoping we see another fight between these two, because while this fight was great, the next one hopefully will be even better.
Ovechkin gets to 700 goals
Washington Capitals star Alex Ovechkin finally got his 700th goal Saturday against the New Jersey Devils. The Devils won 3-2, but that's not the story here. The story is Ovechkin. He's the eighth player in NHL history to reach 700 goals and he is one of the fastest players to reach the mark. He's 194 goals behind the Great One, Wayne Gretzky, and if he stays healthy (knock on wood), he's got a great chance to catch Gretzky in the next three or four years. I hope he does it. He's a great goal scorer and a joy to watch. He's great for the sport and the race to 894 would be great for the sport of hockey. Congrats Ovechkin. Here's hoping for 195 more.
On another NHL note, what about the cool story that took place in Toronto Saturday night for emergency goalie David Ayres? The Carolina Hurricanes had their two goalies go down so Ayers had to go in as the emergency goalie. He gave up goals on his first two shots, but stopped all eight shots he faced in the third period to earn the win. The Hurricanes beat the Maple Leafs 6-3. Ayers is a Zamboni driver for Toronto's AHL team. He will be honored by the Hurricanes Tuesday in Raleigh. What an absolutely amazing story. So cool!
NFL owners approve new CBA
The NFL owners last week approved a new CBA deal that would include an extra seventeenth game and an extra playoff team in each conference. Salaries will be increased for those at the bottom of the league. Those are just some of the parts to this new proposed CBA. It seems as though this has divided the players. League veterans like J.J. Watt and Richard Sherman are steadfast against it. ESPN has reported that the player reps are divided. Some don't want an extra game, some are okay with it and some are okay with it if the compensation is worth more. They will meet with the NFL this week in Indianapolis and a players vote is likely to take place afterwards. I hope they vote against him. I am so against the idea of having a 17th game. It will throw the schedule impartiality completely out of whack. I do not need more football. The sport's scheduling is perfect the way it is. When the Super Bowl is over, I'm fine with it. My attention turns to college basketball and March Madness. No more football NFL. Don't be greedy.
Coming up later: Maybe some NFL Combine thoughts…otherwise top stories in the sports world
---